Commentary: Singapore's the 25th happiest country in the world — here are some ways to make it a happier place
Almost every year since 2012, the World Happiness Report (WHR) has been documenting the rankings of national happiness for hundreds of countries worldwide.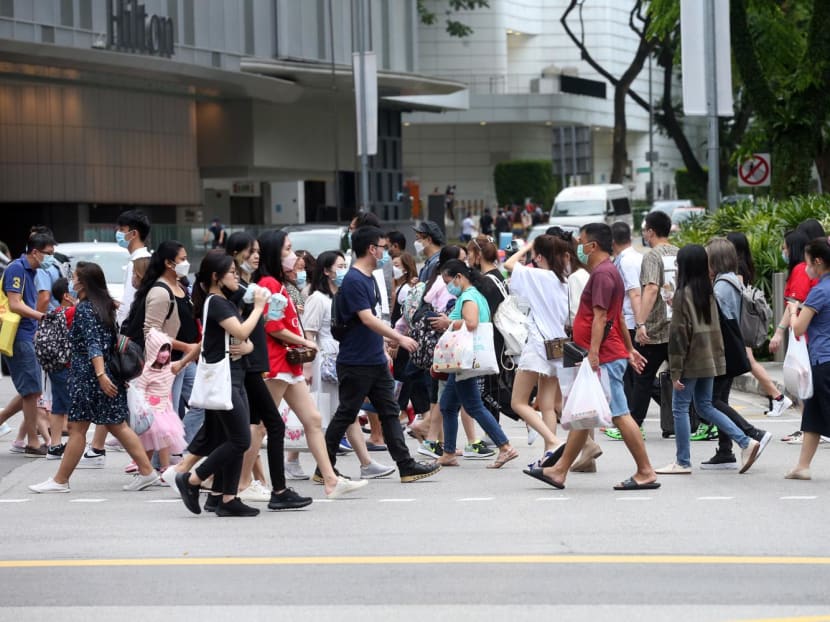 Almost every year since 2012, the World Happiness Report (WHR) has been documenting the rankings of national happiness for hundreds of countries worldwide. 
In the WHR's first and landmark report, Denmark was named the happiest country in the world, followed closely by two other Scandinavian countries: Finland and Norway. 
Recently, however, Finland has overtaken Denmark as the happiest nation six years in a row. 
What about Singapore? Perhaps to many Singaporeans' surprise, Singapore has not been performing too badly at all as a nation when it comes to being satisfied with one's life. 
Out of over 150 countries in the Gallup World Poll, which is the dataset used to generate the happiness league table in the WHR since its inception in 2012, Singapore ranked 25th globally in 2023. 
It has an average life evaluation score of 6.6 on an 11-point scale (where 0 = "The worst possible life" and 10 = "The best possible life"). On the other hand, Finland, which came first in the ranking, has an average life evaluation score of 7.8. 
However, despite being consistently ranked as Asia's happiest nation, Singapore has not seen a dramatic improvement in either its ranking or the average life evaluation score over the last decade. 
Back in the first WHR report in 2012, Singapore ranked 33rd globally, with an average life evaluation score of 6.5.
But should we care about this? Certainly! 
For decades, happiness researchers like me have found consistent — and often causal — evidence across countries and time periods that people who are more satisfied with their life are, on average, more productive, less likely to quit their job, more trusting, more prosocial, healthier, and more likely to live longer. 
It is also probably not hard to imagine that a well-run country requires their citizens to be productive, trusting, healthy, prosocial, and have longevity as well. 
In short, there are many objective benefits to becoming happier with our life.    
HOW DO WE MAKE SINGAPOREANS HAPPIER? 
In that case, what are we doing right as a nation? And what are we doing wrong? 
To understand these questions and their answers better, we must first understand the important determinants of life evaluation. 
Life evaluation, which is one of the core measures of evaluative (or cognitive) well-being, captures how satisfied we are with our life overall. 
How we respond to the life evaluation question depends, in part, on whether we feel our life is measuring up to our expectations. 
It also depends significantly on our environment, our past and hope for the future, and our genes. 
This is why some of the major, positive determinants of life evaluation include having a good job, being physically and mentally healthy, earning good incomes, being in a good relationship with friends and families, living in a safe, stable, and well-governed country, and having a good social safety net, many of which are things that Singapore does very well on a grand scale. 
On the other hand, we tend to feel worse about our life when other people like us — for example, those of the same gender, similar age group, and education level — earn more or progress faster in their career than we do.
Rising prices and inequality, as well as the constant pressure to keep up and compare ourselves with others, can also take their toll on our physical and mental health, which happen to be two of the main predictors of life evaluation. 
The way we spend our time also matters. 
If we spend most of our days engaging in activities that have negative consequences on our daily emotional health, such as commuting and working in a meaningless job, then it is highly unlikely that we will feel very fulfilled with our life.   
So, what can we — as individuals, as business leaders, as the Government — do if we want to make the whole country happier?
First, it might be useful to learn that it is not always a trade-off between well-being and economic growth. Many of us believe that we need to sacrifice our happiness today in the pursuit of economic prosperity and our happiness in the future. 
Yet, a simple tweak to the way we spend can help improve how much each dollar can buy us in terms of happiness. 
For example, studies in psychology have shown that people generally derive more happiness from experiential purchases such as paying for a yoga class or a holiday than material purchases, as well as from prosocial spending such as spending money for others like friends or families than spending on ourselves. 
There are also important roles for businesses and the Government to play. 
For instance, the Four-Day Week experiment, which saw hundreds of companies around the world introducing a four-day, 32-hour work week with the same pay to their employees, has been shown to be successful at improving workers' overall well-being without sacrificing their productivity in return. 
Instead of taxing income, the Government could replace it with progressive consumption tax. 
It is like the existing Goods and Services Tax (GST) except that the tax rates start low for goods that are cheap (like hawker food) or expensive but important (like medical devices) before rising sharply for materialistic goods that are very expensive (like luxury watches).
Such a tax would help reduce the demand for conspicuous consumption that is wasteful and detrimental to societal well-being. 
There is also a lot to be said about building a strong sense of community among people who live in the same local area and to educate people about the science of happiness at all levels, from primary school to the university.   
WHY MEASURING HAPPINESS MATTERS
There are many more possibilities to improve the nation's happiness, of course. But perhaps a good starting point is for us to start taking these measures more seriously. 
This can be done by collecting and analysing well-being data of our own, which is something many government agencies such as the United Kingdom's Office of National Statistics and the Organisation for Economic Co-operation and Development have been doing over the last decade. 
We should know what works for well-being in Singapore first before we can come up with any policies to improve them in the long-run. 
Currently, very little has been done to track Singaporean's overall well-being — whether it is life satisfaction, mental health, and purpose in life — at the population level. 
One solution to this might be for the Department of Statistics to start including questions on personal well-being in its annual population surveys. 
And with such data, we would be able to track how Singaporeans' well-being are doing over time, especially during the toughest of times like the Covid-19 pandemic. 
At present, there has only been one study by Dr Terence Cheng (Harvard University), Dr Seonghoon Kim (Singapore Management University), and Dr Kanghyock Koh (Korea University) that showed how elderly Singaporeans' life satisfaction dropped sharply leading up to and following the Covid-19 lockdowns before bouncing back to almost the pre-lockdown level 13 months later. 
As Mr Joseph Stiglitz, the 2001 Nobel Prize laureate, once said: "What you measure affects what you do. If you don't measure the right thing, you don't do the right thing." 
And measuring the citizen's overall well-being, whether it's life evaluation, mental health, or purpose in life, is the right thing to do. 
ABOUT THE AUTHOR:
Nattavudh (Nick) Powdthavee is a Professor of Economics at Nanyang Technological University, Singapore. He is the author of The Happiness Equation: The Surprising Economics of Our Most Valuable Asset and co-author of The Origins of Happiness: The Science of Well-Being over the Life-course.