Commentary: True inclusivity in S'pore needs strong 'brains, limbs, arteries' — a blind advocate's personal take
Inclusion has been an important buzzword in Singapore for the past two decades, guiding much of our direction as a nation.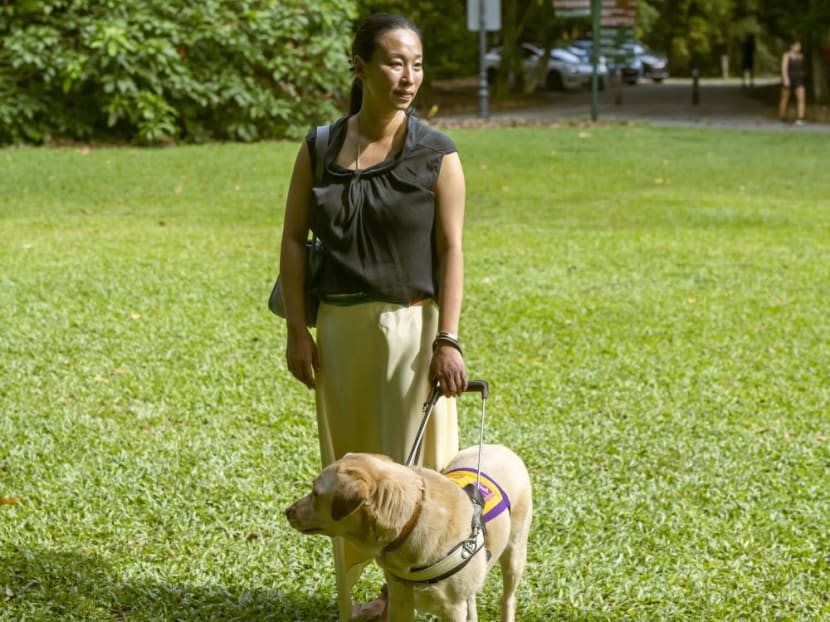 Inclusion has been an important buzzword in Singapore for the past two decades, guiding much of our direction as a nation.
We can see this from the development of our physical infrastructure, as evident from our feature in a recent BBC article entitled "4 Cities Putting Disabled Travellers First".
It celebrated Singapore's infrastructure, touting that "more than 95 per cent of pedestrian walkways, taxi stands and bus shelters [in Singapore] are accessible to people living with a variety of impairments".  
Even our attractions like Gardens by the Bay were celebrated as "a model of accessibility". When I was growing up in the 1980s things were quite different, and it was a lot harder for a disabled person like myself to get around our city-state.
As a middle-aged Singaporean who lived through this transformation, I have to say over and over again, that I am proud to call Singapore home.

When I ask myself what makes inclusion truly inclusive, I like to envision Singapore society as a living thing, working together synergistically to breathe and thrive as one. I believe there are three target areas we need to think about.
BRAINS, LIMBS, ARTERIES AND CELLS
First, political will, or the "brains".
Without clear direction from our leadership, how would the "hands" and "legs" of society be able to take heed? As a nation well-governed by the rule of law, we are accustomed to following the leadership of our political leaders.
For this, I am grateful for the forward-thinking policies of Singapore that have laid, and continue to actively lay the foundation for inclusion to grow and develop over the past decades.

Second, infrastructure or the "hands and legs" — the limbs that help us do things and go places.
Without it, disabled folks cannot get out of their houses and lead meaningful lives. As the BBC article highlighted, we have a commendable built environment that enables people with disabilities to be able to manoeuvre through city life easily, which stands as a testament to Singapore's commitment to making the city accessible.

Third, social will or our "arteries" and "cells".
When there are supportive policies and legislation, combined with a well-designed infrastructure that makes leaving the home possible for a disabled person, the last and most important element is the people.
We do not live in isolation, and social interactions are a part of everyday life. This is especially pertinent in a city.
To most disabled people, inclusion does not mean receiving pity or sympathy from others; it simply means not being excluded from everyday life, and to be gifted the dignity to participate. It is being offered the empathy and understanding that we may need some accommodations to make it possible.
For most people with disabilities, we are also actively carving out ways that make it possible through our wheelchairs, hearing aids, white canes or seeing-eye dogs.
These mitigate our disability and allow us greater function that our disabled bodies otherwise do not have.
NO UNNECESSARY BARRIERS, PLEASE
Sometimes, inclusivity means simply allowing us to utilise these gateways to participation, and not having unnecessary barriers that block our progress, when we already fight every day to cross the hurdles from our disability.
I thought it would be good to use a real-life example to illustrate this point. In November last year, I had to shop for a new office for my counselling practice. I had been at Tanglin Shopping Center for the past 11 years, but the building had been sold en bloc.
I was sad to lose the friendly "kampong" community I built, and the stable rent I had enjoyed for the past few years. With skyrocketing rent, it was hard to find a suitable place that would allow my small business to be financially viable.
After months of searching, I was so happy to find something in a reasonably central location, and what's more, at the same rent that I was paying. Yes, the building was a little older and not as glamorous, but beggars cannot be choosers.
I brought my chequebook for the deposit and that was when the problems began. I was told that I would not be able to rent the unit unless I came to work every day without my seeing-eye dog Elke, as the building did not allow it.
I asked around for anyone who knew the building owners and a kind friend approached two members of their board to appeal for their empathy and understanding.
One of them came back to say that "the reason for disallowing animals in the premises is health-related and not discriminatory. We do have commitments to guests who may have health allergies to animals".
Even after explaining that seeing-eye dogs maintain a strict health protocol, and providing the relevant supportive legislation proving that seeing-eye dogs are permitted in public places, I was still turned down.

I have been to hospitals with my seeing-eye dog, and I would imagine that hospitals would have many more people who are critically ill and/or have severe allergies as compared to a publicly accessible building.
To have been given barriers to entry, I cannot help but feel excluded.
This management's commitment to the preferences and supposed health allergies — imagined or otherwise — over my own real and practical needs arising from disabilities is outright discrimination by any definition of the word.

"Social will" is the binding agent for policies and infrastructure to come together. It is a vital piece of inclusion, and we need to actively foster a more welcoming and enabling social will.
K9Assistance, a registered charity I co-founded to promote the acceptance and use of assistance dogs for the disabled, recently completed a public perception survey with 658 participants on their attitudes towards assistance dogs.
It will be published on Aug 6 amid the International Assistance Dogs Week, but here's a preview of some findings.
When participants were given the opportunity to observe a real-life assistance dog, and were offered education on assistance dogs, the results were extensively positive. Some 99.6 per cent were supportive of people with disabilities using assistance dogs, and 84 per cent were comfortable sharing public places.

Some of the concerns raised in the group that were less supportive of assistance dogs in public places were hygiene, fear of dogs, smell and safety. When the survey probed further, participants expressed concerns for those with fear or allergies to dogs, and for those with cultural sensitivity of others.
However, data from the survey indicates that these were more often than not, merely our own preconceived ideas of what other people might harbour. For example, a survey participant who said she was afraid of dogs was still willing to share public spaces with assistance dogs.
Further, our results show that 97 per cent of Malay and Indian participants supported the daily use of assistance dogs by persons with disabilities and 74 per cent were willing to share public places with assistance dogs.
A MINORITY ROADBLOCK AGAINST INCLUSIVITY
These results highlight an unequivocal discrepancy in the perceived concerns of various ethnic minorities.

In my humble opinion, based on my lived experiences and the results of the survey, the stumbling block of inclusion lies with a few erroneous arteries and cells.
Whilst these non-conformist individuals form a small percentage of society, the damage they pose is tantamount to a roadblock that halts inclusion in its track, reversing all the good that society has collectively gained over the past 20 years.
Whilst it is very possible that you may disagree with my observations, after all about 90 per cent of us live without a disability, I would invite you to spare a moment to imagine yourself in my shoes, as a disabled person, who happens to use a seeing-eye dog.
When all you are trying to do is lead a regular life but are constantly faced with endless exclusions day in, and day out, perhaps then you might see where I am coming from.

To the majority of "arteries" and "cells", you have made inclusion possible, thank you.
May I please add a burden on you to help us take inclusion further, to build your immunity against any negative agents that might influence you from being gracious, kind and inclusive toward people with disabilities.
I am hopeful then that we can become a truly inclusive society for all. 
ABOUT THE AUTHOR:
Cassandra Chiu is the Executive Director of K9Assistance, a psychotherapist and an advocate for persons with disabilities. Her creative non-fiction book, A Place for Us, was published by Ethos Books.