Commentary: What Singapore can learn from Russia's problems in drafting reservist troops
Russian President Vladimir Putin's order for a "partial mobilisation" of its military reservists in late September has made global headlines for several reasons.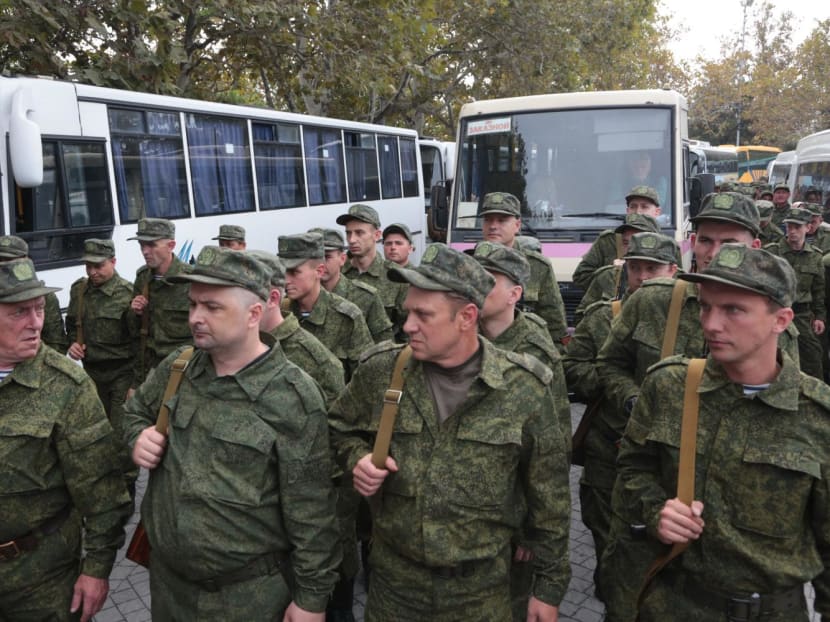 Russian President Vladimir Putin's order for a "partial mobilisation" of its military reservists in late September has made global headlines for several reasons.
This was Russia's first large-scale mobilisation since the Second World War, with analysts' estimates ranging from a mobilisation of 300,000 reservists to a much wider mobilisation of 1.2 million men till spring 2023.
Mr Putin's announcement, though not expected, raises the stakes for all concern as it signalled Moscow's intent to not only prolong the war, but also escalate should certain red lines be crossed.
As of late October, Russian attempts at regaining the initiative centred on the symbolic town of Bakhmut have largely come from Russian regular forces, pro-Russian separatists from the Donetsk People's Republic and Russian oligarch Yevgeny Prigozhin's private military firm Wagner Group.
The reliance on private military firms such as the Wagner Group in lieu of a functioning military reserve system undermines the credibility of the Russian Armed Forces.
Indeed, the growth of the Wagner Group and Mr Prigozhin's power base outside of Russian Ministry of Defence (MOD) structures allows him to be openly critical of Kremlin officials, Russian higher military command and the Russian Armed Forces.
But more importantly, the reliance on private military firms raises serious questions on both the state of the Russian mass mobilisation system and its ability to deploy its operational reserves, and what lessons Singapore can draw from them.
WHAT WENT WRONG AND WHY?
During both the Second World War and the Cold War, the importance of massed forces and mass mobilisation was central in Soviet doctrine.
Rather than identifying a single focal point to exploit, the Soviet concept of "Deep Battle" relied on operational reserves to achieve breakthroughs across an entire front deep into its opponent's strategic vitals.
Post-Cold War attempts to reform the post-Soviet Russian military into a leaner and more adaptive force that relied less on its mass reserve have led to a drawdown of the structures, knowledge and capabilities needed to maintain both its mass reserve and operational reserve system.    
On Oct 28, Russian Defence Minister Sergei Shoigu announced the completion of Russia's "partial mobilisation" of 300,000 men.
It is important to look beyond the draft numbers and consider the Russian mobilisation system's ability to cope with the demands of raising, training, sustaining and deploying its mobilised reserves.
The "partial mobilisation" was a problematic process from start to finish. 
In many cases, call-up notifications were sent to the wrong men. Hundreds of thousands of men of enlistment age have fled Russia to avoid the draft.
Amongst the mobilised men, thousands were deemed to be unfit for military service and sent home. Reservists deployed to the front were often poorly trained and equipped with unserviceable equipment.
In light of current Russian operational demands, the loss of its mobilisation structures, capabilities and institutional knowledge at the ministry and formation level, Russia will face immense challenges at maximising the potential of its mass reserves in the short term.
It will take at least several months to translate the nominal numbers into operational units that are combat effective.
Indeed, President Putin acknowledged the problems with the current Russian mobilisation system when he said: "Based on the experience of conducting the special military operation, we need to think over and make corrections to the way all components of the armed forces, including the ground forces, are constructed."
LESSONS FOR SINGAPORE
Singapore has built up a reliable and efficient mobilisation system over the last 55 years of National Service (NS) that has kept up with the demands of operational requirements and needs of NSmen.
Mobilisation and equipping exercises are conducted on a regular basis to validate the operational and manning readiness of NS units.
As NSmen move through the "strengthen, sharpen and sustain" phases of their NS training cycle, they can be also called back for operational duties when the need arise.
Information on mobilisation from notification, activation and acknowledgement to the "dos and don'ts" is presented in a clear, accessible manner for NSmen and employers, ensuring minimal disruption when servicemen are mobilised.
Symbols of "active" and "silent" mobilisation such as the flashing green man have become recognisable memes of the Singaporean way of life.
The mobilisation system and its associated structures, capabilities and institutional knowledge that Singapore has built in the times of peace should not be taken for granted.
Russia's whittling down of its mobilisation system since the end of the Cold War has reduced the operational capabilities and credibility of the Russian Armed Forces when put to the test in Ukraine.
More importantly, trust in the Russian MOD and armed forces have been severely eroded and undermined.
It will take time for the Russian MOD and armed forces to reform their military mobilisation system and rebuild trust, but small states may not be able to make the same mistakes and survive.
In the Singapore context, effective mobilisation is premised on the trust that Singaporeans have in the system.
A 2021 survey by the Institute of Policy Studies revealed that Singaporeans were most confident of our state institutions — including the Singapore Armed Forces (SAF).
The trust that Singaporeans and NSmen have in the SAF is an invaluable asset that cannot be quantified in material numbers.
It is a moral force that has been sustained over the last five decades that ensures the commitment of successive generations of NSmen to the defence and security of Singapore.    
As recent Russian experience in Ukraine shows, the erosion of its mobilisation system had dire consequences not only on its military performance in the field, but severely damaged the Russian MOD and armed forces as institutions.
The fundamental lesson to be gleaned from Russia's mobilisation efforts in recent weeks is how the atrophy of mobilisation capacity and capabilities in peacetime can have serious consequences in wartime.
This may not be existential for a large country like Russia, but the ability to effectively mobilise both operational and mass reserves in times of crisis, emergency and war is crucial to the survival of small states such as Singapore.
Like a deep reservoir, Singapore's mobilisation system is a key strategic asset that underpins our survival and a barometer of our collective strength.
It should not be taken for granted and should be continually stress-tested and enhanced to better protect our way of life.
ABOUT THE AUTHOR:
Ong Wei Chong is Assistant Professor at the S. Rajaratnam School of International Studies (RSIS), Nanyang Technological University and head of RSIS' National Security Studies Programme.