Commentary: What Singapore's impending workplace discrimination law means for younger, future workers
A new wave of fresh graduates entering the workforce this hiring season should be pleased that Singapore may soon be implementing laws to counter workplace discrimination.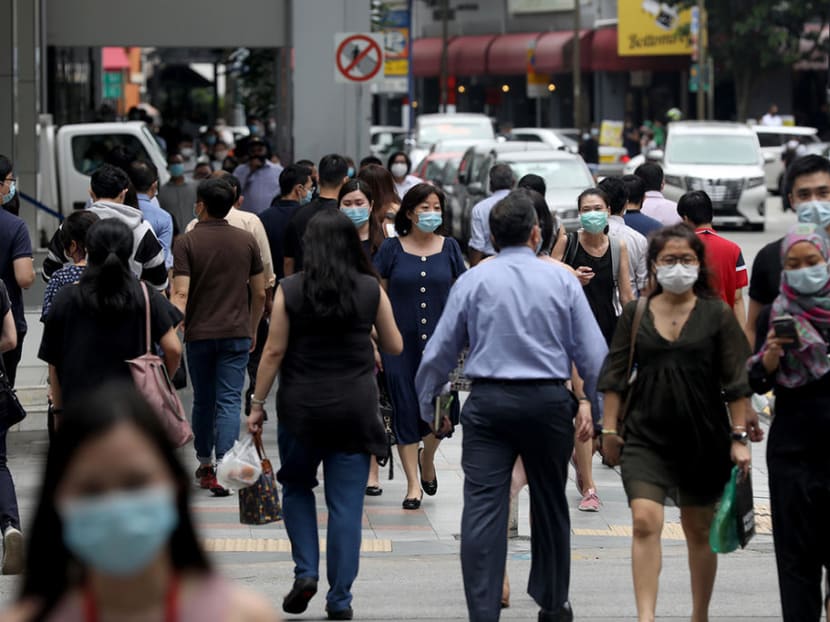 A new wave of fresh graduates entering the workforce this hiring season should be pleased that Singapore may soon be implementing laws to counter workplace discrimination.
The interim report on Workplace Fairness Legislation, released in February 2023, puts forward recommendations that are a much-needed bolster to existing measures for fair and merit-based employment covered by the Tripartite Guidelines on Fair Employment Practices.
For younger workers especially, the introduction of the Workplace Fairness Legislation allows them to enter the workforce with confidence, knowing that they are better able to achieve their long-term career goals in workplaces mandated by law to address discriminatory forces.
CLEAR GENERATIONAL DIVIDE
The 2022 CNA-IPS survey of race relations, which surveyed over 2,000 respondents, highlighted a clear generational divide on the issue of racial discrimination.
When respondents were asked whether society has eliminated racial discrimination, a much smaller proportion of younger age groups — 28 per cent of those aged 21 to 35 and 29 per cent of those aged 36 to 50 — felt that Singapore has already achieved this.
In comparison, 40 per cent of those aged above 50 felt this way.
While most Singaporeans are unlikely to experience overt and blatant discrimination in the workplace, minorities have an elevated chance to be confronted with these unnerving experiences.
Compared to the 5 per cent of Chinese who reported that they had lost out on a job due to their race at least once in Singapore, there were 21 per cent of Malays and 17 per cent of Indians who claimed to have had such an experience.
This disparity was consistent when respondents were asked about whether they had missed out on a promotion or work opportunity or were paid less than their counterparts simply because of their race.
There is good reason to believe that such concerns about discrimination among minorities are not merely perceptions.
The same CNA-IPS survey also showed how there were existing prejudices which placed impediments on minorities — for instance, nearly all respondents agreed that a Singaporean Chinese would be suitable to manage a business for them, though only about half felt the same way for a Malay or Indian for this role.
When prejudices are present in society — such as associating some groups with characteristics like not being very efficient at work, or having cultural features which make them harder to assimilate in the workplace — it is necessary to conclude that discriminatory rather than merit-based considerations could have determined at least some workplace opportunities.
While the data we have presented relate to racial minorities and how they may face discrimination at work, the same can be said for other minorities such as those with disabilities or even women who may be in their childbearing years. 
ROLE OF TAFEP
Thus far, the issue of workplace discrimination is covered under the Tripartite Alliance for Fair & Progressive Employment Practices (Tafep), first established in 2006 to "promote the adoption of fair, responsible and progressive employment practices", and enforced via the framework put forth by the Tripartite Guidelines on Fair Employment Practices.
Tafep provides employers with resources and guidelines for complying with employment laws whilst encouraging the adoption of tripartite standards.
They also provide employees with avenues to report on workplace discrimination and harassment, and mediation services to remedy some of these workplace grievances.
The agency reported receiving an average of 379 complaints each year from the period of 2014 to 2021, of which an average of 41 cases were met with enforcement action by the Ministry of Manpower (MOM).
But a framework itself does not have the same signature as legislation, with penalties which could include hefty fines.
Perhaps the lack of a clear employment discrimination legislation has led a portion of those who experience discrimination to feel that the matter is not sufficiently serious enough for society to take a firm stance against. 
NEW LAW A WELCOMED ADDITION
As a majority of Singaporeans believe that the country's legal system should provide an effective tool in combating and reducing workplace discrimination, the Workplace Fairness Legislation should be viewed as a welcomed addition in our legal labour landscape.
There is indeed a lot of value to be had in making clear in legal terms what is and what is not considered discrimination, particularly in the workplace.
A core strength of Singapore's labour landscape is the industrial harmony between employers and employees that we have enjoyed and maintained for decades.
At its heart, this harmony is predicated on strong tripartite relations between industries, unions, and the government which focuses on maintaining workplace harmony.
As far as possible, mediation and conciliation are prioritised in order to resolve labour disputes and maintain a non-litigious workplace culture.
Singapore's approach has worked well thus far, but a changing labour landscape demands an evolving legislative update.
Legislation on the matter is perhaps long overdue but nevertheless represents a step towards the right direction.
The recommendations forwarded in the report for Workplace Fairness Legislation include strengthening protections against workplace discrimination based on protected characteristics.
These include:
age
nationality
sex, marital status, pregnancy status, caregiving responsibilities
race, religion, language; and
disability and mental health conditions
The recommendations also include provisional support for businesses and organisations on a case-by-case basis and making clear processes to resolve workplace grievances whilst ensuring fairer monetary and non-monetary remedies.
PURPOSE OF NEW LAW
By proposing the Workplace Fairness Legislation, the tripartite committee does not seek to address and legislate all forms of workplace discrimination.
Instead, the scope of the legislation is primarily to provide protection against the most commonly reported grounds of discrimination based on complaint reports to Tafep and MOM. Together, they account for almost all discrimination complaints from 2018 to 2022, with nationality being the largest.
This list put forth by the committee is also by no means exhaustive and does not provide legislative protection against some other common forms of discrimination that other countries have adopted, including sexual orientation and gender identity, genetic information and characteristics, and past criminal convictions.
While these characteristics may not be protected under the Workplace Fairness Legislation, they will continue to be protected under the Tripartite Guidelines on Fair Employment Practices.
Nevertheless, the decision to include stronger protection against discrimination is key in supporting Singapore's social and economic objectives.
THE WAY FORWARD
With the introduction of the Workplace Fairness Legislation, coupled with the Tripartite Guidelines on Fair Employment Practices, young workers can have faith that their long-term career aspirations will be taken care of under Singapore's evolving labour landscape.
It signals to them that regardless of their background, and the possible situations that may arise through the life course such as disabilities, they have a right to work in a workplace free from discriminatory forces. 
In the long term, active efforts contributing towards a diverse workplace can help to shift mindsets and develop a more socially cohesive society.
ABOUT THE AUTHORS:
Mathew Mathews is head of the Social Lab and Principal Research Fellow at the Institute of Policy Studies, National University of Singapore. Hazim Zulfadhli is a research assistant at the same institute.