Covid-19: Why Thailand needs to adopt a testing and tracking strategy
The Thai public health system is currently doing a good job of tracing the contacts of people who are confirmed cases of the virus. But what of those cases we cannot see? Unless this issue is addressed, the virus will not be eradicated, and may possibly resurge.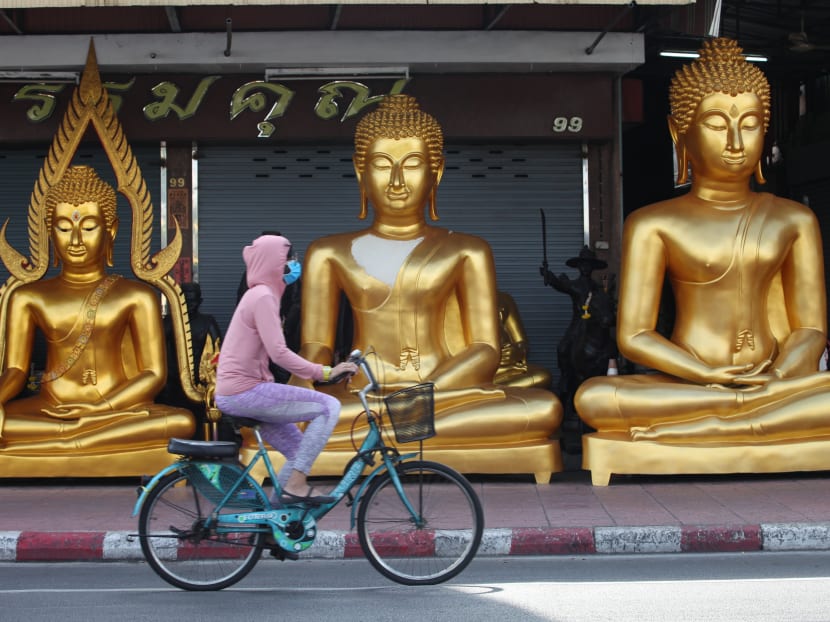 In late January, Thailand was tipped to be worst hit by Covid-19 after China and Hong Kong. Today, Thailand accounts for only 0.03 per cent of recorded deaths worldwide from the pandemic. New cases are on a declining trend.
The Thai medical profession deserves our applause.
But we should be careful about declaring victory too soon. We are still learning about this new virus. We know that there are many people who show no symptoms yet are infected by the virus and may pass it on to others. They may eventually exhibit symptoms, or they may not.
How many such people there are is still uncertain. Studies from different countries show varying results.
In Iceland, which tested 6 per cent of the total population, 43 per cent of those testing positive had no symptoms at the time. Other studies suggest the asymptomatic proportion may be as high as 80 per cent.
Dr Surapol Issaragrisil, a senior doctor at Siriraj Hospital, President of the Royal Society of Thailand and a renowned expert in haematology both inside and outside Thailand has suggested there may be 200,000 to 500,000 people who have been infected but not counted among recorded cases because their symptoms are mild or non-existent.
In mid-March, Dr Tedros Adhanom Ghebreyesus, the director-general of the World Health Organization, defined the policy for containing the virus: "Find, isolate, test and treat every case to break the chains of Covid transmission. Every case we find and treat limits the expansion of the disease."
The Thai public health system is currently doing a good job of tracing the contacts of people who are confirmed cases of the virus. But what of those cases we cannot see? Unless this issue is addressed, the virus will not be eradicated, and may possibly resurge.
Medical professionals all round the world have concluded that the strategy of social distancing, as adopted in Thailand, is not enough. Several countries have successfully addressed this issue by adopting testing and tracking (T&T).
This means testing a systematic sample of the whole population for the presence of the virus and tracking the contacts of those who test positive in the same way that is currently done for confirmed cases.
There are established procedures for such sampling, and new apps to assist tracking. A few countries and territories, including China, South Korea, Taiwan and Vietnam, adopted this approach from the beginning and have been strikingly successful.
Inspired by its experience of the severe acute respiratory syndrome, Vietnam adopted this strategy from day one. To date it has recorded only 268 confirmed cases and zero deaths.
In many countries that adopted policies of lockdown and social distancing, the authorities are now under pressure to relax these measures because of their impact on the economy.
Thailand is no different. There is a fierce debate over how and when to relax the policy.
Several states in the United States and cities in Europe, which have been practising social distancing like Thailand up to this point, are now planning to adopt T&T as part of a strategy to restart their economies.
Dr Surapol has said: "We must do testing and tracking as quickly as possible, using random sampling on a wide scale, not nationwide, but focusing on the high-risk areas. It will cost money and will require equipment we do not yet have, but it is better than not doing it."
There are several models for T&T. Most have been developed from the practice in Wuhan, modified by the learning experience of the last three months.
The model of Vietnam is most interesting for Thailand because the two countries are similar in society and climate.
Where Vietnam differs is that it adopted T&T from late January, partly because it feared its weak public health system and limited hospital capacity might easily be overwhelmed.
It was able to develop its own capacity for making the test kits.
By testing, Vietnam identified all those carrying the virus, and by tracking, identified all their contacts at one, two and three removed.
Authorities then enforced strict measures for quarantining those at risk and ensuring distancing in public spaces, calling on the people to cooperate and mobilising the army to monitor and ensure that these rules were upheld.
This method strictly limited the opportunity for the virus to spread.
The Vietnamese government sought people's cooperation by explaining that these methods would minimise the disruption to everyday life and the cost to the economy.
The International Monetary Fund predicts the Vietnamese economy will grow 2.7 per cent this year, the strongest showing in Asia, compared to -6.7 per cent for Thailand.
In Thailand, the policy-makers are resisting adopting the strategy of T&T. They insist that the current strategy is working and is adequate.
They argue that testing and tracking will be expensive and that Thailand does not have the expertise and equipment.
But experts such as Dr Surapol contend that this thinking is wrong-headed. The long-run costs of not adopting T&T will be higher. The equipment and expertise can be found somehow, if there is a will.
The costs of testing can be minimised by clever, targeted sampling, calibrated by risk, using the accumulated data on the pattern of the virus in Thailand.
The infrastructure for tracking already exists in the corps of a million public health volunteers, who have shown their ability to track confirmed cases over the last three months.
Dr Surapol adds: "There is another concern. By the end of May, the rains will have come. The humidity will rise. There is a risk this will see phase two of Covid's spread. And if this phase spreads more deeply upcountry, where there are fewer hospitals and other medical facilities, we will be overwhelmed."
Thailand should have done T&T from the start, but that's now past history. The important point today is that it's never too late to start and also never too early. BANGKOK POST
ABOUT THE AUTHORS:
Pasuk Phongpaichit is Professor of Economics at Chulalongkorn University. Chris Baker is an independent scholar. In 2017 they jointly won the Fukuoka Grand Prize that recognises outstanding contributions to academia, arts, and culture in Asia.