From debate to dialogue: Two religions, one friendship and a common interfaith cause
Both of us were junior college mates who lost touch after school but reconnected as pioneers of South East CDC's Explorations into Faiths (EIF) programme. Its emphasis is on getting stories — complex, gritty, messy lived realities — of participants told. Not analysed, argued with, understood or rebutted.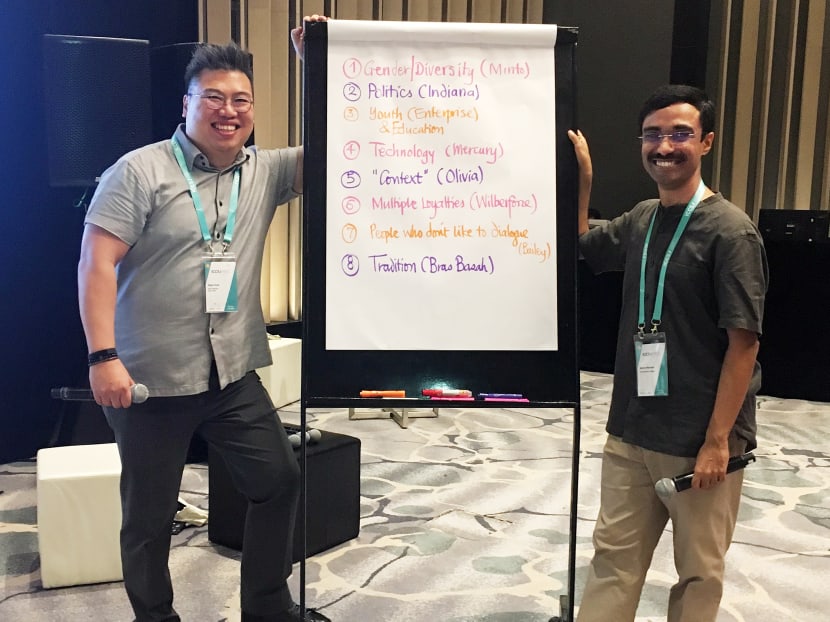 We first met in 1997 — members of rival junior college debate teams, slugging it out on the motion "The Olympics are a force for international unity".
Debating was a wonderful activity. It taught us to see issues from multiple perspectives; to recognise that others might hold views with which we passionately disagreed; and to know that we could go out to dinner with people even (or especially) after spending a day arguing with them.
But as much as we loved it, both of us knew that taken too far, debating wasn't satisfying. Our minds often raced ahead of ourselves, thinking of ways to rebut an argument.
We didn't listen to the person making the argument as fully as we could. The process was intellectually stimulating, but ultimately an exercise, analytical and cold.
Our opponents were sources of views to defeat, rather than whole persons with rich, complex lives.
Like many others, we lost touch after junior college, but reconnected slightly more than a decade later in 2008.
A year before, Nigel had been among the pioneering facilitators trained in interfaith dialogue techniques, who founded South East Community Development Council's Explorations into Faiths (EIF) programme.
Aaron was in the second cohort, eager to explore more such dialogues after participating in some during an overseas posting.
EIF's most endearing and enduring quality is its emphasis on stories.
At dialogues and other activities, it welcomes everyone — people of faith or none, the sure and the still-seeking.
Its aim is simply for their stories — complex, gritty, messy lived realities — to be told. Not analysed, argued with, understood or rebutted. Just told, welcomed, accepted, whatever their ugliness and beauty.
This is important in interfaith dialogue.
It's hard enough to talk about our belief (or not) in the divine; it's even harder to talk about it when we are all painfully aware of our human imperfections.
EIF builds safe spaces for these personal stories to emerge, without the tellers having to fear judgement, ridicule or embarrassment.
The dialogues teach us how to hold a space for both ourselves, and people we might consider as "other".
At a session on faith and music, one young person shared his struggles with the formal aspects of his faith, and how he was slowly reconciling it through singing and playing the guitar, as a form of prayer.
At another dialogue, on the topic "Faith and water", people from different faiths were surprised to learn that they were not alone in feeling rejuvenated by processes of ablution (ritual cleansing) and baptism.
Here, we really became friends, finding common love in a common cause.
For Nigel, a Roman Catholic, the deeply human stories and experiences shared at EIF sessions compel us to break the convenient tendencies of casual characterisations and simplistic stereotypes; to see others as real persons.
For Aaron, a Muslim, EIF means connecting with kindred spirits who relate to his Tamil-Eurasian-Pakistani-Malay-with-a-dash-of-Chinese family, and how they navigate relationships between Muslims, Roman Catholics, Hindus, Buddhists and liberal humanists.
For both of us, EIF has been a space of surprise. Sometimes, the stories we hear make us laugh when we least expect it; at others, we've been reminded how sad the world can be when it is easier to forget that.
Just when we think we've heard it all, a dialogue participant tells a story overflowing with humanity and — if we know how to listen — deep, echoing wisdom.
We've heard from interfaith couples working hard to honour each other's religious traditions, raising their children to respect different beliefs. About Buddhists, Christians, Hindus and Muslims meditating together regularly, finding common ground by sitting together in silence. 
Or friends of different faiths, learning more about their own deepest beliefs when they heard phrases or ideas from another person's scripture.
Invariably, each story is about seeing the living, breathing person underneath the religious labels and categories.
So far, most of our interfaith work has been in Singapore.
But for the past months, one of our favourite (and, yes, time-consuming) projects has been planning for a bigger challenge: the International Conference on Cohesive Societies (ICCS) in Singapore this week with 700 participants. President Halimah Yacob will open the conference on Wednesday (June 19).
The ICCS' Young Leaders Programme will be an experiment —  an "UnConference" with no programme fixed in advance, just an openness to hear the views and ideas of the participants.
Together with our facilitation team — all friends and family — we hope the group will self-organise around what they truly care about, not what we think or guess they might like to discuss.
On one level, such an open programme makes us both a little nervous.
Like so many Singaporeans, we love structure. But our experience with EIF reminds us that the UnConference is the perfect way to bring out the stories of each young leader attending the programme.
Our instincts tell us that the free structure, (which will, of course, be supported by a rigorous and well-tested facilitation process) will generate profound connections in the participants' minds and hearts.
There will, of course, be some debates. Perhaps even a few tears.
But we have faith in our collective capacity to hold that space for one another — and that all of us will come out richer from the learning, laughter and love as the group gathers in Singapore.
And that really is the purpose of dialogue, isn't it?   
ABOUT THE AUTHORS:
Nigel Kaw is an educator and Aaron Maniam is a civil servant, currently working on a PhD. They have volunteered with the EIF programme since 2007 and 2008 respectively.