Why it is necessary but not easy to give delivery riders better benefits and protection
The Covid-19 pandemic has given rise to significant economic consequences for many Singaporeans, with many losing their jobs and turning to remote and freelance work to earn an income.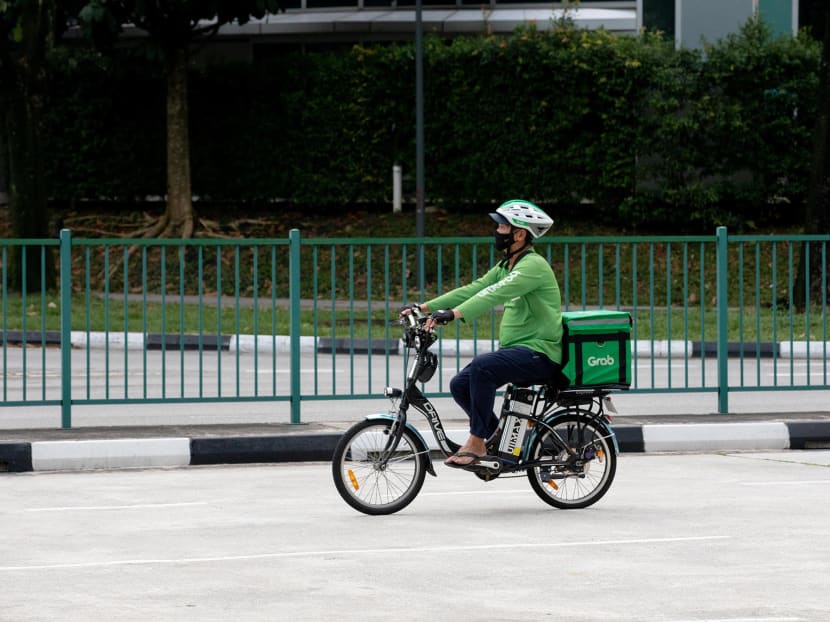 The Covid-19 pandemic has given rise to significant economic consequences for many Singaporeans, with many losing their jobs and turning to remote and freelance work to earn an income.
During the National Day Rally 2021, Prime Minister Lee Hsien Loong spoke about the growing presence of remote and freelance employment in Singapore.
According to Ministry of Manpower (MOM) data, the number of residents who were engaged in freelance work or who were self-employed increased by 8.2 per cent from 211,000 in 2019 to 228,200 in 2020.
One popular form of freelance work among Singaporeans is delivery riders who work for food delivery platforms such as Grab, Foodpanda or Deliveroo.
This is in part due to the low entry barrier and the relatively attractive pay, even though this comes with significant trade-offs.
First, delivery riders do not have access to the basic benefits that most employees enjoy.
For instance, they do not have employment contracts with the online platforms. Nor are they covered under the Employment Act.
Consequently, delivery riders are not eligible for basic labour protections such as workplace injury compensation, protection against unfair hiring and firing practices, personal accident insurance, and employer contributions to the Central Provident Fund (CPF).
But without access to medical benefits or CPF contributions, delivery riders will face difficulties affording medical care or housing, and ultimately have insufficient finances for retirement.
On the flipside, while delivery riders are not considered formal employees, they are often penalised for late deliveries or not being able to meet their daily targets.
These concerns are not unique to Singapore.
In April 2021, United States Labor Secretary Marty Walsh spoke of the need to recognise freelance workers as employees and provide these workers with social and employment benefits.
In August 2021 however, a coalition of online platforms including Uber and Lyft, successfully campaigned to get Californians to vote for a ballot measure that excluded these online platforms from classifying their freelance workers or contractors (used in the US) as employees, saving these companies millions in employment benefit payouts.
Meanwhile, in March 2021, Uber granted their United Kingdom drivers "worker status", giving them employment benefits including minimum wage. This worker status does not apply to couriers in its food delivery business though.
From a career development perspective, delivery riders also face longer-term disadvantages such as insufficient opportunities for upgrading and reskilling or the lack of career progression.
In short, the years that an individual has spent as a delivery rider may not be reflected favourably on his or her resume.
In response, some companies are putting in place measures to protect their riders.
For instance, both Grab and Deliveroo offer their delivery riders in Singapore free accident insurance coverage. Earlier this year, Foodpanda announced a partnership with e-learning platform Gnowbe and Temasek Polytechnic to upskill its delivery riders.
Grab also recently introduced a two-day training programme for new riders.
The programme is focused on improving the riding skills and food hygiene standards of riders rather than providing them with skills that may be transferable to other sectors.
While these moves are encouraging, much more needs to be done to bring the working conditions of delivery riders to parity with other employees.
PROTECTING DELIVERY RIDERS
Considering these concerns and Singapore's growing pool of freelance workers, MOM is studying ways to protect delivery riders and other freelancers, with an advisory committee set up to investigate and ensure a more balanced relationship between platforms and their workers.
The National Trades Union Congress (NTUC) is also looking at how it can provide greater protection for delivery workers.
According to NTUC Secretary-General Ng Chee Meng, these could include fairer terms and conditions for delivery riders, better workplace conditions and safety, and medical benefits.
As the Government and the labour movement consider how to provide greater protection and benefits for delivery workers, there are several important questions to consider.
First, how can the Government ensure that delivery platforms provide sufficient long-term financial protection for delivery riders, such as improving their retirement and housing adequacy?
Should CPF contributions and basic health insurance be made compulsory for employers of delivery riders?
Or should the Government simply provide a set of guidelines and leave firms to calibrate their levels of social protection for riders?
Second, who should pay for these benefits? If borne by food delivery platforms, will these costs be passed on fully to consumers? 
There are pros and cons in these considerations.
It is important to note that freelance work is popular as it provides increased work flexibility and quick cash.
As such, attempts to introduce employment protections might not be straightforward if it results in workers losing the benefits of freelance work.
While mandating the provision of CPF contributions by delivery platforms and delivery riders can help riders save for their retirement and health needs, such moves would impact cash liquidity for riders.
Although other low-wage earners like cleaners must make CPF contributions, these workers are salaried employees.
Salaried employees enjoy employment benefits and CPF contributions are much easier to calculate based on a fixed monthly salary.
Riders do not have such systems.
Currently, delivery riders can easily cash out their earnings almost instantaneously. This is useful as many riders require quick access to cash for their daily expenses.
They also have variable monthly incomes and with a quick cash withdrawal system, it would be impractical to demand riders to retroactively make CPF contributions.
Mandating CPF contributions would practically eliminate the quick cash system many riders rely on.
Hence while it is necessary to give delivery riders greater financial protection, doing so through existing policies and processes may disadvantage riders in other ways.
There is also a need to consider how the costs of providing delivery riders with adequate protection, healthcare coverage and upgrading opportunities can be distributed among the beneficiaries of the platform economy, such as food and beverage (F&B) operators and consumers.
For businesses, there is a need to devote more resources towards providing health benefits and CPF contributions to their riders. This will inevitably lead to higher costs for businesses, some of which will be passed on to consumers.
While a more laissez faire approach could allow for better optimisation of costs for platforms and greater work flexibility for riders, it may also result in inadequate levels of financial protection for riders.
Delivery riders play an important role in the new platform economy.
They serve as crucial channels of distribution for F&B operators as well as frontline customer service officers for food delivery platforms.
As more Singaporeans join this booming industry, providing fair employment benefits will become increasingly important.
All the stakeholders involved — the Government, labour movement, businesses, delivery riders and consumers — will have to find an equitable and sustainable way to do so.
ABOUT THE AUTHORS:
Shazly Zain is a research assistant and Woo Jun Jie is a senior research fellow in the Governance and Economy Department of the Institute of Policy Studies, National University of Singapore.