Famous last words by an Asean giant
Research, policy, business and civil society communities across Southeast Asia have reacted with shock and sadness to the sudden death of former Thai foreign minister Surin Pitsuwan, 68, on Thursday (Nov 30).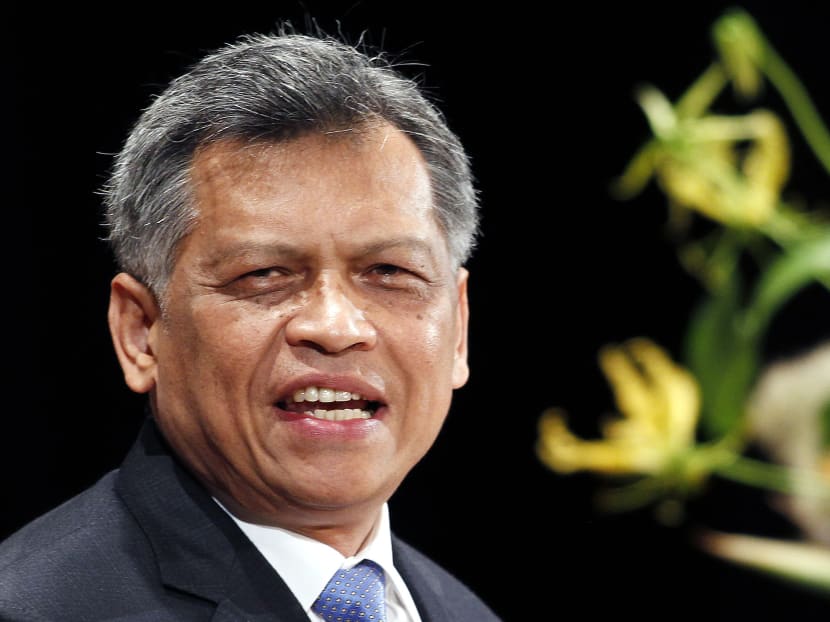 Research, policy, business and civil society communities across Southeast Asia have reacted with shock and sadness to the sudden death of former Thai foreign minister Surin Pitsuwan, 68, on Thursday (Nov 30).
One of the youngest foreign ministers in South-east Asia in the late 1990s, and an erudite orator, Dr Surin is best known – and will be best remembered – for the five years he served as the Secretary-General of Asean, from January 2008 to December 2012.
And what he said about Asean in his last interview before he died carries an important message for the grouping. But more about that later.
LASTING LEGACY
Dr Surin had humble beginnings in Southern Thailand. Born into a Muslim minority family, he excelled in school and won scholarships to pursue higher education, earning himself a PhD from Harvard in 1982.
He later joined the Democrat Party, and won seven parliamentary elections for the seat of Nakhon Si Thammarat, his hometown. He gained his first cabinet appointment in 1992 as Deputy Foreign Minister, later serving as Foreign Minister from 1997 to 2001 in the Chuan Leekpai administration.
His bid for the position of United Nations Secretary-General, to succeed Mr Kofi Annan in 2006, failed partly as a result of the dynamics of Thailand's domestic politics; the Thaksin administration then in power did not view Dr Surin's association with the Democrats positively.
Domestic politics were also to affect Dr Surin's nomination for the Asean Secretary-General position. Thailand went through a nation-wide open recruitment process to consider several candidates before confirming Dr Surin as its nominee.
Dr Surin took up his Asean post at a time when the grouping was moving towards a more rules-based structure, under the newly adopted Asean Charter.
He was one of the strongest voices promoting the Charter, and its role in ensuring Asean centrality.
He also reorganised the structure and duties of the Asean Secretariat to meet the Charter's vision for the Secretary-General and his team at the secretariat to be a "nerve centre" for various regional programmes and initiatives.
This new role as Asean's "Chief Administrative Officer" at times caused some cognitive dissonance with his former role as foreign minister sitting on the other side of the Asean table.
Dr Surin also initiated more interactions between the Secretariat and think tanks for greater intellectual input to regional processes. The Asean Studies Centre at the ISEAS Yusof Ishak Institute had the opportunity to work with him on several occasions in giving effect to this vision.
The first such instance was to document in real-time the Asean-coordinated response to the humanitarian disaster in the wake of Cyclone Nargis that devastated Myanmar's delta area in May 2008, laying bare the unpreparedness of the military regime then still in power to deal with the situation.
Dr Surin had described Asean's breakthrough in persuading Myanmar's military leaders to accept international humanitarian assistance as "Asean's finest hour". This breakthrough was achieved during Singapore's chairmanship of the grouping from July 2007 to July 2008.
With Singapore as the Chair, Asean Foreign Ministers fleshed out the details of how the group will contribute to the Nargis response. Dr Surin, as the Secretary-General, was to implement these decisions on the ground in Myanmar.
Mr George Yeo, Singapore's foreign minister at the time, presided over an international pledging conference in Myanmar, together with the UN Secretary-General and the Prime Minister of Myanmar.
The Nargis response was a significant marker for Asean's engagement with Myanmar. It was the first instance of Asean playing a direct coordination role in a member country in the wake of a disaster, thereby catalysing new ways of working among the member states and opening a space for humanitarian organisations to operate in Myanmar.
These breakthroughs a decade ago are significant in the context of a different - and more challenging - humanitarian crisis in Myanmar today involving the Rohingya, at a time when Singapore will take up the rotational Asean chair duties once again.
The main impact of Dr Surin's role, however, was in telling the Asean story to the world, to bring the world to Asean, politically and economically.
In this, he invested and exerted both personal effort and charm, for which he reaped dividends well after he ended his term as Secretary-General.
Still, once an Asean Secretary-General, always an Asean Secretary-General.
Dr Surin joined his predecessors in continuing to discuss Asean with international and regional audiences. Each Secretary-General has added his mark to this continuing role. Tan Sri Dato Ajit Singh's insights on the preparations and concerns surrounding the admission of Cambodia, Laos and Myanmar; Mr Rodolfo Severino's efforts to bring investor confidence back to the region in the wake of the 1997-98 Asian financial crisis; Mr Ong Keng Yong's extensive regional consultations and support in the drafting of the Asean Charter and the Terms of Reference of the Asean Inter-governmental Commission on Human Rights, all provide important precedents.
Dr Surin's efforts to link Asean with the world in addressing transboundary issues affecting regional security have set even higher standards and expectations for the grouping's performance.
He was particularly active in telling the Asean story this year, including serving as lead editor of a series of volumes on its 50-year journey, curated and published by the Economic Research Institute for ASEAN and East Asia.
An active believer in and supporter of Asean's continued role and reach, Dr Surin's literal last words were on Asean.
Speaking in an interview with the Nikkei Asian Review mere hours before his heart attack, he shared his concern that Asean risks "losing control of its own future", with member states having different interests and coming under the influence of external powers such as China.
"Economic assistance and political leverage will in one package" he said, calling on member states to be careful in choosing friends.
"Asean's centrality is weakening on problems that are on the landscape of Asean and should be resolved and managed by ourselves", he said, adding that Asean must exercise leadership to "take region into a better future".
"If we don't, others will claim centrality."
This is a poignant reminder for Asean's continued relevance in its next 50 years.
ABOUT THE AUTHORS: Termsak Chalermpalanupap and Moe Thuzar are Lead Researchers at the Asean Studies Centre at ISEAS-Yusof Ishak Institute. Both are also former Asean Secretariat officers. Mr Termsak was Dr Surin's Special Assistant from January 2008 to July 2012.