Five things to watch out for in 2019 on Malaysia's political front
As Malaysia begins 2019, it is increasingly clear that for Pakatan Harapan, moving the country forward and keeping it together while carrying out promised reforms may be more challenging than removing Barisan Nasional from power. Here are five issues to monitor in 2019.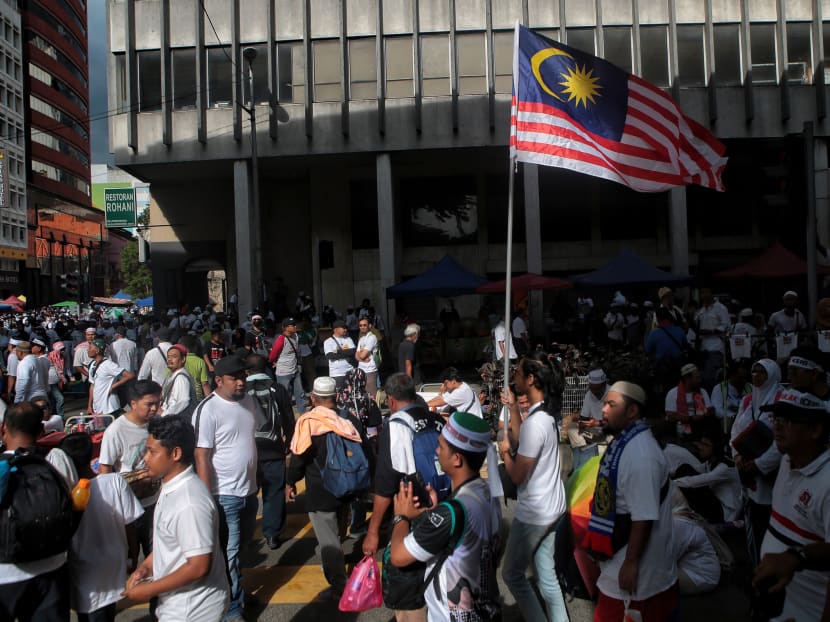 2018 was a year of dramatic change for Malaysia. At the General Elections in May 2018 (GE14), Barisan Nasional (BN) was defeated by Pakatan Harapan (PH) after 61 years in power. Malaysia saw the return of Mahathir Mohamad as Prime Minister.
His one-time nemesis Anwar Ibrahim was released from prison, received a royal pardon and is now back in Parliament. Najib Razak was slapped with multiple charges linked to the 1MDB scandal while investigations into allegations against other United Malays National Organisation (Umno) leaders are ongoing.
However, as Malaysia begins 2019, it is increasingly clear that for PH, moving the country forward and keeping it together while carrying out promised reforms may be more challenging than removing BN from power. Here are five issues we should monitor in 2019.
POLITICS OF SUCCESSION
Speaking at the 2nd annual assembly of the Parti Pribumi Bersatu Malaysia (PPBM) on Dec 30, Dr Mahathir said that he had agreed to be a "temporary" prime minister before GE14 and that he would stick to this promise.
Mr Anwar in turn tweeted that Dr Mahathir must be given the space to lead the government for the duration that they agreed upon. Notwithstanding these remarks, one day in politics, as they say, is a long time.
Although the two-year mark is still some time off, the stability of PH will hinge on the relationship between the two men.
As the so-called mark gets closer, speculation will increase, every word and action will be scrutinised, and the pressure on the two men by their supporters will increase exponentially.
For many observers, the question is not whether Dr Mahathir will hand over power — age is not on his side — it is whom he will hand over to.
It is also notable that Mr Anwar also tweeted that he and Dr Mahathir agreed on "the same strategies regarding Singapore".
Some have seen this as a public assurance by the prime minister in waiting to the elder statesman that he will follow Dr Mahathir's lead when dealing with issues relating to Singapore.
KEEPING PH TOGETHER
Prior to its electoral victory, PH was united by the desire to get rid of the Najib administration. Post-GE14, while the 1MDB scandal will remain in the news, the parties in the coalition may be moving in different directions because of their differing agendas.
First, PPBM's acceptance of defectors from Umno will impact on the power dynamics within the coalition and raise questions over PH's commitment to the reform cause.
Second, Anwar's Parti Keadilan Rakyat (PKR) has internal issues to sort out. The party elections in November 2018 were divisive and controversial.
Even though Azmin Ali was successful in defending his Deputy President's position against Rafizi Ramli, tensions between the various groups within PKR will likely persist. Anwar will have to find a way to manage the various groups in PKR.
WHITHER UMNO?
Umno's immediate future looks bleak. First, it faces a crisis of confidence.
Zahid Hamidi is on leave as party president and facing multiple charges.
Mohamad Hassan, the acting president, has promised to reform Umno but he faces the challenge of bringing a divided and demoralised party together.
The situation will get more complicated as more of its leaders come under investigations by the authorities. The longer Umno is in the political wilderness, the faster it will run out of funds and the greater the risk that it will implode.
Second, Umno needs to decide what it believes in. Some have called for it to be a party for all Malaysians, while others have argued for an alliance with Parti Islam Se-Malaysia (PAS).
Such an alliance presents its own challenges. Umno may find itself as a junior partner and there is a risk that Umno will be identified too closely with the Islamist party and its ideology.
With such uncertainty, it is not surprising that many Umno members are talking about leaving the party.
THE POLITICS OF RACE AND RELIGION
The decision by the government to not ratify the International Convention on the Elimination of All Forms of Racial Discrimination (ICERD), following weeks of protests, will continue to have ramifications for the country.
First, the Opposition is buoyed by the knowledge that they can mobilise the Malay ground to force the government to back-track on policies. 
Second, the government will have to tread very carefully on any proposed reforms that may touch on race and religion.
Third, the reaction to the ICERD episode reveals the fear and uncertainty felt by certain segments of the Malay ground.
Dr Mahathir has defended PPBM's positioning as a Malay party and said that Malays in Malaysia still believed they needed a Malay party to protect them and their interests.
His remarks are not surprising and reveal the struggle ahead for the hearts and minds of the Malays between PH and PAS/Umno. How this will impact on policies and reforms remains to be seen.
WILL FOREIGN POLICY TAKE A BACK SEAT? 
Given the myriad of domestic issues facing the government, foreign policy will likely not be a priority and will be driven primarily by economic necessity and political opportunism.
First, Finance Minister Lim Guan Eng has warned that 2019 will be a challenging year for Malaysia's economy due to the on-going United States-China trade war, geopolitical concerns in the Middle East, global monetary tightening and swings in oil prices.
To create space for its economy to grow, Malaysia will look for opportunities to expand its trade and investment links with other countries.
Dr Mahathir is pragmatic and will work with any country as long as it brings clear benefits to Malaysia.
Second, there may be some temptation to use foreign policy as a tool to gain public support. In the past, Singapore was a convenient target for Malaysian politicians.
In recent months, we have seen several bilateral issues emerging between the two countries. While it is normal to have disagreements between two close neighbours, we will have to see whether a pattern develops in the months ahead.
In the meantime, Singaporeans should keep ourselves abreast on what's happening up north.
2019 will likely be an eventful year for Malaysia. Indeed, the sudden resignation of the 15th Yang di-Pertuan Agong on Jan 6 is an illustration of the unpredictable nature of Malaysian politics.
Dr Mahathir and his government have a lot on their plates but politics, especially that of race and religion, will likely continue to bedevil their efforts to bring about reforms to the country.    
ABOUT THE AUTHOR:
Adrian Tan is Deputy Head of Policy Studies and Coordinator of the Malaysia Programme at the S Rajaratnam School of International Studies, Nanyang Technological University.