Gen Y Speaks: At 20, I ran a business with six-figure revenue. Here's what I learned.
Back in 2014, when I was waiting to enter university, I struggled to find meaningful ways of spending my time. Several conversations with a childhood friend of mine, Robin, led to what later became known as Made Real.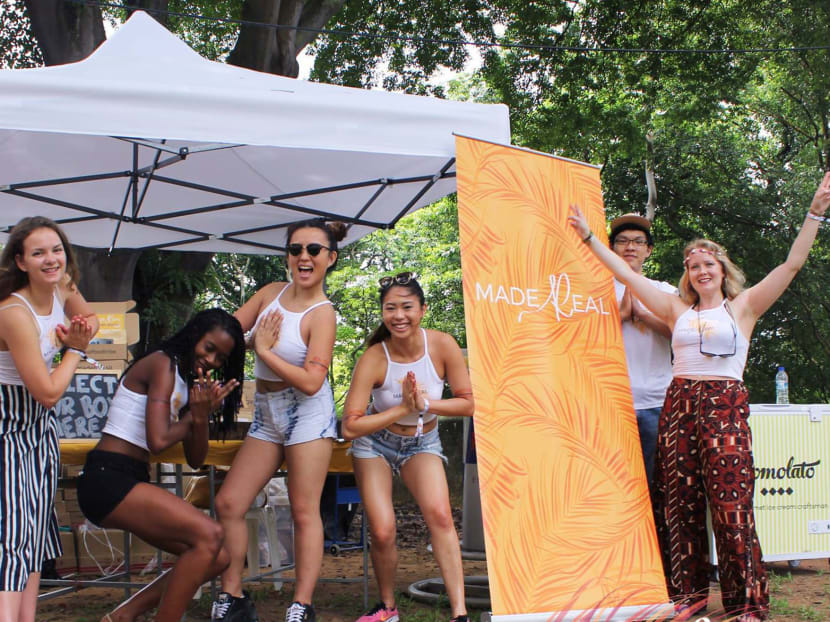 Back in 2014, when I was waiting to enter university, I struggled to find meaningful ways of spending my time. Several conversations with a childhood friend of mine, Robin, led to what later became known as Made Real.
We decided to start our own social project on balanced eating, as a solution to the severe problem of disordered eating that had become all too common. As 18-year-olds, we were tired of the juice cleanses and crazy tea-tox diets that had begun bubbling around us like a disease.
We shared stories of those around us and organised open-for-all events centred around balanced eating recipes, fitness classes and body positive content. To our surprise, the events attracted hundreds and we soon found our project featured on news sites.
Six months into doing this, we wondered if there was more we could do for this community we'd built around us. A natural progression would be to turn this into a business.
So with our rose-tinted glasses and a total of S$10,000 in savings between the two of us, we marched ahead with our first business model idea in 2015: Subscription healthy snack boxes.
We felt it was in line with our goal of promoting better food choices as a lifestyle choice, rather than resorting to extreme dieting to lose weight.
We launched the business with an event, a bunch of social media announcements and a repurposed website. 
By early 2016, we had raised funding from a venture capitalist and improved everything from our business model to our branding and marketing, and managed to hit decent six-figure revenues. 
A year later, we transitioned to a business-to-business model as it was more scalable. 
My partner and I ran the business while we were in our second year at university. While others were worried about submitting homework on time, we were concerned with ensuring we could meet our supplier payments, and whether customers were receiving their orders on time.
Both Robin and I also took multiple semesters off school and only graduated recently. Having both started work full time in technology start-ups, we have started to focus on that and stopped our business.
With this, I'd love to share three lessons I learned while running Made Real.
1. Organise your time well
Running a business full time means that you have to negotiate that on top of school commitments, extracurricular activities, your social life and self-care. Balancing all four alone is difficult enough, but running a business adds additional time pressure.
I often had days where I would be on my laptop or phone from 7am till 11pm, juggling work. Rinse and repeat.
Over time, I found a time management system that has worked wonderfully for me in the last five years. I use Google Calendars religiously for appointments: Meetings, both social and professional, calls, and even hair salon trips.
On top of this, I use it for all my tasks. If I need to sit down and get a proposal done, or follow up with a client, I'll set aside a time slot of between 30 minutes and two hours to get it done.
If I don't manage to do it within the time slot, I will push the task to the next available slot. This is enormously effective against procrastination — I've laid out my time for the next week and know how difficult it is to slot in another task.
2. Don't let being young stop you
I did not let being young, female and inexperienced stop me. Both my co-founder and I knew it would be daunting but we were nonetheless eager to learn. Jumping straight out of junior college and into the world of business was not always smooth sailing.
We had to manage professional relationships with our suppliers, customers, partners, potential investors and, later, colleagues.
We learned by watching. We followed the way people or businesses speak, the words they use and the actions they take as a whole.
We learned how to network with people three times our age simply by being there and getting our hands dirty. At the start, we let others lead the conversation when networking. Soon, we learned common conversation starters and topics of interest in a professional setting, and replicated the way people spoke.
We learned how to put people first and exercise good karma — offering help to others before expecting they will do anything nice for you. With trial and error, we became better at it.
3. Have no fear of failure
Everyone fails. Whether they are public about it or acknowledge their failures is a different story. In our first month, heck, our first six months, we barely made any sales.
We ordered 250 boxes expecting we'd clear it on our launch day. Yet we barely sold 20 on the day itself.
Over the next few weeks, we had some friends and family buy. Eventually, expiry dates were creeping up on us and we were still desperate to make sales.
Did we expect things would be so extreme? Not at all. Even with such unforeseen circumstances, we pushed on.
This instance of failure didn't stop us from pushing our product, making branding changes and trying out new ways to get sales. We were fruitfully rewarded when our sales started picking up.
Learning and moving on in the face of failure is the best decision you can make for yourself — in the long term it offers tremendous personal growth.
Failing at an early age gave us a certain advantage too. We do not have families to take care of, we have tons of energy to bounce back, and our relative inexperience made failing more permissive.
You know what they say: If you obey all the rules, you miss all the fun. Entrepreneurship was a way for me to break rules, get out of a traditional career path and to be creative.
I am glad I took this path while I am young.
ABOUT THE AUTHOR:
Roslyn Teng founded the homegrown health food brand Made Real at the age of 19. She is now a digital marketer at Ampjar, a community of brands and influencers who collaborate through a peer-to-peer advertising platform.