Gen Y Speaks: How I benefitted by taking the poly route to university
Recently, an anonymous post on the National University of Singapore's online discussion board NUSWhispers compared polytechnic students and Junior College students in the context of group projects.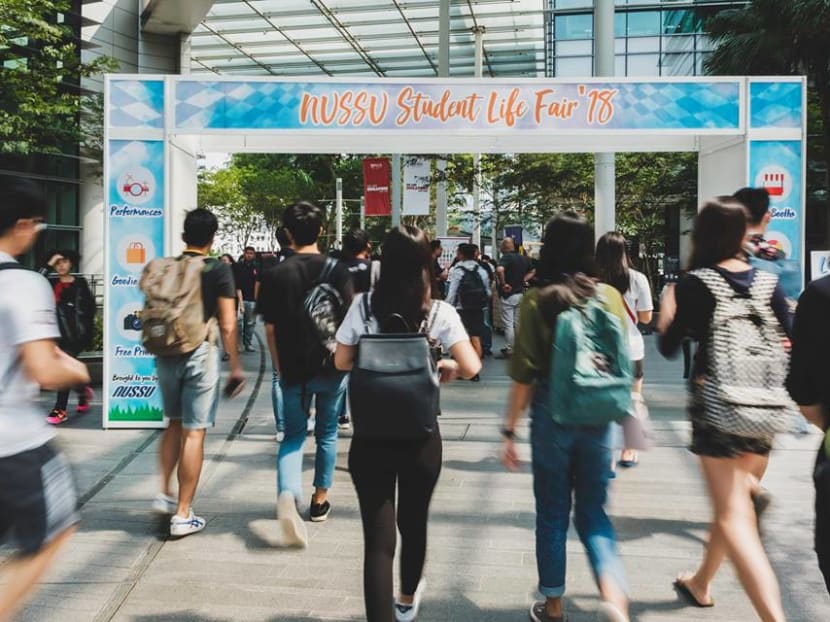 Recently, an anonymous post on the National University of Singapore's online discussion board NUSWhispers compared polytechnic students and Junior College students in the context of group projects.
The writer claimed that polytechnic students "struggle in writing reports" and could only do "superficial" tasks such as creating graphics, while the JC students were responsible for the "thought process" behind the project.
A furious exchange ensued in the comments section, gaining coverage from a popular online news site in the process.
This incident shows that the "Poly versus JC" subject is a touchy one.
It is a stereotype to think polytechnic students are more hands-on and less academically inclined than their JC counterparts, and therefore less suited for university life.
But being from a polytechnic does not imply an ineptitude in theoretical subjects.
Even though I had a perfect L1R5 aggregate score of 6 for my O Levels, I decided to enrol in Temasek Polytechnic's Diploma in Psychology Studies.
I wanted to study something that I could see, touch, and use in everyday life and psychology would give me an understanding of human behaviour.
And because all of us live, work, and play with other people every single day, I would be able to see the effects of psychological processes at work with my own eyes and put my newfound knowledge to good use in my dealings with others.
My decision to shun the JC route raised some eyebrows among the more traditional members of my extended family.
They argued that going to a JC would give me an easier shot at gaining entry to a local university, as the intake of A Level holders is larger than that of polytechnic diploma holders.
But I knew that, as long as I put in consistent effort to get good grades, I would be able to get into a local university despite the tougher competition.
The three years I spent at Temasek Polytechnic were fruitful. I learned soft skills, developing empathy thanks to the basic counselling classes and fostering my ability to work in a team through the many group projects.
Technical skills such as how to use Microsoft Office software, conduct statistical analyses, and write for both academic and non-academic audiences were also part of the training.
Even the textbook knowledge was useful. Psychology is a particularly theoretical discipline but many of the theories can be linked to phenomena in everyday life.
Let me illustrate using a hot topic right now: the rise of politically motivated fake news.
It can be explained by several psychological processes.
Group polarisation causes us to become more extreme in our views when we are in the company of others who think the same way. This accounts for the increasing partisanship in politics all over the world. Each group wants to undermine the others, and fake news has become a weapon of choice.
Confirmation bias causes us to enthusiastically welcome evidence that supports our views while rejecting evidence that undermines our views. This accounts for how a piece of fake news spreads quickly among people who believe in its message.
FROM POLYTECHNIC TO UNIVERSITY
I did well enough in polytechnic to qualify for university. I adopted the same mindset that I had after the O Levels: Whatever degree I pursued had to be in a discipline that was grounded in reality, not abstract theory.
That was how I came to the National University of Singapore, majoring in Communications and New Media – an even more applied field of study than psychology.
Halfway through my four-year stint now, I have no regrets about my choice of major or the slightly longer path I took to get here.
In fact, I think life in a polytechnic is excellent preparation for life in a university.
Unlike in JC, where students take the same set of subjects for two years, polytechnics and universities both use the modular system – every semester, students take different modules.
Semesters are also pretty short, at only 17 weeks for polytechnics and 13 for universities.
This means that students cannot afford to slacken during the semester or their schoolwork will quickly pile up and snow them under.
And because of the grade point average system, any slip-up can prove costly as the overall score might be pulled down.
The modular system favours students who put in a steady stream of work and punishes those who prefer to rush at the last minute.
Another similarity that polytechnics and universities share is the emphasis on holistic education.
The perception that polytechnics are institutions for vocational training – where students go to become good at one specific, manual skill like fixing aeroplanes – is outdated.
All polytechnic students, regardless of which course they attend, now receive very balanced education including topics like global issues, cultural awareness, and other areas of study outside of their core field.
For example, I took an introductory module on English phonetics at TP.
I enjoyed it a lot, so I am dabbling in phonetics at NUS too, albeit at a higher level.
My positive experience transitioning from polytechnic to university is the reason why I get quite annoyed whenever I hear comments suggesting that polytechnic students are not as academically inclined as their peers who went to JCs.
A friend who also graduated from TP before going to NUS told me that a literature professor, upon discovering that he had not taken A Level General Paper, asked him: "How did you get here?"
But it is simplistic to think that polytechnic students cannot do well in research or scholarly pursuits.
If a student graduated from a polytechnic with results that qualified him or her to enrol in a local public university, chances are he or she will thrive equally well in both applied as well as academic environments.
ABOUT THE AUTHOR:
Jonathan Tiong is a second-year student at the National University of Singapore where he is majoring in Communications and New Media.