Gen Y Speaks: How my team of student leaders got a minister and CEOs to take 'The First Step'
As president of the Nanyang Technological University Students' Union (NTUSU) quietly, I believe it is important to promote students' interests and be brave in pushing new boundaries in doing so. Take for example an NTUSU initiative called "The First Step", aimed at helping students take the first step to plan their careers.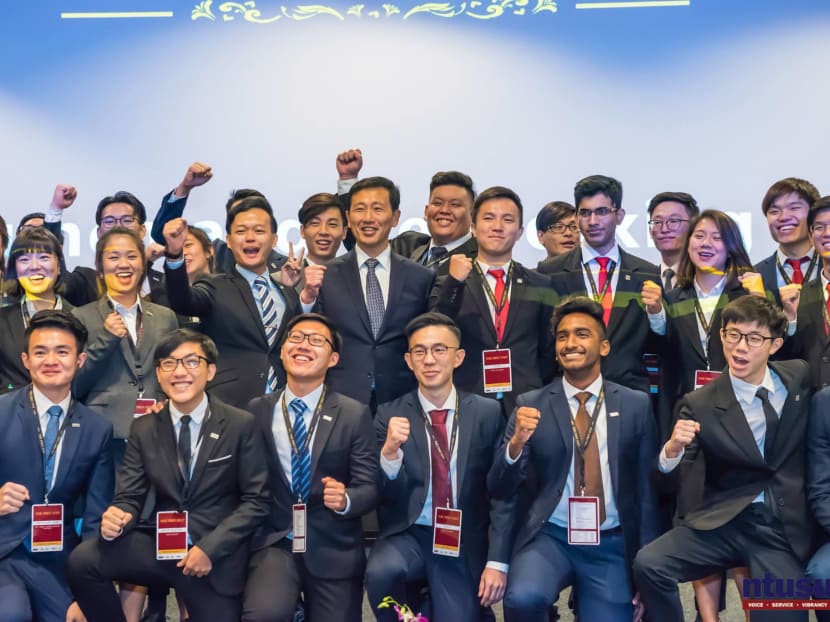 "You're just a student. Don't go around acting you're like a real union." These were the words of a friend who wanted me to play it safe and end my term as president of the Nanyang Technological University Students' Union (NTUSU) quietly.
I begged to differ; it's important to promote students' interests and be brave in pushing new boundaries in doing so.
Take for example an NTUSU initiative called "The First Step", which as the name suggests, is aimed at helping students take the first step to plan their careers.
Education Minister Ong Ye Kung is the patron of "The First Step", which is supported by various chief executive officers and human resource leaders as well as the students across Singapore's autonomous universities.
So, how did the initiative end up garnering the support of senior corporate leaders and a minister?
It all started early last year, when student leaders from various universities got together to discuss concerns of Singaporean undergraduates.
Top of the agenda was getting employers to adopt a different approach to the hiring of fresh graduates, using criteria that go beyond just academic results.
This was a key concern of undergraduates that student leaders had gathered.
Nominated by the student leaders to take the lead on the initiative, I suggested that we could ask to meet Mr Ong and share with him our concerns, even though I was not sure if he would agree.
I decided to take a gamble and send an email to Mr Ong. To my surprise, he promptly replied, expressing interest to meet us over breakfast and hear what we had to say. I felt like I had struck the lottery.
The meeting in June 2018 with the minister — over toast and coffee — went well and he introduced us to veteran hotelier and business leader Jennie Chua to guide us on this project.
By this point, we had decided that NTUSU would organise a conference in January 2019 where corporate leaders and students could come together to discuss the importance of looking beyond grades in hiring fresh graduates.
Over the course of the next few months, my fellow union leaders and I met multiple challenges that we had to overcome as one team.
Who should we invite? How can we convince CEOs to say yes? What if the response was poor? Can we afford to hold the conference at a hotel?
These were some of the many questions that we had to grapple with, amidst sending unsolicited email messages and making cold calls to convince corporate leaders to support us.
We were very thankful to have help from corporate leaders like Ms Elaine Yew — who was also introduced to us by Mr Ong — and Ms Chua who contacted their network to support our cause.
Mr Ong and Ms Chua also made useful suggestions on who could be the conference speakers.
The initiative got a further boost when Mr Douglas Foo, founder of Sakae Holdings and president of Singapore Manufacturing Federation (SMF), agreed to lend SMF's support.
By mid-November, the team had to stand down our operations and planning to prepare for our examinations.
Preparations for the conference went into full swing in December but even then, we were not entirely certain that it would be a success as we had received positive responses from only a few dozen employers and students.
As the D-day drew nearer, everyone involved in the organising grew more jumpy and short-fused. Minor annoyances became triggering points. There were heated debates on how the conference should be executed but the team remained cohesive despite the tremendous pressure we were under.
I tried to rally my teammates by reminding them that our project was unprecedented and could have a lasting impact on students for some years to come.
We pushed on with follow-up calls on invitations and tying up all the loose ends on logistical arrangements.
Thankfully, things fell into place on the day of the event, and much credit must go to Mr Foo, Ms Chua and Ms Yew for rounding up many of their contacts to participate.
Some 300 employers and 250 students attended the conference, with candid discussions on hiring methods and the current constraints employers faced in trying to look beyond grades in their hiring.
One concrete outcome of the conference was the signing of a Memorandum of Understanding between NTUSU and SMF to provide undergraduates and fresh graduates of NTU more opportunities in leadership training, mentorships and job matching.  
The successful conclusion of The First Step conference, however, does not mean our work on promoting employment of graduates is over.
There is much left to do but we are very encouraged by the feedback from corporate leaders.
Mr Piyush Gupta, CEO of DBS Bank, encouraged us to scale up the conference to include students from the region. SMRT chairman Seah Moon Ming congratulated us and said that he was glad the conference highlighted the importance of student leadership.
Post conference, companies wrote to us to express willingness to review their hiring practices to focus more on the skills required on the job than on academic results.
Since the conference, NTUSU has met with senior leaders of Enterprise Singapore, Government Technology Agency, OCBC Bank and Certis, to discuss ways we could move ahead on the topics discussed in the forum.
We hope that some concrete plans will come out of these discussions.
This has been a journey of ups and downs, but my team knew that we would achieve something great together because of our team spirit and cohesiveness.
There were many who discouraged me or my team from taking up this project, using phrase like "we were crazy" and "it was impossible".
Others cautioned that I was going to offend recruiters. "Who's going to hire you then?" some friends warned me.
However, we continued to press forward despite these challenges because this was an important idea we believed in. This experience taught me that challenges can be overcome and big dreams can be made possible.
In the next coming months, I hope to continue contributing to my community in whatever ways I can and to help future batches of student leaders achieve their goals to help the student body.
ABOUT THE AUTHOR:
Edward Lim Xun Qian is a final-year mechanical engineering with a second major in business student at Nanyang Technological University and was twice elected as president of its students' union.