Gen Y Speaks: Friend, can we talk about current affairs?
I have been very interested in current affairs since young because my dad used to host his friends over at our house to talk about politics over dinner. At the relatively young age of 21 now, I find that very few of my peers have similar interests.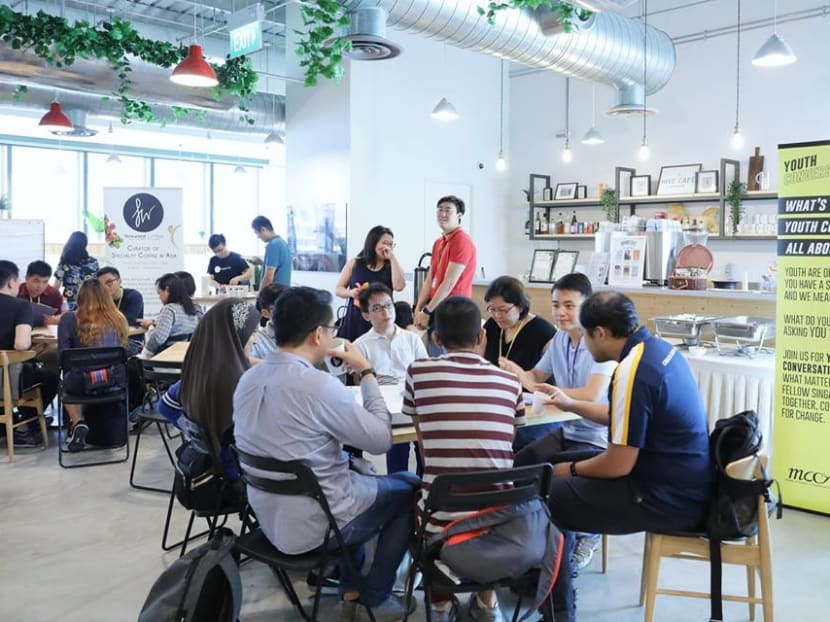 I have been very interested in current affairs since young because my dad used to host his friends at home to talk about politics over dinner. I still remember sitting in to listen to them and gradually I developed an interest in it.
At the relatively young age of 21 now, I find that very few of my peers have similar interests.
Take for example the recent debate on whether Singapore should have a minimum wage.
Friends whom I discuss this issue with are in their late 30s and beyond.
Hardly anyone around my age is interested to have a proper, serious discussion.
I have been trying hard to persuade my friends to spend at least 10 minutes a day to read the news.
This response by one of them is typical of others: "It is so boring. Why are you harping on this? Can we talk about other stuff instead?"
We ended up talking about Korean drama instead, a common favourite among the young here.
I am not against the youths keeping themselves updated on the entertainment news of the day.
But the younger generation, as future leaders of Singapore, must keep itself abreast of news and regional developments that have implications for Singapore.
I don't think Singaporean youths are apathetic because if something affects and interests them, they will make an effort to find out.
MRT service disruptions are a good example.
Many of my friends now keep themselves updated on any disruption because they do not want to be late for class or work.
When Singapore was affected by the haze back in 2013, I remember there were young Singaporeans who organised efforts to distribute masks to needy Singaporeans.
In this social media age, many youths have short attention spans which tend to focus only on the most exciting content.
A recent survey by Singapore Polytechnic of over 800 youths aged between 15 and 35 found that 87.3 per cent get their news via the Internet, including news sites and social media. Only 4.6 per cent preferred television while 3.9 per cent favoured newspapers.
This is quite similar to a 2016 National Youth Council (NYC) survey which found that 86 per cent of youths used social media to get their fix of current affairs.
Yet social media may not be the best place for youths to get their news.
The Singapore Polytechnic survey found that those who preferred social media as their Internet platform for news achieved a lower score in a current affairs quiz than those who preferred news websites.
This is perhaps not surprising, given that youths tend to use social media such as Instagram for lighter content such as following updates from their favourite celebrities.
I wonder if this lack of interest in current affairs is also translating into poor participation in civic society by youths.
Whenever I attend events organised by different civic groups, I find that the overwhelming majority of the participants are in the late 30s and older.
There are hardly anyone in their 20s.
Tellingly, a 2016 NYC survey found that only 23 per cent of youths aged between 20 and 24 hold leadership positions in social, religious and community groups, with the corresponding for those between 25 and 29 at 18 per cent.
Is there anything we can do to change things?
For a start, we must give more opportunities for youths who are already active in their community to make an impact.
One signature NYC event is the Youth Corps Service Week where youths across the island organise various volunteering activities as a way to give back to the society.
One such activity called Nurture in Nature sees youths befriending children from disadvantaged families and taking them on an outing to Sungei Buloh Wetland Reserve. There are a myriad of roles youth volunteers can take on, from guides to photographers.
Instead of holding the service week on an annual basis, perhaps NYC can expand it to a quarterly affair.
Second, the Ministry of Education can consider enhancing the current affairs education in our education system.
This can be done using the time freed up from the reduction in examinations in primary and secondary schools.
When I studied at Ngee Ann Polytechnic, I took a current affairs module which was compulsory for all Year 3 students.
The module required us to do research on the news of the day.
It trained our critical thinking and helped us see different perspectives of the issue at hand.
These simple suggestions aside, it is clear that the task of getting our youths to be more interested in current affairs is not an easy one.
My hope is to spark a discussion on this.
The rapid changes in our world today make it even more critical that going forward, we have an informed citizenry which understands these unfolding changes and how they affect Singapore.
ABOUT THE AUTHOR:
Maa Zhi Hong, an accountancy graduate of Ngee Ann Polytechnic, is currently serving his National Service.