Gen Y Speaks: What I learned about finding a balance to protect our green spaces
The thought of being free to explore nature in Singapore has always appealed to the adventurer in me. But a story I did on the Forest School Singapore, and my subsequent encounters with young parents keen to expose their kids to nature, conservationists who were upset with the methods of the school and the National Parks Board taught me that there is so much more about our green spaces and the need to co-exist with our flora and fauna that I didn't know.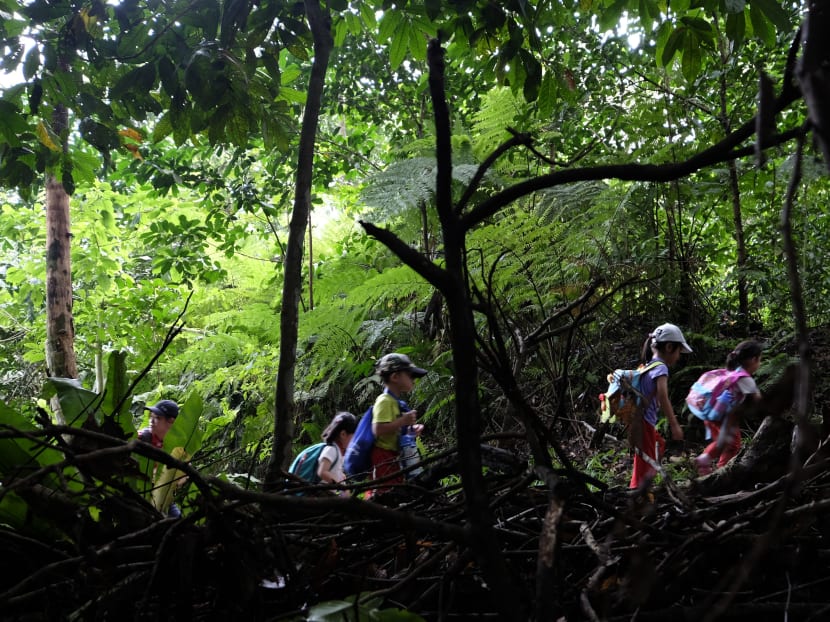 A story I did on the Forest School Singapore recently attracted attention from young parents keen to expose their kids to nature and conservationists who were upset with the methods of the school.
My personal stance on the matter is pretty clear. After all, I had long fallen in love with the Norwegian idea of the Right To Roam.
The thought of being free to explore Singapore, away from civilisation, appealed to the  adventurer in me.
It goes without saying that when I found out about how the Forest School Singapore was losing its home at Rifle Range Nature Park due to enhancement works by the authorities, I felt indignant.
How dare anyone deny these children access to the forest!
This was my first problem. I was fixated on the "us", and our needs.
Through the conversations I had with conservationists for my follow-up story, I came to realise that I had forgotten that this tiny island is shared with more than just humans.
In response to questions about why we cannot let our green spaces be, and let the people roam as they please, wildlife consultant Subaraj Rajathurai told me: "In Singapore, unstructured is something that everybody wants, but we can't have (that). We have become so crowded...if we don't do management...our nature systems, our ecosystems or wildlife…are going to go extinct."
He added that the forests are the last refuge of our native animals from human habitats. If we complain about monkeys and wild boars encroaching on our living spaces, are we not doing the same when we wander off the trails?
It was also heartening that the National Parks Board chose to engage Forest School Singapore founder Darren Quek and myself, as opposed to the usual reproaches we have come to expect from other organisations.
A tour of the Rifle Range Nature Park with NPark's conservation director Adrian Loo to understand how NParks' enhancement works would benefit the buffer park brought lessons aplenty.
Did you know that ferns serve as an indicator of humidity within the forest? The more plentiful and lush they are, the higher the humidity.
How about figs? There are quite a few species of ficus (fig trees) within Rifle Range Nature Park – though probably not of the variety you would want to wrap your prosciutto ham around.
For one, you might be eating dead wasps when you consume one. Part of the plant's pollination process sees a female wasp laying her eggs in it and dying thereafter.
On the subject of Singapore's green spaces, I found out from biology teacher and nature enthusiast Tan Beng Chiak that they are divided into three categories.
We have the gold standard in nature reserves like Bukit Timah. The next group are buffer areas, or nature parks, like Rifle Range, which help to protect the reserves like Bukit Timah from drying out. The last category is our man-made parks, like Bishan Park.
I thought I knew more about Singapore's ecology than my peers, but the reality is that I know so little.
Of course, we cannot all be experts in earth sciences.
But what we can do is to be more mindful of how our actions impact the voiceless – our island's precious native flora and fauna.
At the same time, children should be encouraged to be out in the wild. After all, there have been numerous write-ups about the benefits of kids being in nature.
Let them explore, play, get bruised and pick themselves up.
Let them also feel that sense of wonder of watching colugos flying from tree to tree or just staring in morbid fascination as an army of ants dismembers a caterpillar.
But I have also learnt that we should look at our green areas as more than just a place for leisure.
We should treat it as our home. And we take care of our homes.
With education and awareness, we can bring ourselves from a phase of appreciating being in nature (for the Insta-worthy snaps), to respecting and loving it for what it is.  
As Dr Loo said: "With more knowledge, you can become more aware of your surroundings and be better stewards to your environment."
Much is being done by our conservationists to protect the precious little we have left, but it will be all in vain if we do not do our part.
We need to find that balance between serving our needs and that of the natural world before future generations lose that opportunity our children still have.
This is a conversation we ought to have soon.
ABOUT THE AUTHOR:
Low Youjin is a senior journalist with TODAY's news desk, where he covers environment, tech and health issues.