Getting more Singaporean seniors to learn
The majority of older Singaporeans are not actively learning, despite the benefits of doing so. The notion of learning in advanced age is a fairly nascent idea at present, with related initiatives launched only in recent years. So what can be done to boost learning rates among the elderly?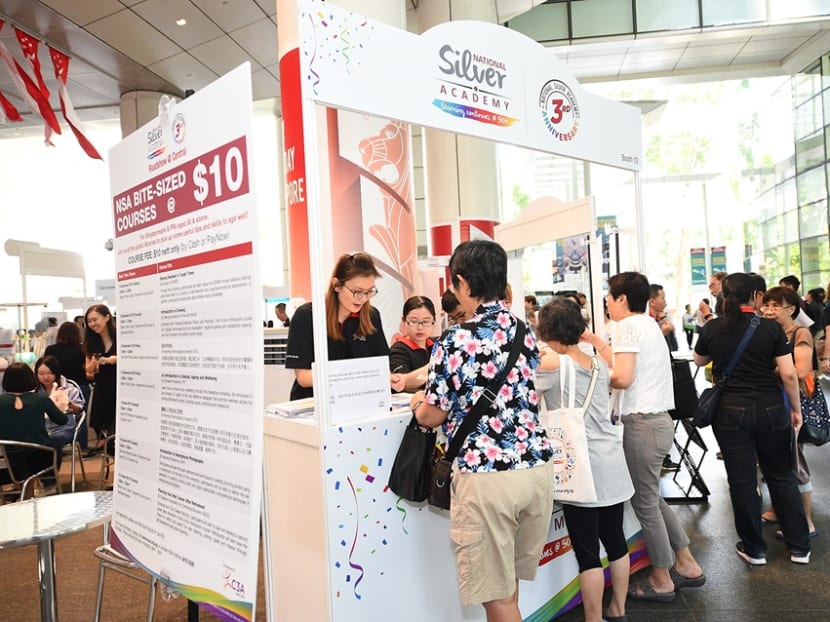 According to Singapore's Action Plan for Successful Ageing launched in 2015, lifelong learning is key to promoting active ageing among older Singaporeans, enabling them to keep their minds active.
Likewise, the World Health Organisation identifies learning as a key functional ability critical to healthy ageing.
International research shows that learning in older adults is associated with positive psychosocial outcomes for individuals and communities. Seniors engaged in learning display improved well-being, increased self-confidence, life satisfaction and self-efficacy. They also experience better social integration as well as increased civic engagement and social participation.
Despite these benefits, the majority of older Singaporeans are not actively learning. In Singapore, learning is traditionally compartmentalised, mostly taking place in early childhood through working adulthood. The notion of learning in advanced age is a fairly nascent idea at present, with related initiatives launched only in recent years.
So what can be done to boost learning rates among the elderly?
A survey conducted by our centre in 2016/2017 found that among a nationally representative group of older Singaporeans aged 60 years and older, only one in 10 reported taking courses. On closer examination, we found the following:  
Women are 1.3 times more likely to engage in lifelong learning compared to men.
Lifelong learners are also more likely to be the younger seniors, that is, those aged between 60 and 69 years old, rather than those who are aged 70 years and above. The younger seniors have a stronger educational background compared to the older cohorts of seniors, hence the likelihood to partake in lifelong learning.
Life history also seems to impact the probability of lifelong learning. More educated older adults have a higher likelihood of becoming lifelong learners. Similarly, those who are working full-time are more likely to engage in lifelong learning, compared to those who are not working or have never worked before.
Health also plays an important role.
Those reportedly in very good health are more likely to be lifelong learners. Older Singaporeans with negligible functional limitations, including those with good vision or whose daily activities are unhindered, were also found to be more likely to engage in learning.
This is not surprising, considering that taking courses often involves travelling to course venues and classes that feature hands-on demonstrations and visual materials such as Powerpoint slides. All these findings suggest that good health is a prerequisite for older adults in Singapore to be lifelong learners.
Given that there is now a greater supply of courses available for seniors, what can be done to encourage those who are currently not learning to do so?
FOSTERING THE RIGHT CONDITIONS
Publicity strategies involving current or new learning initiatives could be customised to attract specific groups of older Singaporeans who are not learning, such as older males, who are outnumbered by women in community activity spaces.
Being more socially engaged, older women are more likely to enroll in courses, which are avenues for social engagement, as compared to older men. Women also have more time in later life to pursue learning opportunities, which they have missed out earlier in their lives due to caregiving duties.
To overcome this problem, male-exclusive courses such as those exploring ageing and health issues in men, can be offered to older men. These will allow them to learn and share in an environment they are comfortable in.
The strategy is inspired by Australia's network of Men's Sheds, which offers a variety of male-centric services ranging from men's health programmes to activities for its members.
Under the Action Plan for Successful Ageing, the Government established the National Silver Academy (NSA) in 2016 to provide more learning opportunities for older Singaporeans.
Since its inception, NSA has offered learning opportunities, via a network of course providers, for older learners to gain knowledge to feed their personal interests and pick up other useful skills.
NSA courses are subsidised so as to make learning via courses accessible to all older Singaporeans.
But more can be done. In order to enable older Singaporeans of all backgrounds and health conditions — including those with physical limitations — to participate in learning, inclusivity elements should be incorporated into current and future courses.
At present, older learners may have to travel to venues within the course providers' premises to take their preferred courses. Such structural barriers would impede learning in those with mobility problems. To cater to this group of older Singaporeans, courses can be taught in venues closer to their homes, such as within their neighbourhoods or communities.
Beyond access, the learning environments can be made more conducive and encouraging, with instructors who are cognisant of seniors' challenges but also strengths.
More co-learning environments can be created that can enable learning for caregivers and care recipients, such as in childcare centres as well as senior activity centres.
There can also be other forms of subsidies such as affordable annual membership fees for unlimited course participation and attractive discounts for friends' sign-ups to encourage learning with peers.
A waiver of fees can also be considered for courses which help seniors to enhance their life-coping skills as the longer term benefits are worthwhile.
Finally, employers also should be encouraged to support lifelong learning beyond skills-based courses such as providing study leave to pursue non work related interests.
Singapore's population is rapidly ageing. In a decade's time, it is projected that one in four Singaporeans will be aged 65 years and above.
It behoves Singaporeans to engage in learning to keep their minds active and to allow them to connect within their communities. 
ABOUT THE AUTHOR:
Veronica Goh is a research associate at Duke-NUS Medical School's Centre for Ageing Research and Education.