Has Covid-19 exposed the reality of bilateral ties between Indonesia and Australia?
Earlier this month, in a move which was described by a news correspondent as "extraordinary", Australia decided to withdraw its ambassador from Jakarta, Mr Gary Quinlan.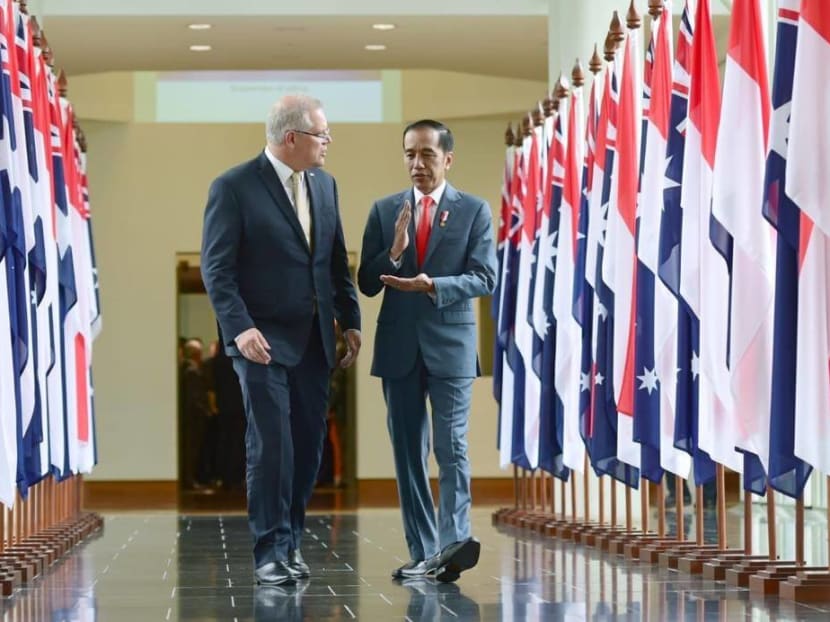 Earlier this month, in a move which was described by a news correspondent as "extraordinary", Australia decided to withdraw its ambassador from Jakarta, Mr Gary Quinlan.
Canberra said this was because the 69-year-old diplomat's pre-existing health conditions made him vulnerable to a Covid-19 infection. 
Indonesian media outlets were quick to suggest that either Australia had deemed Indonesia's healthcare system inadequate to treat Mr Quinlan should he fall ill or worse, it doubted the Indonesian government's ability to contain the outbreak.
This led to a mini diplomatic storm as Indonesia's Deputy Foreign Minister, Mr Mahendra Siregar, accused Australia of being "condescending" and treating his country like a "poor neighbour". 
"This is not the first time (Australia has treated us badly) and it won't be the last time," Mr Siregar added.
Jakarta may have had a good reason to feel aggrieved by Canberra's decision. It is highly unlikely that Canberra would recall its ambassador in Washington over Covid-19 fears, even though the United States is currently the epicentre of the pandemic.
The episode, while not a full-blown crisis, perfectly captures the sensitivity and volatility surrounding bilateral relations between Indonesia and Australia. 
To understand why this is so, we must tackle some uncomfortable issues first.
Some commentators on the relations between the two countries tend to suggest that Australia has not been doing enough to cultivate Indonesia.
For instance, Australian National University's Dr Adam Triggs recently argued with some passion that Australia must come to the aid of "one of (its) closest friends and neighbours" as it seeks to weather the financial fallout from the Covid-19 pandemic.
Dr Triggs suggested that the Reserve Bank of Australia prop up Indonesia's finances through a bilateral currency swap worth AS$20 billion. This, he argued, would reassure the financial market of Indonesia's prospects.
John McCarthy, Australia's ambassador to Indonesia during the Asian financial crisis, recently wrote  to remind us that the Australian government had provided A$1 billion in standby credits to Indonesia in 1997, and a similar amount in a recovery package in the aftermath of the 2004 tsunami. 
Accordingly, he argued, since "Indonesia is now facing a crisis of the same dimension as those of 1997 and 2004, Australia should respond with the same farsightedness and seek to have others — particularly Japan, South Korea and the US — act similarly".
He reasoned that "the stability of Southeast Asia, especially Indonesia, is a paramount Australian national interest."
Indonesia's status as Australia's foreign policy cornerstone in Southeast Asia has long been the accepted conventional wisdom. 
Several prime ministers have supported this notion. Mr Paul Keating famously said that "no country is more important to us (than Indonesia)". Upon taking office, Mr Tony Abbott promised "more Jakarta, less Geneva" while the current PM, Mr Scott Morrison, intoned that "Indonesia's success is our success".
Yet, Indonesia is merely Australia's 13th largest trading partner, below other Southeast nations such as Singapore, Malaysia and Vietnam. 
According to Australian government data, in 2018, Indonesia was not even among the top 20 investors in Australia. Singapore ranked sixth on the list while Malaysia was 18th. 
Indeed, Australia's ties with both Singapore and Malaysia seem to be relatively free of periodic crises and misunderstandings, unlike the case for Australia's relations with Indonesia.
Australian commentators also like to point out that "people-to-people" relations between Indonesia and Australia attest to the true strength of friendship between the two nations. Again, is this a realistic picture or more of an aspiration?
The largely nationalist Indonesian public rightly or wrongly believes that Australia engineered the secession of East Timor, now Timor Leste, from Indonesia in 1999.
In fact, the topic of East Timor almost inevitably pops up when ordinary Indonesians talk about Australia.
As recent as 2016, the then rabidly nationalist armed forces commander Gatot Nurmantyo publicly claimed that Australia had a hand in East Timor's independence.
Many Indonesians today also suspect Australia of aiding the West Papuan "separatist" movement.
It is also useful to consider how the Australian public is hardly acquainted with any prominent Australian of Indonesian heritage.
The Malaysian diaspora, on the other hand, has produced Senator Penny Wong, of Malaysian Chinese ancestry. She was Minister for Climate Change and Water from 2007 to 2010 and then Minister for Finance and Deregulation from 2010 to 2013. 
To be sure, Australia's chequered relations with Indonesia do not stem from lack of efforts by Canberra to cultivate Jakarta.
When Australia announced its A$1 billion tsunami aid package for Indonesia in 2004, President Susilo Bambang Yudhoyono told Foreign Minister Alexander Downer "with tears in his eyes" that he would never forget Australia's generosity and help. 
This, nevertheless, did not stop Mr Yudhoyono from recalling his ambassador from Canberra in 2006 when Australia granted asylum to some refugees from Papua or, in 2014, after Edward Snowden's leaked documents alleged that Australian intelligence services had bugged the phones of Indonesian political elite, including that of Mr Yudhoyono's wife.
Mr Siregar was spot on when he said "you don't get to choose your neighbour" to describe the relations between Indonesia and Australia. The saying goes both ways.
Despite their geographical proximity, the two nations are as disparate as they could be, be it in political traditions, customs, social values and languages.
The failure by policymakers and commentators to recognise this has so far produced dulcet-sounding and yet unrealistic rhetoric.  
Former Australian diplomat Ken Ward said that the problem was that "Australian leaders mishandle problems when they arise, rather than that they do not seek to do enough with and for Indonesia."
Without understating Ambassador Quinlan's underlying health issues, his abrupt withdrawal was yet another misstep by Canberra, given Jakarta's acute sensitivity.
It would have been better to sugarcoat it by appointing a new ambassador altogether, rather than leave the post empty.
But, as Mr Siregar observed, it is now "too late as the mess has been done". In predicting that there would be another incident in which Australia offends Indonesia, he was oddly realistic.
Conversely, Australian diplomats were no doubt silently thinking that it was typical for Indonesian officials to be so sensitive.
Australia and Indonesia ─ particularly the policymakers in both countries ─ should start to view their relations through a more sober lens.
A greater degree of realism may be sorely needed to effect lasting progress in improving Indonesia-Australia ties, rather than tiresome rhetoric and lip service that often lead people astray.
ABOUT THE AUTHOR:
Johannes Nugroho is a writer and political analyst from Surabaya whose commentaries have appeared in the Jakarta Post and Jakarta Globe since the 1990s. 
CORRECTION:
An earlier version of this article wrongly stated that Australian Senator Penny Wong was previously the country's Attorney-General. This is inaccurate. She was previously Minister for Climate Change and Water as well as Minister for Finance and Deregulation. We apologise for the error.