Here's the big picture of changes to the PSLE. Will parents and students get it?
On July 25, the Ministry of Education (MOE) announced details of the revised Primary School Leaving Examination (PSLE) scoring system. How are these revisions to be understood from a policy point of view? And how will students and parents react?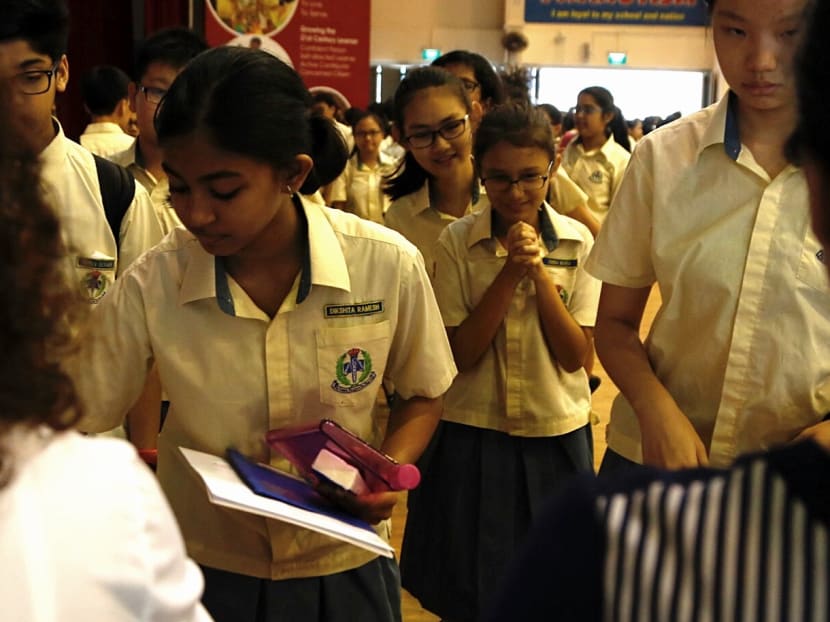 On July 25, the Ministry of Education (MOE) announced details of the revised Primary School Leaving Examination (PSLE) scoring system.
A key feature of the new scoring system is that students will be graded based on their individual performance in the subjects, regardless of how their peers have done. Students will get an Achievement Level (AL) score — which runs from AL1, the best score, to AL8 — in place of the old T-score.
This will make it easier for parents and students to understand how the PSLE score is calculated, as well as how the scores of Standard-level subjects compare with those of Foundation-level subjects meant for students who are academically weaker.
Another change is the introduction of choice order of schools as a tie-breaking criterion to allocate students to secondary schools.
How are these revisions to the PSLE scoring system to be understood from a policy point of view? And how will students and parents react?
First, the revisions are the latest in a series of incremental policy reforms instituted over the past two decades, which MOE hopes will work in tandem towards the overall goal of better preparing students for the future.
These reforms have had several main thrusts.
The first is the proliferation of multiple education pathways. These include the integrated programmes in secondary schools and junior colleges, specialised independent schools, and specialised schools for students in the Normal (Technical) stream.
Another is the improved porosity of movement across various pathways. For instance, it is now easier for Normal (Academic) stream students to sit for the General Certificate of Education (GCE) Ordinary Level examinations at the end of four years of secondary school and to enrol in polytechnics.
Third, changes have been made to the ways in which students are sorted. The practice of streaming students, which has been consistently decried as being overly rigid, has been replaced with subject-based banding in primary schools since 2008, with a similar move to be fully introduced in secondary schools by 2024.
Next, admission systems have been reformed. The introduction of the Direct School Admission system in secondary schools, junior colleges and polytechnics is a prime example of how non-academic talents are accorded recognition during admission exercises.
In recognition of the tremendous role that assessment practices play in driving parents', students' and teachers' attitudes and behaviour, MOE has also introduced several reforms in this respect.
Major reforms include the reduction of tests and examinations in both primary and secondary schools in order to reduce assessment-related anxiety and promote the joy of learning. There is also the announcement earlier this year that the GCE N- and O- Level exams will be merged into a new common national examination in 2027.
The new PSLE scoring system is supposed to fit seamlessly into the existing framework of reforms in view of its powerful role as an assessment tool that sorts students into various secondary pathways.
It has direct implications for parents and students in a few respects.
One of these is the need for them to consider the choice of Standard- or Foundation-level subjects.
This will not be a major consideration for the vast majority, given the fact that only about 10 per cent of the relevant age cohort studies one or more subjects at the Foundation level.
Those students who are currently doing poorly in all four PSLE subjects will likely opt to take all four of the subjects at the Foundation level. Therefore, it is mainly students who are performing marginally who will need to decide between Standard and Foundation levels.
It will not always be an easy task for them and their parents to balance competing considerations.
On the one hand, they have to think about which level of curricular and assessment difficulty will better suit them. On the other, there are also direct consequences of their choice in terms of access to the various secondary-level streams.
There is also the question of whether students have the potential to improve their motivation level and academic performance, particularly in Primary 5 and 6.
Take for example a student who has been faring poorly in one or more subjects from Pri 1 to 4. Will he or she be motivated to try to take his or her weaker subjects at the Standard level in Pri 5 and 6 with the hope of getting a better AL score to broaden his range of secondary school choices?
And what happens if he or she decides to do so but later finds the Standard-level subjects too daunting? Schools and teachers will have to work closely with parents and students in making these crucial decisions.
Furthermore, can students cope with the possible stigmatisation that is still associated with Foundation-level subjects?
What will have more important implications is the introduction of choice order as a tie-breaking criterion during the secondary school admission exercise.
Because students will no longer be assessed based on how their peers perform, it is likely that more students will have the same PSLE score. This means secondary schools will be less differentiated by their admission cut-off points.
MOE therefore hopes that parents and students will pay more consideration to factors other than schools' cut-off points, such as school culture and co-curricular activity offerings, when selecting schools.
Yet this sort of strategic decision-making requires parents and students to engage in objective fact-finding in order to have a broad understanding of the various schools, and then decide their priorities before arriving at an informed decision. 
The unfortunate reality is that not all parents are equally well-prepared and equipped to make this important decision during an important crossroads of their children's schooling.
Primary school teachers will have to work closely with these parents and students in order to help them make sense of the secondary school landscape and understand the consequences of their choices.
At the same time, the clustering of PSLE scores could lead to concerns among some parents about increased competition for entry into the prestigious secondary schools.
Will these parents turn to more tuition, or try to find other ways to gain an advantage for their children, thus defeating MOE's policy intention?
In summary, the revised PSLE scoring system can be viewed as yet another incremental reform within the overall slew of policy changes on various fronts.
It is supposed to fit in alongside concurrent moves to improve porosity of movement across education pathways, while reducing stress levels associated with the large range of PSLE scores and the norm-referenced grading system in the current PSLE.
The associated changes to the secondary school system are also meant to nudge parents further in the direction of making informed decisions involving a range of factors other than academic cut-off scores when it comes to choosing a secondary school.
Yet, as an instrument of change, it will likely encounter considerable resistance from parents and students who are still familiar with the status quo, in which academic results remain paramount and the private tutoring industry shows little sign of diminishing in its importance.
ABOUT THE AUTHOR:
Jason Tan Eng Thye is an associate professor of policy and leadership studies at the National Institute of Education.