High time Singapore does something about its inefficient reliance on air-conditioning
Singaporeans dug out their cold weather clothing in the first weeks of January as temperatures dropped to as low as 21 degrees Celsius. But according to an Eco-Business regional survey of 424 people from November to December 2017, this was not a one-off phenomenon here.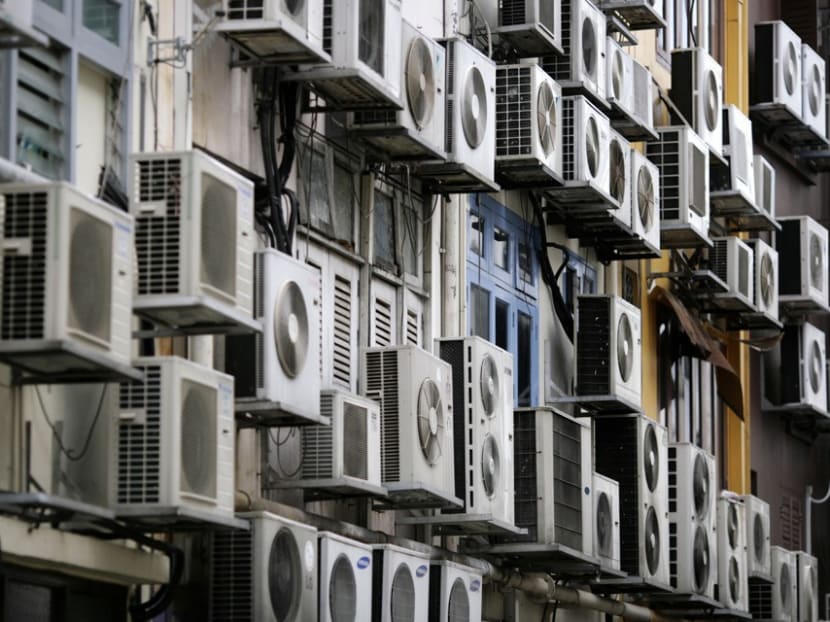 Singaporeans dug out their cold weather clothing in the first weeks of January as temperatures dropped to as low as 21 degrees Celsius. But according to an Eco-Business regional survey of 424 people from November to December 2017, this was not a one-off phenomenon here.
68 per cent of the respondents from Singapore indicated that they often encountered excessive cooling of public places such as offices, shopping malls and cinemas.
Notably, this was the highest percentage in the region.
One of the respondents, Jair Smits, managing director of the Hydroinformatics Institute based in Singapore, echoed the opinions of many when he suggested that "aircon settings (should be) dependent on the outside temperature and humidity."
"It is ridiculous that they remain unchanged during rainstorm events, turning air-conditioned spaces into fridges," he added.
Air-conditioning accounts for up to 40 per cent of the electricity bill for the average household, according to a recent study from Singapore's National Environment Agency.
And Singapore has the highest per capita installed rate of air-conditioning among Asean countries.
Electricity demand in the region is expected to more than double to 2,000 tera-watt hours (TWH) by 2040.
Most of this growth will come from residential and commercial buildings, largely for cooling.
By 2040, air-conditioning could account for up to 40 per cent of Asean's overall electricity demand, up from 25 per cent now.
The rapid rise in Asean's electricity demand in recent years has led to a surge in CO2 emissions and pollutants that threaten to create an environmental crisis for a region already vulnerable to the impact of extreme weather and poor air quality.
The good news is that this crisis can be avoided if the region adopts more efficient technologies and supports a culture change in cooling consumption.
If Asean countries switch to energy efficient products and lighting, they can reduce their consumption of electricity by 100 TWH at a saving of US$12 billion annually.
This is the equivalent to the annual production of 50 power plants of 500 MW capacity, meaning that 50 power plants would not have to be commissioned.
For Singapore, while there are no statistics on the exact percentage of inefficient air conditioners in now, it is safe to say that given that industry standards improve every few years and people do not upgrade their sets as often, the inefficiency is not insignificant.
If all residents here switch their air-conditioning units to the best available technology, the overall electricity consumption for home cooling will actually decrease up to the latter part of the next decade even as the population (and the number of apartments) continues to increase.
It is also not difficult for commercial buildings to turn down their air-conditioning when the temperatures drop.
Dave Mackerness, director at Kaer, an air conditioning service supplier based in Singapore, explained that the technologies used to adjust temperatures have been in place for some time.
However most building operators directly manage their own cooling systems and do not usually prioritise fine-tuning the settings (for instance when a rainstorm occurs) for maximum efficiency, even though this would result in energy savings.
Singapore can also look to other measures to achieve a change in the cooling culture.
For instance, passive cooling systems and other non-air-conditioning systems could be more actively used.
Despite the Building and Construction Authority's target for at least 80 per cent of the buildings in Singapore to be green by 2030, survey respondents did not report seeing public buildings use other cooling systems such as fans, blinds, natural airflow systems, chilled beams, shading and cool roofs etc.
For this measure, respondents in Vietnam, the Philippines and Indonesia reported levels between 15-27 per cent higher of such passive systems in their respective countries.
Panelists at a recent industry forum in Bangkok on air-conditioning and the environment suggested other ways that Singapore and the region could change the cooling culture.
Toby Peters, Professor in Cold Economy at the University of Birmingham in the United Kingdom, said that countries need to look at better integration of systems that produce heat or cooling.
For instance most apartments in Singapore and elsewhere in the world contain separate water heaters, fridges and air conditioners, which fail to work together or capture each other's heating and cooling by-products.
This same concept can be scaled to city-wide integrated thermal energy systems.
There are also industrial opportunities.
The "coldness" that is a by-product of LNG conversion from its liquid to gas state could be transferred from Jurong Island in the state of liquid nitrogen and used for cooling buildings or buses in Singapore.
Singapore is the highest per capita consumer of electricity in the Asean region.
It has a good legislative approach for standards in air-condition manufacturing and ensuring public awareness of the savings that can be enjoyed from more energy efficient models.
Singapore survey respondents were much more likely to agree with the statement that "people in my country are aware of the energy label and rating systems that indicate electricity savings for different brands and models of air-conditioners" than respondents from other Asean countries.
The survey respondents were also quite complimentary about government initiatives to enforce standards in energy savings in air-conditioners.
By looking systematically at the requirement for cooling and by focusing in on some of the obvious shortfalls with commercial buildings, Singapore can set an example to the rest of the region for enjoying adequate levels of thermal comfort that reduce the overall demand for electricity.
Social pressure from citizens could help to drive this process bringing pressure on developers for energy efficiency in apartments and on shopping mall operators to ensure that cooling settings in public buildings are adjusted.
And hopefully, in the short term, citizens can also look to cost savings on winter clothing too.
ABOUT THE AUTHOR:
Tim Hill is research director at Eco-Business, an Asia-Pacific sustainable business publication.