Honey, some lessons in parenting can only be taught through experience
This is a letter from a Singaporean to his wife of 13 years, Daphne Ling, on their decision to have five children — now aged four to 12 — and the ups and downs in their parenting journey so far.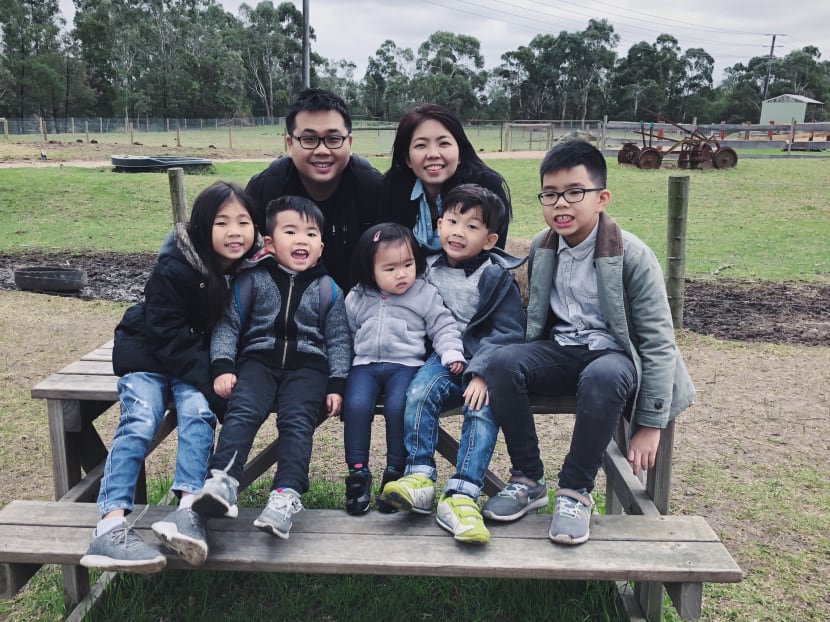 This is a letter from a Singaporean to his wife of 13 years, Daphne Ling, on their decision to have five children — now aged four to 12 — and the ups and downs in their parenting journey so far. You can read her corresponding letter to him here.
Dearest 2008 Daphne,
This is your husband Kelvin in 2020. Unfortunately flying cars are still not a thing, but we will have a pandemic and horrible crisis called Covid-19 which will disrupt life like we never knew before. Think businesses and schools being closed and being stuck at home for weeks.
You are about to be a mom in a few months' time and I'm not gonna lie — it is going to be quite difficult. We spoke about having seven kids but you will seriously reconsider that right after giving birth to our first.
We'll end up having five in total, and it's going to work out, but not without first going through a rather tumultuous journey.
I've outlined some notes below that I think will give you some perspective on the road ahead, and boy, it is quite the adventure.
First, it really is going to be okay.
The arrival of our firstborn is going to change everything. It will be overwhelming. You will have postpartum depression, and not even know it.
There will be many moments where you feel like you just want to give up. There will be days and nights which feel endless, where the hours seem to bleed into each other and drag on forever.
You are the strongest person I know, but there will be times when emotionally you feel like you are running on fumes, and just don't have enough love to give.
You do, and you will.
I have seen how you wipe away the tears, brace yourself and then give the most loving smile to our children.
I have seen how you shake off the fatigue to get up for just one more night feed, one more cuddle. I don't know how you do it, but you keep going on, pandemic or not.
The kids may never see your sorrow but they know your joy. It is the same joy that fills our house now 12 years later with laughter and love, hugs and kisses.
It really is going to be okay.
Secondly, go easy on yourself.
Social media is going to be a thing very soon. Facebook is growing far bigger than you can imagine and there's going to be this thing called Instagram which makes everyone take pouty selfies. It's weird, I know.
My point is, if you think you're under some pressure now to be a good mom, it's going to be 10 times more challenging in the future, where there is this culture of constant comparison.
Your friends are going to post anecdotes about their kids' academic performance that make you wonder if ours have learning disabilities.
Your peers will upload pictures of work trips for global multinational companies that you've always dreamt of being a part of.
Others will share their hand-made organic linen blanket that they've carefully knitted together over the span of 18 months for their newborn. #babydeservesthebest
You will question the decisions you make and second-guess yourself every other day. Am I a good mom? Am I doing this right? Do I actually suck at this?
Let me assure you — you are an amazing mom.
You are never frazzled. And I mean never, ever, no matter how tired or upset you are, even during something called the Covid-19 circuit breaker when you were fully stretched having to work from home while caring for five young kids who need your attention every few waking minutes.
Yes, I did what I can to help — be it washing the dishes or putting the kids to bed — but you are the glue holding us all together.     
You are quick to listen. You don't jump to conclusions or interrupt their explanations — explanations that sound dangerously close like excuses to me; our kids will always get a fair hearing from you.
You never end a conversation on a negative note. Everything concludes with a big hug and kiss, and a whispered "I love you always".
Best of all, and I know you will find this hard to believe — you even become a great chef and baker. No one in Singapore will make a better spaghetti aglio olio than you. You also will nail the Levain cookie recipe in the future.
I could list a thousand more things but you are totally crushing it.
Thirdly, stay in the moment.
I guess cliches are the way they are because they are essentially time-tested truths, and I'm going to drop one right now.
The kids, they grow up soooooo fast.
I'm already missing the times when Truett and Kirsten (these are our first kids' names we settled on eventually, please just use them so we don't break the time-space continuum or something) were toddlers.
If there is one thing you can do, would you take more videos of them? One of the things we now love to do is watch old videos of the big kids playing with each other when they were young, and choke up a little reminiscing those moments.
We were so stressed about so many things back then; money, work, family obligations that I do wish now we stopped and smelt the roses just a little more.
That the things we thought we needed, we didn't really. We had each other, and a house full of laughter. We had everything we needed to be happy.
####
Listen, we're going to make some terrible, silly, completely dumb mistakes. There are some we shouldn't undo, because we learnt so much from them and won't be the people we are today if not for them.
Others, we can probably avoid and save ourselves some trouble, especially on the financial side of things. Here are some very practical advice future Daphne herself would wholeheartedly endorse.
 •               Money.  Buy everything second hand, there's going to be a mobile app soon that'll make things a lot easier. Also, that S$300 juicer that I'm going to insist on getting through hire purchase? Do NOT concur. Likewise, the S$499 totally-good-deal surround sound system is going to end up as another surface for air-drying our clothes. Hard pass.
 •               Travel. We've not regretted spending money on vacations so far, so those are good. Memories are indeed better than things. February in New York is freezing though, so maybe not that one. Covid-19 may mean us having to put off overseas holidays for a while, but I'm sure we will be on the road again to collect beautiful family memories once conditions permit. 
 •               Communication: Those arguments that seem so overwhelming and interminable? We're going to look back on them and have a chuckle. Mostly because I conceded defeat and gave in to you.            
There is so much more I could tell you, but I won't — because we need to go through them together. It's true — some lessons can only be taught through experience, especially when it comes to navigating a once-in-generation crisis such as Covid-19.
I am so glad to have walked this journey with you. The chapters of this book may be filled with mundanity and sadness at times, but it is a love story, and it is still being written.
With all my love,
Kelvin 
ABOUT THE AUTHOR:
Kelvin Kao, 40, and his wife Daphne Ling, 38, are co-owners of a social media agency and a production studio. They got married in 2007.
This article is written in collaboration with Made For Families.