How can the US advance its Southeast Asia commitment in an era of constraint?
When the White House released its Indo-Pacific strategy articulating its vision for the region on February 11, it committed the United States to "drive new resources" to the region, including in Southeast Asia, despite the reality that Washington remains domestically-consumed.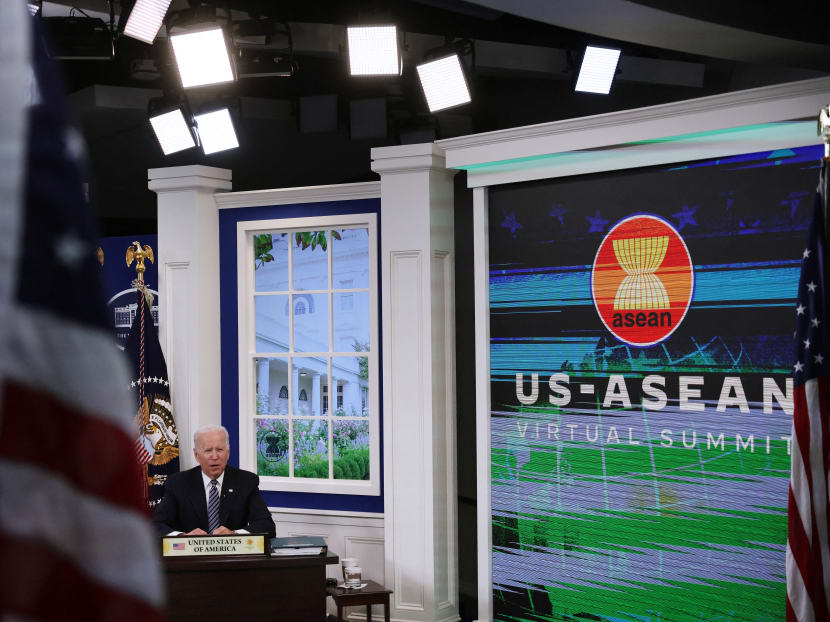 When the White House released its Indo-Pacific strategy articulating its vision for the region on Feb 11, it committed the United States to "drive new resources" to the region, including in Southeast Asia, despite the reality that Washington remains domestically-consumed.
The Joe Biden administration has achieved some notable successes in Southeast Asia during its first year in office, including increasing diplomatic engagement and boosting ties with key partners such as Indonesia, Singapore and Vietnam.
But America currently faces constraints on multiple fronts, so the question is how can US policymakers effectively advance US commitment to Southeast Asia amid doubts about America's credibility?
As I argue in my new book, Elusive Balances: Shaping US-Southeast Asia Strategy, US policymakers over the past half-century have at times had to advance objectives in Southeast Asia amid significant constraints.
The period following the end of the Vietnam War era saw US policymakers repeatedly try to reassure Southeast Asia that America's commitments would be kept despite  a war-weary public and Congress.
More recently, the years following the 2008 global financial crisis period resulted in resourcing shortfalls in certain areas when the Obama administration tried to implement its pivot to Asia with an increased focus on Southeast Asia.
The Joe Biden administration finds itself advancing Asia strategy during another period of constraint in US policy.
The country is still recovering from the Covid-19 pandemic, reeling from intensified political polarisation, and facing an overflowing series of foreign policy issues including Russia's behaviour in Ukraine and provocations by Iran and North Korea.
Despite a recovering US economy, Mr Biden has the second-lowest approval rating at this point of his term among modern presidents after Donald Trump, leading to rising concerns that Democrats could suffer major losses in the upcoming midterms and worsen Congressional gridlock.
This constrains what the Biden administration is able to do in Asia.
Advancing bold proposals on trade or bullish defence budgets is more challenging when the Biden team is struggling to unite progressives and moderates within the Democratic Party even to legislate on the administration's core domestic priorities.
And sustaining a more moderate, stable course on China policy relative to the Trump years and a disciplined approach to its Indo-Pacific strategy can prove difficult in a domestic context of heightened threat perceptions and perceived inaction amid growing foreign policy crises, as evidenced by the fallout following the Biden administration's exit from Afghanistan.
Advancing the commitment of this domestically-consumed global power to Southeast Asia will require adjustments, notably in three areas: Economics, security and democracy.
First, on the economic side, the Biden team must find piecemeal ways by which the US can step up engagement with Southeast Asian states in the context of a risen China, even if domestic constraints suggest it cannot take bolder moves immediately.
There are lessons from the past.
For instance, during the post-Vietnam period, while US administrations found it difficult to engage in new economic commitments, the private sector's role was important in giving rise to new initiatives such as the US-Asean Business Council in 1984, which remains a key institution within US relations with Southeast Asia today. 
Similarly, for the Biden team, while joining new multilateral agreements such as the Comprehensive and Progressive Agreement for Trans-Pacific Partnership (CPTPP) or even sectoral pacts in the digital domain might be a bridge too far, some of the modules of Biden's economic approach known as the Indo-Pacific Economic Framework (IPEF) can offer a starting point.
Supply chains, for example, is an area that offers promise on several basic fronts, be it building resilience into supply chain approaches with close partners like Singapore or fostering transparency with key manufacturing players such as Malaysia in the priority areas of electronics and medical devices.
Second, security-wise, the Biden team must find ways to ensure that defence planning and budgeting accurately reflects Southeast Asia's growing importance as a security theatre in spite of domestic resource constraints.
This constraint was evident during the Obama administration's pivot to Asia, where publicised reports by Congress and think tanks demonstrated that the shifting of resources to the Indo-Pacific from other regions of the world was moving much slower than the administration had intended.
Of particular note is the shape of the next US defence budget, which is carefully scrutinised by allies and partners for a sense of where Washington's priorities lie.
Beyond the budget topline, the Biden administration must follow through on its Indo-Pacific strategy's suggestion that it ensures Congressional funding for specific programs tied to Southeast Asia.
A case in point is the Maritime Security Initiative, a capacity-building programme to boost the ability of Southeast Asian states to address a range of maritime challenges which has not seen the expansion in funding that was initially forecast during the Obama years.
Third, diplomatically, the Biden administration must ensure that its approach to democracy adjusts to include a humility that recognises both US domestic constraints on this score today as well as complex regional realities.
During the first two decades of the post-Cold War period, for example, both the Bill Clinton and George W. Bush administrations pursued democracy agendas that came across to some Southeast Asian countries as being a one-sided, one-size-fits all conversation rather than a two-way exchange of views that recognised the domestic challenges they faced and Washington's own shortcomings.
The Biden team's experience with its Democracy Summit last year, which included rumblings of discontent in parts of the region over regime classifications and invitation lists, was a reminder of how this remains a challenge in spite of the administration's best efforts.
In addition to continuing to be honest about Washington's own limitations in this realm, addressing specific governance challenges relevant to Southeast Asia may help the administration steer the conversation away from aggregate questions of regime type and towards issues of common concern, including fostering an open internet and countering corruption.
To be sure, navigating this era of constraint will be far from easy in 2022 and beyond.
Foreign policy crises in other regions of the world such as in Europe or the Middle East can quickly come to drown out the US policy focus on priority regions such as Southeast Asia conveyed in the Indo-Pacific strategy. And US domestic dynamics could get even more complicated later this year, especially following the midterm elections.
But the experience of past administrations, which have navigated through previous periods of constraint, along with the intensified diplomatic engagement and series of new initiatives the Biden team has built out during its first year in office, offer some encouragement.
The key, as Indo-Pacific Coordinator Kurt Campbell told a forum late last year, is to ensure that 2022 is a year of delivery for US-Southeast Asia.
ABOUT THE AUTHOR:
Dr Prashanth Parameswaran is a Fellow at the Asia Program of the Woodrow Wilson International Center for Scholars based in Washington DC. His new book is Elusive Balances: Shaping US-Southeast Asia Strategy.