Let's not underestimate threat of dengue and other mosquito-borne diseases in Singapore
On May 29, a 63-year-old man who lived in Hougang Avenue 1 became the fourth person in Singapore to die from dengue this year. But Singaporeans do not seem to bat an eyelid at the disturbing trend of increasing dengue infections.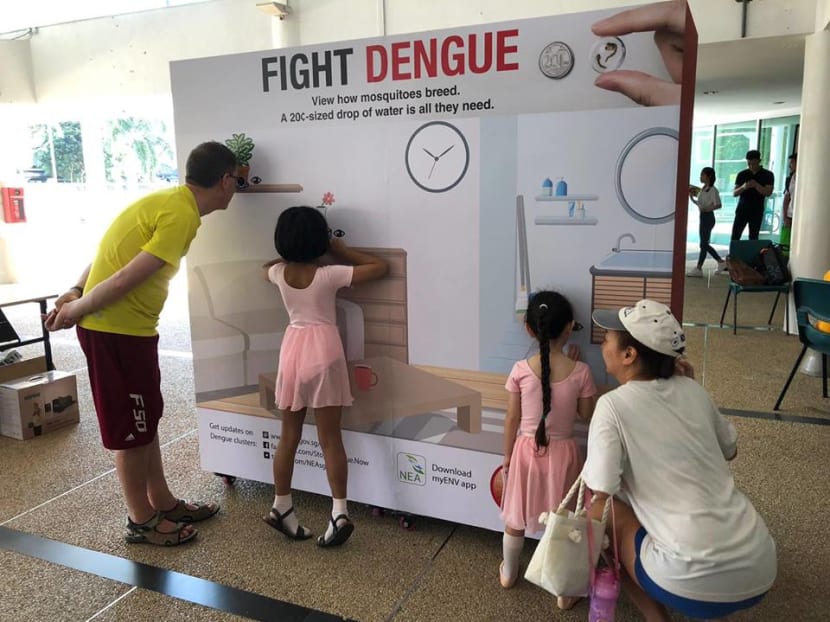 On May 29, a 63-year-old man who lived in Hougang Avenue 1 became the fourth person in Singapore to die from dengue this year. But Singaporeans do not seem to bat an eyelid at the disturbing trend of increasing dengue infections.
More than 4,000 dengue cases have been reported this year, exceeding the 3,285 for the whole of 2018. The number of cases reported each week has been on a steep upward trend, reaching 402 for the week ending June 1.
The National Environment Agency (NEA) anticipates more dengue cases in the warmer months ahead, prompting it to bring forward its annual dengue-prevention programme.
Have we become indifferent to mosquito-borne public health threats? Are there inadequacies with how we are combating the dengue threat?
In announcing the fourth fatality, the NEA and the Ministry of Health (MOH) called for vigilance, and for the community to work together to suppress the Aedes aegypti mosquito population by eradicating breeding habitats.
A day later, NEA reiterated the call in a press statement, adding that since the launch of the national dengue campaign launch on April 7, there have been more than 440 dengue prevention activities by mayors, grassroots and community leaders as well as volunteers.
Earlier, in response to questions filed, Senior Minister of State for Health and Environment and Water Resources Dr Amy Khor stated in Parliament on May 7 that NEA and MOH have in place "a robust surveillance system to detect dengue and other vector-borne diseases".
The usual figures were trotted out. For instance, NEA, with various agencies represented in the Inter-Agency Dengue Task Force, has stepped up checks and conducted more than 224,000 inspections from January to March. About 2,900 instances of mosquito breeding were removed.
In addition, the island-wide network of 50,000 Gravitraps provides data on the mosquito population and guides NEA's vector-control efforts, especially in quickly zeroing in on the areas with high mosquito populations.
Although the number of dengue cases reported this year is well below that of the epidemic years of 2013 and 2014, the latest figures are worrying as they point to another dengue epidemic this year.
Despite stepped-up inspections and having a predictive model to help forecast dengue incidence, our national pre-emptive response to impending dengue outbreaks appears to have limited effectiveness.
Although there were 2,200 reported cases of dengue in the first quarter of 2019, which was more than three times compared to the same period in 2018, we have not been able to stave off the spike in dengue cases.
Clearly, more has to be done urgently and perhaps differently too. A good starting point is to review the domestic current dengue situation to better understand the persistence of dengue.
Are there gaps in the current mode of dengue surveillance and control? Are new and more effective short-term and long-term strategies needed in the prevention and control of dengue?
Although we have a Dengue Expert Advisory Programme, comprising local and foreign experts on vector-borne diseases, it is timely to consider convening a one-off expert panel to specifically advise the Government on the current dengue situation and prevention and control measures.
Such a panel was last established in 2005. Almost 15 years on, the situation has changed.
An expert panel today should comprise not only communicable disease and public health specialists but should include climate experts as well as drainage, building and construction specialists. A multi-disciplinary approach is needed.
With long-term changes in temperature and rainfall, we need to be better prepared with new counter-measures. Besides, in a warmer world due to changing climate patterns, more carbon dioxide is added to the atmosphere at a rate faster than at any point since industrialisation began in the 19th century.
Increasing levels of carbon dioxide and temperatures will catalyse mosquito population expansion.
There appears to be some "public policy fatalism" over the dengue situation. Dr Khor noted that Singapore's experiencing more dengue cases this year is no different from neighbouring countries. She also observed that there was a persistently high Aedes aegypti mosquito population in the community.
There is also the belief that Singapore is vulnerable to the transmission of infectious diseases given that we are a regional transport hub and with high inflows of people from abroad.
If we merely resign ourselves to these macro-environmental realities, then it is inevitable that higher dengue infections will become the norm and other mosquito-borne diseases more common.
Hence, more anxiety and less "public policy reticence" and complacency are required in the public policy response to the dengue threat. Together, they compel us to assess the real threat of dengue and other mosquito-borne diseases more clearly and to respond more aggressively.
One study by a group of local researchers published in 2018 in the American Journal of Tropical Medicine and Hygiene noted that while there was no major shift in the types of breeding habitats of Aedes mosquito, its distribution has expanded across Singapore. Has a decline in public cleanliness contributed to this?
The World Health Organisation regards mosquitoes as "one of the deadliest animals in the world" and dengue as the most important arboviral disease globally as it imposes significant socioeconomic and disease burdens on affected countries.
There are four dengue serotypes (types of virus), with Den-2 being the current dominant strain in Singapore. When the dominant serotype changes, those infected previously with dengue do not have the immunity against the new serotype. This often results in an epidemic.
For Singapore, if we are not able to properly manage dengue, other mosquito-borne diseases such as Chikungunya, yellow fever, Zika, malaria, and West Nile, might just become common in the years ahead.
We should fight dengue with a fervour similar to the long-standing war against smoking and the ongoing whole-of-government effort against diabetes.
Urgency is needed in engendering greater public will and a multi-stakeholder approach towards outsmarting the mosquitoes. Public education should be ramped up on the public-health threats that mosquitoes pose so that Singaporeans will better appreciate why they have a part to play in curbing the breeding of these insects.
A straw poll I conducted found that few could describe the diseases that mosquitoes transmit besides dengue.
Public cleanliness, a growing concern in recent years, is often intricately linked to the availability of mosquito breeding habitats through littered receptacles and containers that hold stagnant water.
Community clean-ups should be organised to not only raise public awareness and spiritedness but also to emphasise all of us have a role to play. Perhaps it is also time to consider heavier penalties for town councils and commercial and residential property owners found to have mosquito breeding on their premises.
It's much easier to prevent a public health threat altogether than to be forced to marshal resources to combat a ticking public health time-bomb later on.  
But we first need to clearly recognise the real threat that dengue is.
ABOUT THE AUTHOR:
Eugene K B Tan is associate professor of law at the Singapore Management University and a former Nominated Member of Parliament. In mid-May, he was diagnosed with dengue fever.