Many low-income parents strive to give their kids a good start in life. How can Singaporeans help them?
June (not her real name) is a health assistant in the social service sector and the main breadwinner for her household that includes four young children under the age of six.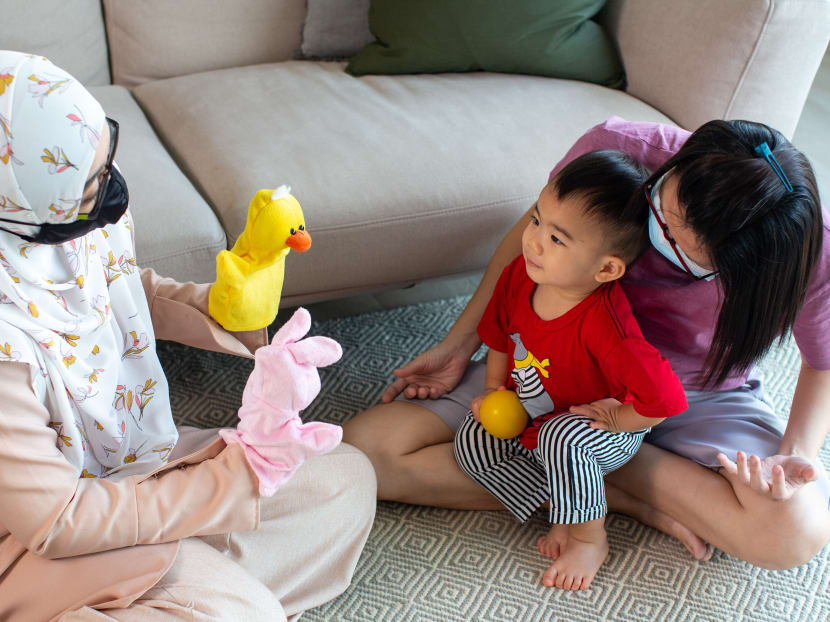 June (not her real name) is a health assistant in the social service sector and the main breadwinner for her household that includes four young children under the age of six.     
With little qualifications and work experience, she faces difficulties in obtaining a higher-paying job to support her family. Balancing work stress and financial constraints has made her feel constantly exhausted.     
As much as she would like to nurture and spend quality time with her children, June often finds herself unable to have the time or energy to do so.      
She cares deeply for her children but feels unsure of what she can do to help them grow and develop well.
June's story is one of many I have encountered as the lead of a home visitation programme under KidStart, a government-led initiative that supports children aged six and younger from low-income families.
The home visitation programme provides sustained home-based support to low-income pregnant mothers and families with children from birth up to three years old.
Our KidStart practitioners, even those with prior experience in early childhood and the social service sector, have to undergo extensive training before deployment.
According to the needs of the family, they maintain regular visits and engagements with the families.
Many of these parents, like June, may lack the resources to provide for their children due to multiple challenges such as unstable employment and income, and the lack of caregiving support.
Yet June and many other parents in the programme have deeply moved us at KidStart, with their perseverance in striving to do the best for their children and their resilience in overcoming obstacles.
PARENTS' ASPIRATIONS
Like all Singaporean parents, those in the KidStart programme beam with joy when their children sprout their first tooth, take their first steps and utter their first words.
They aspire to be good parents. Some, having gone through adverse childhood experiences themselves, are determined to do more to ensure their children grow up well and protected.
Juggling the needs of growing children in Singapore can be challenging for all families - more so for those with less resources. Some work hourly paid jobs or have irregular shifts in order to be with their children during the day.
There are also many who brave bad weather and work through the night to do food deliveries to earn extra income for their families.     
I have also come to know many fathers who work two jobs, preferring not to apply for financial assistance. This is not pride, but rather, a desire to provide for their families.
My colleagues and I at KidStart applaud these families for their grit and resilience in wanting the best for their children, and will support them to defray some of their practical needs such as diapers or groceries.
We also guide them on how to enhance their children's growth and development by leveraging parents' existing knowledge and skills, highlighting opportunities for them to interact with their children and sharing strategies that will empower them to be confident caregivers.
As KidStart practitioners, we understand that parents can sometimes feel frustrated with their children.
It can be especially trying for single parents, as they play dual roles and face even more challenges in finding respite, if they don't have adequate family support.     
Oftentimes struggling with their own mental wellbeing and health issues, the parents still hold on to their aspirations to create a nurturing home environment for their children.
Coping with additional challenges brought about by Covid-19, and the lack of income because they do not have paid medical leave from work, they persist with belief and optimism that their lives will get better.
In June's case, she resolutely pushed through to get her family enrolled in the KidStart programme, despite initial hesitation about receiving support from external agencies.
With support and help from a KidStart Home Visitor, June has learnt to better engage her children and is able to better communicate with them, significantly reducing her frustrations. She is now encouraging others like her not to be afraid to reach out and seek help.
I'm always amazed at the effort put in by parents for their children in using the strategies shared by KidStart's home visitors.     
No matter how small the effort was, it created a huge impact on their children.
Some parents set aside a corner in the room with books and developmental toys for their children to explore and engage in parent-child bonding time over play and reading.
Some intentionally reduce their television and other screen time in order to encourage their children to do the same, and spend more time on conversations and activities together instead.
They shared with us how they now speak more with their children as they go about their daily routines, be it washing hands before meals, or changing into fresh clothes as daily routines have become meaningful interaction time for parents and children.
I remember how KidStart encountered a child with borderline communication issues that we assessed was due to a lack of interaction and communication with the parents, as they felt talking to a young child who had not learnt to speak was not natural; preferring to rely on gadgets to engage the child instead.
With encouragement and support from our home visitor, they grew more comfortable speaking to their child while carrying out everyday activities, and the child's language skills have since improved.
THE COMMUNITY'S ROLE IN A CHILD'S GROWTH
Beyond parents' own efforts and programmes such as KidStart, the community at large can play an important role in supporting low-income families as they strive to give their best to their children.
As neighbours, we can perform small acts of service, including buying groceries and meals for their families while parents and caregivers are busy at work, helping to send their children to school, and lending them educational materials that they would need such as laptops, especially during periods of home-based learning.
We can also start teaching our children empathy, by encouraging them to make friends with children of all backgrounds and educating them to be sensitive about people's circumstances.
KidStart also welcomes the support of the public in their volunteering and outreach efforts to eligible families. Additionally, the public can make regular contributions to the Growing Together with KidStart initiative, which garners community support for KidStart children.
As we like to say at KidStart, it takes a village to raise a child.
I hope Singaporeans can gain a deeper and more empathetic understanding of the hard — and heart — work that low-income families undertake to bring up their children, applaud and support them in their efforts to give their children a good start in life.
ABOUT THE AUTHOR:
Ng Wei Chern is senior assistant director of KidStart Singapore Limited's Home Visitation Programme.