Woman Up: As a minority woman in tech championing equality, this is what I want the future of work to look like
In the past two years, aside from having lived through a global pandemic, I became a mother while running my non-profit organisation The Codette Project and holding down a full-time job.
In the past two years, aside from having lived through a global pandemic, I became a mother while running my non-profit organisation The Codette Project and holding down a full-time job.
While it has been challenging, it has also become very clear to me that there are far more women juggling even more difficult situations at home and work, and that it is past time for us to imagine better and more equitable workplaces for all.
If the pandemic has taught us anything, it is that there are large disparities within and between societies, and we need to do something to prevent these gaps from widening.
It is worth pointing out that a fair workplace for all is not a zero-sum game.
If we can improve paternity provisions, for example, men would be able to take advantage of flexible working arrangements and they would be able to spend more time at home with the kids, as I am sure many fathers would love to do.
So here is my personal wishlist of what I hope companies will do to start creating more equitable workplaces for everyone:
RETHINK HUMAN RESOURCE PRACTICES
First, we should do away with the culture of confidentiality surrounding compensation packages.
This is a practice that benefits only companies, while disempowering employees from finding out whether they are getting fairly paid according to their skills and experience.
Having a more transparent culture around salaries will help women to find out if they are getting equal pay for equal work.
Second, companies that want to retain their staff for the long term should really be more generous with child, parental and family care leave.
Consider offering unlimited childcare leave or unpaid leave to parents for the first 12 to 18 months of their child's life. Offer this to parents of adopted and foster kids too.
I believe that this will reduce staff turnover, especially for new parents and those wishing to become parents.
Third, I would call for a comprehensive rethink of the job application process.
To progress towards a more equal society, the CVs and resumes we submit for job applications should not have identifying criteria such as photographs, gender, ethnicity, religion or age. It should simply be a record of the candidate's experience and skills.
This would help reduce bias from the selection process and focus on hiring based on skills.
Fourth, there should be a clear, reasonable justification for any kind of uniform or dress code. It is disappointing and illogical that there continues to be seemingly arbitrary company guidelines about uniforms and dress codes in some organisations.
Any company that insists on uniforms or dress codes should also bear the cost of providing the required items, as well as the cost of cleaning said items on a regular basis. This could be done through giving an additional clothing allowance on top of existing pay packages.
This should be the norm especially for industries such as sanitation and healthcare, where workers have sacrificed a great deal during the pandemic.
BE INTENTIONAL ABOUT DIVERSITY EFFORTS
When highlighting success stories from within the organisation, companies should take the effort to look for diverse examples.
Research has shown that seeing examples of successful individuals from diverse backgrounds is important not just for people from similar demographics, but for all, as it helps us to reimagine who gets to be considered successful.
This is something I am deeply passionate about.
In March 2022, The Codette Project launched the first photo exhibition of women in tech in Singapore, "Success Looks Like This" that showed real minority/Muslim women in tech and their stories.
It was powerful to see so many women feel seen and recognised for their achievements.
RETHINK PHYSICAL SPACES AND THOSE WHO NEED THEM
Rather than sticking to the outdated trends of hot desking and open offices, companies should carve out spaces according to user needs.
This could mean reallocating corner offices to wheelchair users and breastfeeding mothers rather than senior managers.
As the first organisation to start an all-woman hackathon in Singapore in 2018, The Codette Project provided prayer and meditation spaces, childcare and breastfeeding rooms at our hackathons.
At the time, hackathons typically did not reflect the needs of a diverse population, because they were created with a very specific and narrow idea of who would attend.
This excluded many different groups, including mothers and underrepresented groups from such events.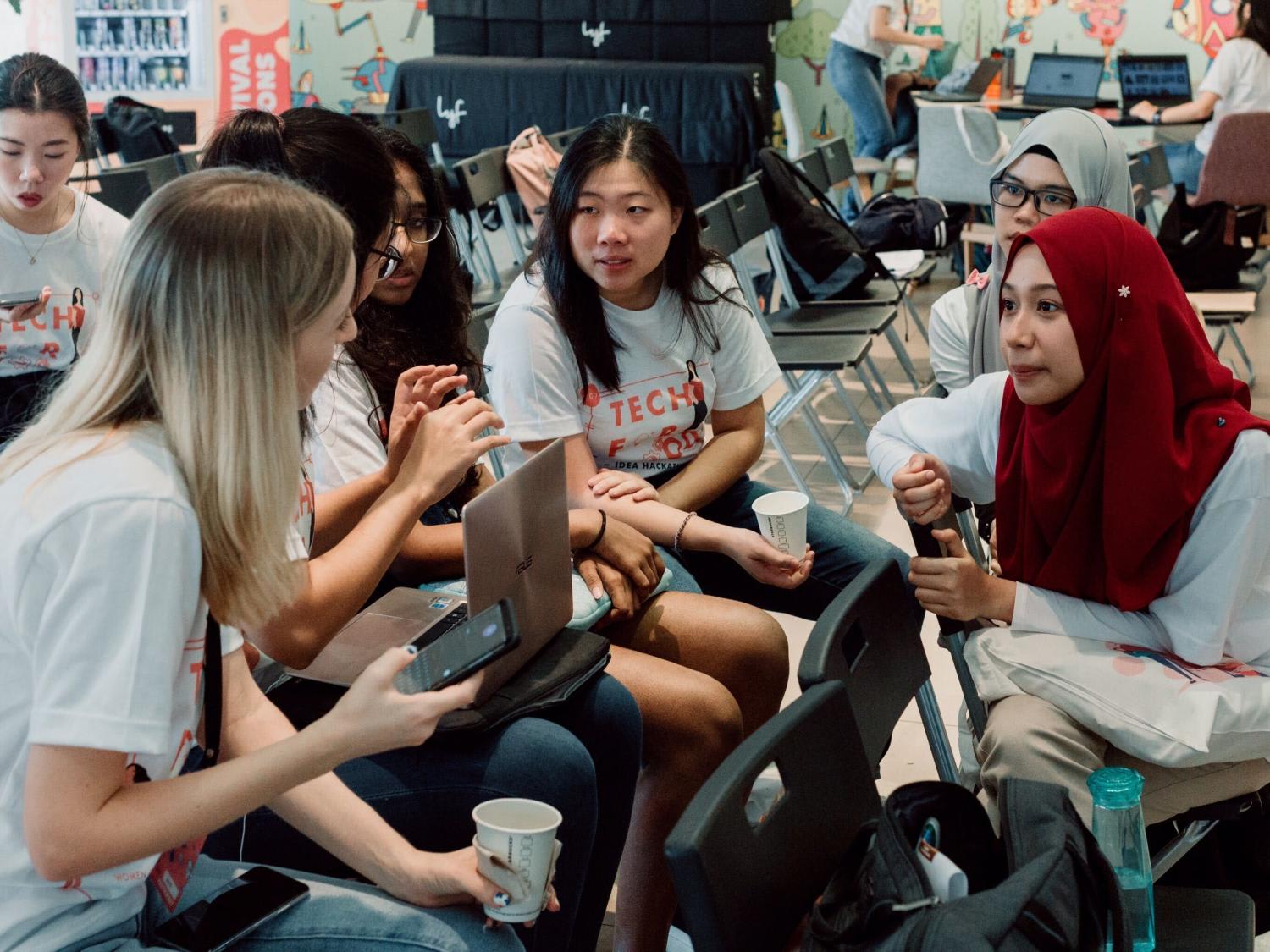 CREATE SUPPORT GROUPS
At The Codette Project, I've found mentorship by tech professionals to be a great way to keep students in our Codette Cares programme encouraged and hopeful about their studies during challenging times.
The same principle can be applied within companies, which can facilitate mentorship within and across teams, especially for women.
In order to do this effectively, companies need to be able to set out clearly what expectations mentors and mentees should have, and facilitate structured connections in order for both sides to build a good working relationship.
Companies could also consider setting up employee support groups as a way for staff to have safe spaces within their organisations that they can turn to for resources or support. Employees and employers need to be able to talk more honestly and openly about their needs and challenges.
Companies should ensure that those who take part in such groups and lead them are rewarded for their time and effort and that these efforts are not discounted during performance reviews.
HOLD ON LESSONS FROM PANDEMIC 
It is disheartening to see how quickly many companies have returned to insisting that workers show up to the office every day since the economy reopened, despite the pandemic making clear that many people may be equally or even more productive when working remotely and flexibly.
This insistence on "face time" in the office puts undue pressure on those with caretaking responsibilities, especially women, who still bear a disproportionate burden of caregiving work and household labour.
I don't believe that any of these ideas are particularly radical, but that different ideas will appeal to organisations at different stages of their journey to improve diversity and equity within their organisations.
I started The Codette Project in December 2015 because I felt and still feel that while the tech sector is not perfect, it is the most level playing field for underrepresented women.
Many large tech companies release diversity reports that highlight areas of improvement, including gender gaps, and are trying to commit to better systems.
These are steps in the right direction, but even more can be done by companies in all sectors, though it will require corporate leaders and managers to put their hearts, wallets and energy into the effort.
There are many more actions that can be taken as well.
So my final wish for a more equal society is that companies simply take that first step forward, and make a genuine commitment to improve diversity, equity and inclusion within their organisations.
ABOUT THE AUTHOR:
Nurul Jihadah Hussain, 35, is the founder of The Codette Project, a non-profit organisation that aims to support minority/ Muslim women in tech.