Pakatan Harapan's drubbing in Johor and Melaka polls shows it is stuck in the past
In what seems to be a continuing trend, Pakatan Harapan (PH) was trounced again by Barisan Nasional (BN) in last weekend's Johor state election.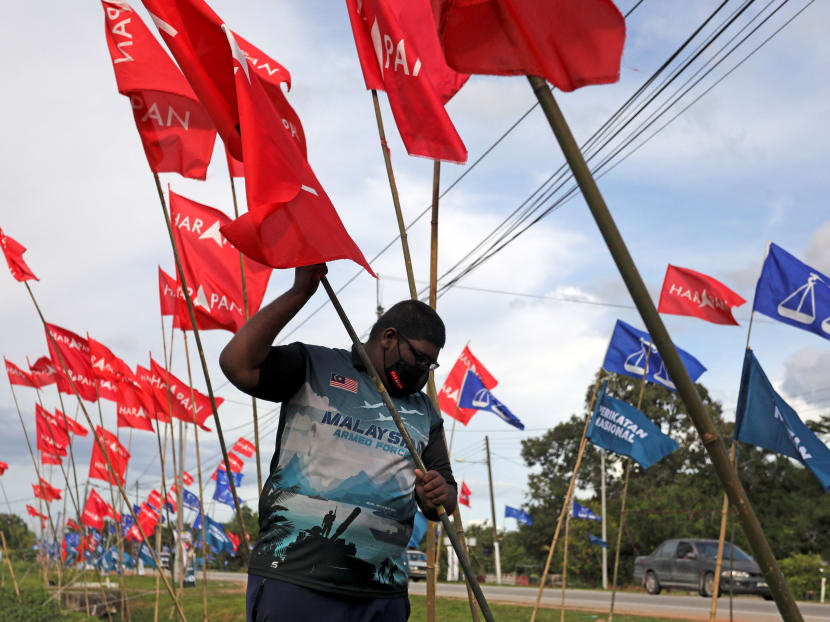 In what seems to be a continuing trend, Pakatan Harapan (PH) was trounced again by Barisan Nasional (BN) in last weekend's Johor state election.
The massive gains made by the opposition coalition at the national and state levels in 2018 are now being eroded one by one.
Beyond falling from the federal government in February 2020, the opposition coalition has performed dismally with voters.
In the Melaka state election in Nov 2021, PH's seat count fell to five which is merely one-third from the heady days of 2018 where it secured 15 seats.
With a pungent whiff of déjà vu, the 12 seats PH captured in Johor was also a third compared to the 36 hauled in 2018.
The Melaka and Johor state elections show important trends in voter behaviour that PH would do well to heed.
First, BN's election machinery and grassroots network are unparalleled in Malaysia's political scene, and remain intact despite the 2018 defeat.
Come rain or shine, their grassroots marshal their supporters and even fence-seaters to turn out to vote, even if enthusiasm is lagging.
This can be seen in the relatively constant number of BN votes in Melaka and Johor, in 2018 and recently.
In contrast, the number of votes for PH declined about half between 2018 and the 2021-22 state elections in both Melaka and Johor as seen in the table below.
| Political Party | 2018 Melaka | 2021 Melaka | 2018 Johor | 2022 Johor |
| --- | --- | --- | --- | --- |
| BN | 156,318 | 122,741 | 582,265 | 599,753 |
| PH | 211,153 | 114,457 | 803,148 | 367,525 |

The decline is of particular concern since Johor's electorate has increased by 800,000 compared to 2018 due to electoral reforms to lower the voting age and automatic registration.
PH was banking on the youth vote to secure a victory, but the 54 per cent voter turnout in Johor — compared to 83 per cent in 2018 — in addition to the sharp drop in votes suggests that youths have not turned up overwhelmingly in favour of PH.
Lacking extensive grassroots networks, particularly in rural areas, PH has traditionally relied on its message of reform to galvanise people to turn up to polling stations.
The Achilles heel for PH is, absent a compelling narrative, people will stay at home.
PH's campaign messaging has consisted of playing its "fan favourite" of good governance and anti-corruption.
This is a re-run of the 2018 campaign, which successfully linked Malaysian's economic woes to the imposition of the Goods and Service Tax (GST), the financial extravagance of former prime minister Najib Razak, and the ill-fated 1MDB.
While dramatically successful then, these issues and scandals are far removed from Malaysia's current Covid-riven reality which has thrust cost of living and economic recovery to the fore.
Bread and butter issues did not figure prominently in PH's messaging, which focused overmuch on its interrupted federal administration.
Relatedly, PH still perceives itself as the only opposition coalition and the only political organisation capable of criticising and checking the administration of the day, whether at the national or state level.
This is no longer reflective of reality.
The establishment of Perikatan Nasional (PN), composed of the key partners Parti Pribumi Bersatu Malaysia and the Islamic party, PAS, is giving PH a run for its money.
This coalition has run on a similar platform to PH, spotlighting the corruption and profligacy of senior United Malays National Organisation (Umno) leaders.
This grouping of Malay-based parties has emerged as an attractive alternative for Malay voters, who are seeking greater financial probity but without reordering Malaysian society.
PN netted almost 25 per cent of the popular vote in both Melaka and Johor, and displaced PH as the opposition of choice in the bulk of Malay-majority seats.
Lastly, for a coalition seeking to regain the narrative and project an image of dynamism, too much of PH's attention has been inward-focused of late.
In contrast to BN's well-oiled campaigns, where negotiations over candidates and seat allocation between coalition partners are carried out behind closed doors, the electorate has had front row seats at a variety show of PH's unseemly disputes.
Bickering over seat allocations, imperious behaviour toward new parties (and potential allies), and last-minute replacements of popular incumbents have dented the coalition's image and raised questions of what its priorities really are.
Potentially the most serious of these is Parti Keadilan Rakyat (PKR) President Anwar Ibrahim's decision to eschew using the coalition PH's logo in seats where his party is contesting.
The argument that the PH logo has unpleasant associations with its interrupted national administration from 2018 to 2020 is particularly damning.
If PKR does not stand behind PH's time in power, how can it expect voters to believe in the coalition?
Of the three parties in PH today, PKR has performed particularly poorly, losing all its seats in Melaka and retaining its sole seat in Johor by a whisker.
As attention turns away from state elections to focus on national polls, PH needs to reflect on where it is, what it stands for, and how it reaches out to voters.
The coalition is now no longer the only opposition show in town, its performers need a refresh, and it needs to update its playlist.
The Democratic Action Party will hold its party election next week, while PKR's party election is scheduled in two months' time.
A fresh leadership with key positions helmed by younger party members is a crucial step to regain the trust of Malaysians.
Or, come the next general election, there might be no one turning up to the dance.
ABOUT THE AUTHORS:
Kevin Zhang is a research officer at Iseas–Yusof Ishak Institute, where Dr Francis E Hutchinson is a senior fellow and coordinator of its Malaysia Studies Programme. This piece first appeared on the institute's Fulcrum website which analyses developments and trends in Southeast Asia.