For PH, winning the hearts and minds of Malay-Muslim women is easier said than done
Women constitute 50.58 per cent of the Malaysian electorate. They are a vital constituency for both the Pakatan Harapan (PH) government and the opposition. Yet PH's initiatives targetting women do not appear to be received with enthusiasm by the majority of the Malay Muslim women, who form around 60 per cent of the Malaysian women's electorate.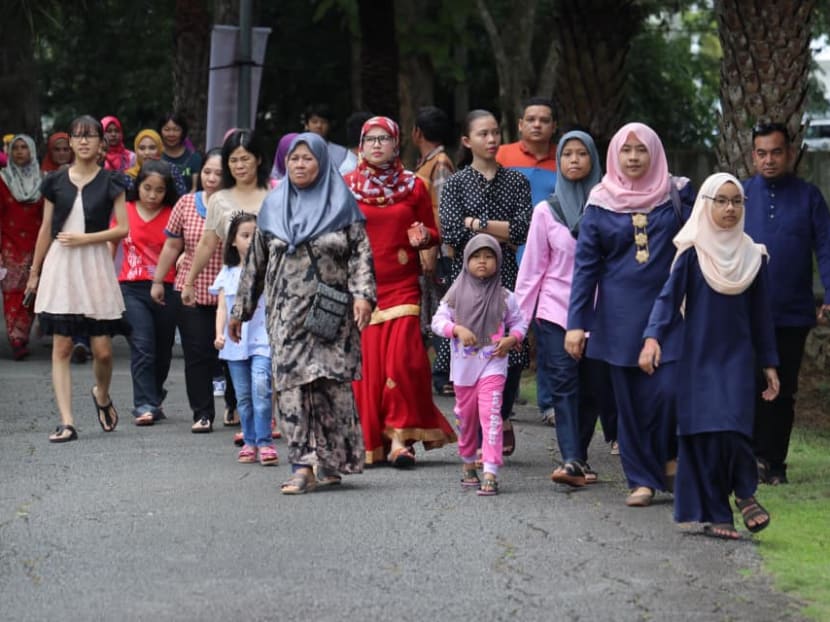 Women constitute 50.58 per cent of the Malaysian electorate. They are a vital constituency for both the Pakatan Harapan (PH) government and the opposition.
On one hand, PH has smashed the glass ceiling with the appointments of Malaysia's first female deputy prime minister, first female chief justice and first female anti-corruption chief commissioner. PH has also outperformed its predecessor, Barisan Nasional (BN), by appointing five female ministers and four female deputy ministers.
On the other hand, PH's initiatives targetting women do not appear to be received with enthusiasm by the majority of the Malay Muslim women, who form around 60 per cent of the Malaysian women's electorate. Overall, nearly 60 per cent of Malays are dissatisfied with PH's performance, according to a survey earlier this year by Ilham Centre and Penang Institute.
Significantly, around 59 per cent of these respondents thought that PH was driven by a liberal agenda.
So what are the ways PH is trying to address the concerns of Malaysian women — in particular, female Malay-Muslims — and what are the challenges it faces in doing so?
ECONOMIC EMPOWERMENT
The first concern is the low participation of women in the workforce. Women form a significant source of untapped talent, labour, and entrepreneurship that can fuel the Malaysian economy. In 2018, only 55.2 per cent of working-age women were in the labour force, compared to 80.4 per cent for their male counterparts.
A World Bank study has found that Malaysia's income per capita could grow by 26.2 per cent if all economic barriers — including housework and the care of children and the elderly — are removed for women. This translates to an average annual income gain of RM 9,400 per person. 
PH's Budget 2020 included several schemes to encourage women to return to work and start businesses.
Its Women@Work initiative to create 33,000 more jobs offers a RM500 per month wage incentive for women who qualify, and a RM300 per month incentive for their employers. PH also allocated RM30 million for early childhood care facilities. 
The Finance ministry has set up a RM200 million fund for loans to women entrepreneurs and another RM500 million to provide them with a guarantee facility.
These initiatives are, however, not ground-breaking and largely a continuation  of similar policies initiated by the previous BN administration to raise women's participation in the workforce.
WOMEN'S RIGHTS
PH's manifesto also pledged to "review all laws that relate to gender equality and ensure that every woman enjoys legal equality".
Malaysia is a signatory of the United Nations Convention on the Elimination of all Forms of Discrimination Against Women (Cedaw). The BN government had received a poor review by the Cedaw Committee in 2018. According to media reports, among the issues raised was the dual-legal system, "which was viewed as being discriminatory against women, particularly Muslim women under Syariah law".
As such, PH had formed a Parliamentary Select Committee for Rights and Gender Equality to consider Cedaw's recommendations. It had its first meeting in February 2019 to discuss a Gender Equality Act, something the previous BN government had planned to do in 2006 without success.  
According to a committee member I spoke to, it is challenging to forge a consensus on the issue of gender equality, particularly given the divergent positions in Malaysia on whether Cedaw's principles on equality are in alignment with Islamic values and the Syariah law. 
These Islamic laws are considered by some as divine and unchangeable, and since Malaysia has a dual legal system, practices between the Syariah and civil court can often be difficult to bridge. PH will face a daunting challenge in enacting the Act.
POLITICS OF PIETY
Crucially, substantial numbers of young, educated, professional, urban women subscribe to conservative positions. The women's wing of Parti Islam Se-Malaysia (PAS), Dewan Muslimat, has also galvanised Malay women and are tapping them as committed members of Islamic study circles in both rural and urban areas.
Notably, PAS has branded the government's championing of gender equality as an import of "liberal Western" principles that are not in tandem with Islam. For PAS, women's "empowerment" in the private sphere is redefined as a deliberate choice of submission to Islam and piety to family.
Dewan Muslimat's statement that condemns the criminalising of marital rape and urges caution over the "liberal needle" illustrates this well.
Member of Parliament Maria Chin alongside women's rights groups have been pushing for laws on marital rape, but according to the Deputy Minister in the Prime Minister's Department Hanipa Maidin, the government has no plans to criminalise marital rape.
Nonetheless, PH is portrayed by Dewan Muslimat as a platform for liberal quarters to voice their concerns, stating that "this is but a design used to attack the Islamic Ummah, and Muslim women are now being targeted by such stirring of emotions and feminist sentiments".
Meanwhile, PAS' new ally, the United Malays National Organisation (Umno), has been seeking ways to give more voice to its women leaders.
There are expectations among some Umno ranks that the party could amend its constitution at its general assembly in December to change the status of the Umno's women's wing (Wanita Umno) from a subsidiary arm to one as an "equal stakeholder" in influencing the party's directives. This may be in response to demands from Wanita Umno's Chief Dr Noraini Ahmad that a woman should be elected as Umno's co-vice president.
Women leaders could play a powerful bridging role in realising the Umno-PAS unity. There is disquiet among Umno and PAS members on the recently forged Umno-PAS alliance, including some female Umno female members who do not always subscribe to PAS' more conservative stances on issues touching on women's interests.
But Dr Noraini has stated that the Umno-PAS alliance is to forge Muslim unity and that "in the end, Umno and PAS have the same principle, which is to fight for the race, religion, and the country".
With the opposition robustly engaging in the politics of piety and appealing to sentiments of ethnoreligious nationalism, the government has to tread carefully in its efforts to promote gender equality (economic and/or social), lest they be portrayed as anti-Islam.
Such efforts may not resonate with the majority of the Muslim women voter base if they are not couched in the right religious frames.
Policies that empower women take time to implement and accrue appreciable benefits. However, considering the significance of female voters and the potential for their greater contribution to the economy, both PH and BN can be expected to push on with their female empowerment programmes.
The question now is how it is to be framed within Malaysia's evolving political and socio-economic frameworks.    
ABOUT THE AUTHOR:
Piya Sukhani is a Research Analyst with the Malaysia Programme at the S. Rajaratnam School of International Studies, Nanyang Technological University.