From radical to terrorist: The man behind five terror plots in Indonesia
Bahrun Naim is a rising Indonesian militant who has plotted several terrorist attacks against the police and other targets in Indonesia since 2015.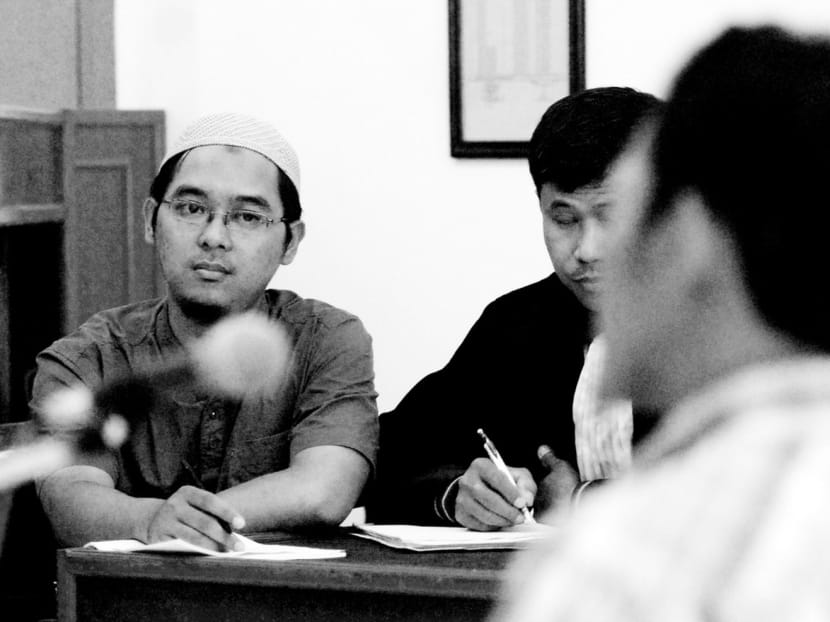 Bahrun Naim is a rising Indonesian militant who has plotted several terrorist attacks against the police and other targets in Indonesia since 2015.
He has been responsible for orchestrating at least four terrorist plots in Indonesia: The August 2015 failed bombings in Central Java, the December 2015 failed bombing plot in Jakarta, the July 2016 suicide bombing in Solo, and the failed plot to attack Singapore's Marina Bay in mid-2016.
This past week, Indonesian police said he was behind a plot in which suicide bombers had planned to attack the Presidential Palace over the weekend. Naim, who is in Syria, hopes his various terrorist plots will earn him respect from the Indonesian jihadi community and recognition from the leadership of the so-called Islamic State (IS).
Muhammad Bahrun Naim Anggih Tamtomo, alias Bahrun Naim, was born in Pekalongan in Central Java in 1983. He spent most of his life in Solo, where he studied informatics engineering at the Surakarta State University.
Following his graduation, he worked as a computer technician at an Internet cafe and sold flags decorated with Islamic symbols for a living. Naim has two wives, Rafiqa Hanum from West Sumatra and Sri Lestari, a former member of Hizbut Tahrir Indonesia (HTI) and an ex-student of the Surakarta Muhammadiyah University. Both are now in Syria with him, along with their two children.
FROM RADICALISM TO TERRORISM
Naim was introduced to radical teachings when he attended religious gatherings at mosques in Solo when he was in high school. At university, he joined HTI, a radical group that seeks to establish an Islamic caliphate in Indonesia.
The similarity in the pan-Islamist ideology of HTI and the IS contributed to Naim's attraction to IS. This is also the case with other IS-linked Indonesian supporters with a HTI background. Naim has discussed his perspectives on the shortcomings of HTI and reasons for joining IS with HTI critics over Telegram chat application groups such as the Kopi Hitam (black coffee) and New Kopi Hitam.
One of Naim's close friends from the radical community was Purnama Putra, alias Usman, a former classmate who was an important figure in Komite Penanggulangan Krisis (Kompak/Committee for Crisis Management), a group that was involved in actively despatching jihadists to fight against Christians in Ambon and Poso between the years of 1999 and 2007. He helped Noordin Top — the mastermind of major bombings in Indonesia from 2000 to 2009 and one of the leaders of the regional terrorist group Jemaah Islamiyah (JI) — procure a detonating cord and two personal weapons before the Australian Embassy bombing in 2004.
In 2005, Usman asked Naim to store ammunitions for him. Naim also joined the radical group Jamaah Ansharut Tauhid (JAT) when it was established by former JI spiritual leader Abu Bakar Bashir in 2008. In 2010, the police hunted down the group members involved in JAT's illegal military training in Aceh, and arrested Naim after he was found storing caches of ammunitions.
Consequently, in June 2011, he was sentenced to two-and-a-half years of imprisonment. After his release in 2013, Naim worked as a freelance journalist while continuing his membership with JAT.
When the Syrian civil war broke out, he considered going there to wage armed jihad. He did so in 2014, shortly after Abu Bakar, the JAT leader, pledged his allegiance to IS in July that year.
PLANNING ATTACKS IN INDONESIA
In Syria, Naim tried to gain the attention of IS' top leadership by planning terrorist attacks in Indonesia. In June 2015, he planned bombing attacks against a police precinct, a Christian church and a Confucian temple located in Solo in Central Java. To implement his plans, he set up his first IS cell with the help of his childhood friend Ibadurrahman alias Ibad.
Through Ibad, he recruited several members of a radical group, Tim Hisbah, to carry out his bombing plots (Tim Hisbah had actively targeted places considered to be un-Islamic, including local night clubs, massage parlours and brothels).
The cell made preparations for coordinated multi-target bomb attacks on Aug 17, 2015, to coincide with Indonesia's Independence Day. The attacks were intended to warn the "enemies of Islam", particularly the police (for arresting Tim Hisbah members and IS supporters), and the Christians (for allegedly oppressing Muslims in Ambon and Poso).
However, before the plotters could execute the attacks, they were arrested in mid-August 2015.
Those who escaped the police dragnet fled to Bekasi in West Java, where they joined another cell created by Naim in September 2015.
The prominent members of the Bekasi cell included Naim's high school friend Arif Hidayatullah, and Faris Abdullah Cuma alias Ali, an Uighur.
The cell, which included two bomb-makers and a suicide bomber, planned to attack senior officers of the Indonesian National Police, Jakarta police and the Depok mobile brigade headquarters, the Indonesian National Police chief's residence, the governor of Jakarta (Basuki Tjahaja Purnama alias Ahok), a Shia shrine and the Jewish community in Bogor, West Java.
However, the police managed to detect the plot and arrested several of them in December 2015. One of the bomb-makers, however, managed to flee to Klaten in Central Java. While Naim ran his IS cell in Bekasi, he was also leading the IS cell in Batam with the assistance of Gigih Rahmat Dewa, whom he had met in Solo in 2000. Naim was Gigih's religious mentor when he was studying at a senior high school.
The Batam cell was dedicated towards smuggling Uighur terrorists into Indonesia for training in Poso and bombing operations in Java.
It also arranged the outbound trips for Indonesians who wanted to join IS in Syria.
The Batam cell was also responsible for the plot to mount a rocket attack against Singapore's Marina Bay. The plot was foiled when police arrested the cell members in August this year.
As pressures mounted from IS Central leadership for their Indonesian counterparts to carry out attacks, Naim instructed a Bekasi cell member, Nur Rohman, to carry out a suicide bombing mission against the Surakarta City Police headquarters; he did so in July 2016, killing himself but only injuring a police officer.
Reactions to the failed suicide bombing in social media platforms were highly negative.
In fact, Naim had to defend Nur Rohman and deflect attention from the poor operational capabilities of his cell by spreading rumours that the police had played down the number of casualties.
Naim sought to amplify the impact of the failed attack in Telegram groups, such as Warung Kopi, by claiming that Nur Rohman actually killed four policemen in his attack.
SEEKING RECOGNITION
The IS-related cells that Bahrun created in Indonesia have certain commonalities.
First, most of the members came from Tim Hisbah. Naim had known them for more than five years and are his close friends.
Second, the majority of the cell members are young, between 19 and 35 years old. They have gone through an active radicalisation process in Tim Hisbah and other radical groups such as the Islamic Defenders Front and HTI.
Like Naim, they are also desperate to conduct a successful attack and gain the attention of IS Central and other jihadi supporters. Naim has often discussed computer hacking and bomb-making skills across various Telegram groups.
For instance, in early August this year, he distributed a list containing the personal information of staff working for the National Counterterrorism Agency (BNPT), presenting it as a result of his hacking activity. In reality, the list can be accessed openly on the Internet.
This leads towards the third commonality between Naim's cells, namely, their members are highly savvy in social media and the Internet.
They communicate via encrypted Telegram chats and know how to evade Internet surveillance from the security apparatus.
Lastly, the members of these cells, including Naim, are committed to their cause, although they are amateurish in their actions, as made clear by the failed bomb plots.
Regardless of Naim's failure to conduct a successful attack in Indonesia, his association with IS figures in Syria, and his drive and determination to execute terror attacks, make him a threat to national security.
The Indonesian government will need to continue monitoring members of Naim's Indonesian cells as well as Tim Hisbah, where the majority of Naim's recruits come from.
The government should also expose Naim's misinformation and falsehoods disseminated in the social media domain.
Members of IS-linked Telegram groups should be made aware of Naim's duplicity and manipulation of his support base to enhance his position within the jihadi community and gain recognition from IS Central.
ABOUT THE AUTHORS:
Muh Taufiqurrohman is a senior researcher at the Centre for Radicalism and Deradicalisation Studies (PAKAR) based in Central Java. Ardi Putra Prasetya is a postgraduate student at Criminology Department, University of Indonesia. This piece first appeared in the Counter Terrorist Trends and Analysis journal published by the International Centre for Political Violence and Terrorism Research (ICPVTR), a constituent unit of the S Rajaratnam School of International Studies at Nanyang Technological University.