Responding to the Covid-19 crisis as one Singapore community
They say that in every crisis, there is an opportunity. As Singapore grapples with the daunting challenges posed by the Covid-19 outbreak, it is heartening to see ground-up initiatives rapidly emerging to respond to community needs.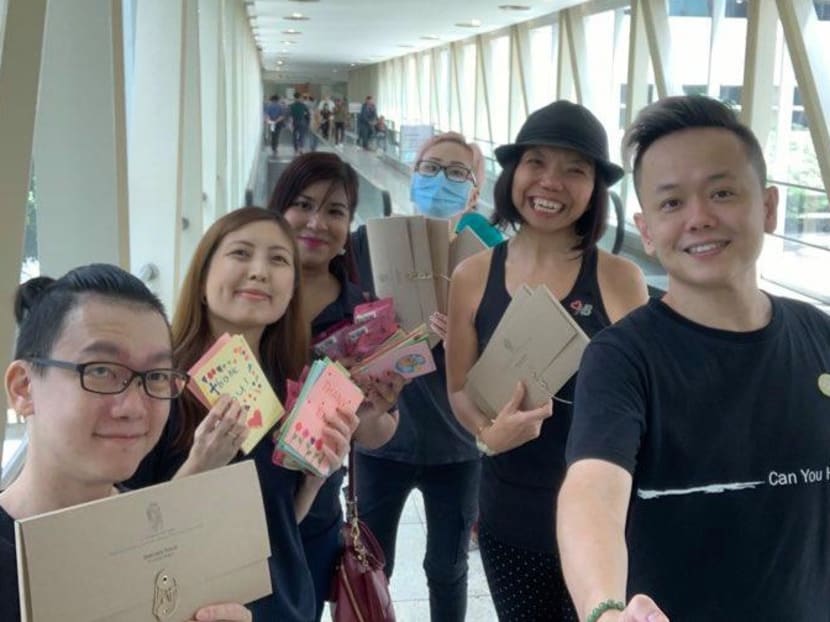 They say that in every crisis, there is an opportunity. 
As Singapore grapples with the daunting challenges posed by the Covid-19 outbreak, it is heartening to see ground-up initiatives rapidly emerging to respond to community needs.
A day after Singapore raised the Disease Outbreak Response System Condition (Dorscon) to Orange on Feb 7, A Good Space — a co-operative that brings together active citizens, community based organisations, social enterprises and companies — created a live community "noticeboard" of needs and offers using a Google spreadsheet.
The National Volunteer & Philanthropy Centre also followed suit with a special Covid-19 Community Response Facebook page. 
Philanthropic organisations like The Majurity Trust set up the Singapore Strong Fund to support these community efforts while government agencies such as the Ministry of Culture, Community and Youth (MCCY) facilitated fast track applications for Our Singapore Fund. 
EVERY CITIZEN AND RESIDENT CAN BE A CHANGEMAKER
Indeed, Covid-19 presents each of us with an opportunity to either turn inwards in fear (and hoard basic necessities) or step up and contribute to safeguarding our communities, regardless of our background and abilities.
Anyone and everyone can be a changemaker, as long as we recognise our individual strengths.
Ms Suprihatin Nengsih, an Indonesian foreign domestic worker, noticed that unlike the resident population of Singapore who were given four free surgical masks per household in early February, the migrant worker population did not have such access.
This put them at greater risk of Covid-19 infection. Ms Suprihatin reached out to her family and friends in Indonesia to source for masks.
She collaborated with Ms Ang Huan Ting, co-founder of the local ground-up initiative Lingua Singapura, who then arranged for sponsors of other hygiene items and helped to coordinate volunteers for the distribution of these masks and other items to migrant and foreign domestic workers across Singapore.
Even those with special needs stepped up to help.
My colleagues at Hush TeaBar, a non-profit social enterprise which I founded, came up with the idea of preparing special self-care kits for healthcare workers through a crowdfunding campaign.
Mr Low Kok Hwa, who is deaf, and Dr Edwin Ng, who has a mental health condition, led the effort to distribute these self-care kits to healthcare workers at Tan Tock Seng Hospital and the Institute of Mental Health.
For Ms Suprihatin, Dr Ng and Mr Low, having an opportunity to contribute allows them to feel valued and affirmed.
SPURRING COMMUNITY INNOVATION 
Professor Brene Brown of the University of Houston in the United States, whose specialty is social work, once said: "Vulnerability is the birthplace of innovation, creativity and change."
Indeed, take a quick glance at the community noticeboard created by A Good Space's and you will see creative ideas among the responses. 
Given how hard Covid-19 has hit the food and beverage sector as well as vulnerable communities, Project Belanja by Blossom World Society and the Restaurant Association of Singapore was a call to ask Singaporeans and residents alike to "belanja" (Malay for treat) someone in need a meal.
In doing so, local restaurants and eateries will get a leg-up too. 
With the panic buying at supermarkets in early February, baby essentials like formula milk and diapers were hard to come by.
Nursing Muslimah, a support network for mothers, started a sharing initiative for baby essentials. A mother who has gotten what she needs will return the same items when she gets her stock.
I especially like that this was based on trust and takes us back to the good old days when neighbours would ask each other for salt or sugar when they run out. 
Since then, other needs-based community responses using simple Google spreadsheets and forms have sprouted up.
There is the listing of summer internship opportunities for students affected by Covid-19 cancellations, initially started to help Yale-NUS students and later made public for all.
Recently with the sudden lockdown in Malaysia, we saw another community response called Love Our Malaysian Neighbours that used Google forms to ask Singaporeans to come forward to host the stranded Malaysians at their homes. 
We don't always get it right but when we listen deeply to what the needs are instead of what we want to give, we often come up with innovation solutions that allow these responses to be more effective. 
SINGAPORE TOGETHER
I believe that this Covid-19 crisis is just but a glimpse of the kind of complex situations that we will increasingly face as a society that even an efficient government like ours cannot resolve on its own.
As much as the Singapore Together movement is about the Government engaging with citizens to co-create Singapore's future, it can and must also be about involving community-based organisations and even letting them take the lead in addressing certain needs.
This is because these organisations are closer to the ground and often know sooner and better the issues faced by the community.
At the same time, these groups must engage the Government to craft a systemic community response together, instead of merely asking for grants. 
Let me cite an example.
Singapore has one million migrant workers, including foreign domestic workers.
The sheer size of this number means that they and their employers must be involved in the prevention of more local spread in this Covid-19 crisis.
Recognising this, a group of changemakers at A Good Space who work with migrant communities in different capacities, came together in mid-February to discuss how we can encourage employers of migrant workers to better support their employees with tips to protect themselves and others.
We knew from the onset that this wasn't just a Covid-19 response but must be the start of a longer term project that supports more meaningful engagements between employers and migrant workers.
Focusing on employers of the 250,000 foreign domestic workers first, "Healthy Helpers, Healthy Homes" is a digital campaign in the form of a colourful comic strip that outlines the five Share steps for employers to work with their helpers: Share masks and sanitisers with your helper; hands should be washed frequently; ask your helper about their health'; respect rest time and days off and ensure health and wellbeing for everyone at home .  
The community-based organisations enlisted the help of MCCY and the Ministry of Manpower (MOM) to disseminate the information to employers of these domestic helpers.
Apart from the digital campaign, posters will also be sent to embassies, employment agencies, Town Councils, MOM service centres and other organisations that interact with the workers.
The next step would be to extend the campaign to foreign workers who stay at dormitories. 
The Covid-19 crisis has given us an opportunity to see the nation as a single community. We cannot change society unless we take responsibility, unless we see ourselves as belonging to it and being responsible for changing it.
Only then can we unlock the true potential of the Singapore Together vision of meeting the challenges of an increasingly complex world. Because no one knows all the answers, but we can all learn from an emerging future, together.  
ABOUT THE AUTHOR:
Anthea Ong is a Nominated Member of Parliament, social entrepreneur and author of 50 Shades of Love.