Sex, diabetes and testosterone deficiency: Why should men in their 40s care?
The average male in Singapore is expected to live up to 81.4 years these days, based on statistics in 2019 from the Ministry of Health.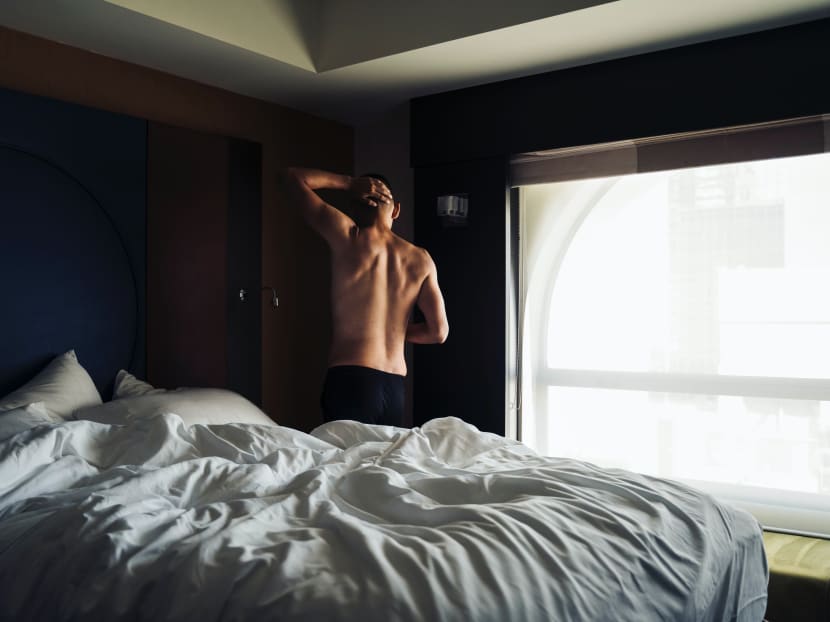 The average male in Singapore is expected to live up to 81.4 years these days, based on statistics in 2019 from the Ministry of Health.
This makes me realise that I have already passed the midway point of my life as a man.
Once a man crosses the 40-year-old mark, other physiological changes also become evident.
If you check your social media, you will find that this is the time when you see friends in this age group trying to lose weight with dieting (be it Atkin's or keto and so on) and exercise (be it running, doing high-intensity interval training, or even flipping tyres).
Some attribute such behaviour to having a mid-life crisis, since theoretically, it is the halfway point in a man's expected 80-year lifespan.
Studies have shown that a man's testosterone levels decline with age, at an estimated rate of 1 to 3 per cent a year after the age of 40.
As the testosterone levels dips in the body, the man would experience sexual and non-sexual symptoms. This condition is known as testosterone deficiency syndrome.
Common sexual symptoms would include the loss of morning erections, decreased sex drive or libido and erectile dysfunction.
Most men would remember waking up with an erection in the morning. This is due to the diurnal variation of testosterone levels with the levels peaking during the hours of 7am to 11am.
This peak is less pronounced in men with low testosterone and so one of the first signs would be the loss of morning erections.
This is also the reason why I would recommend blood tests for testosterone levels to be drawn between the hours of 7am and 11am for men who present to me for possible testosterone deficiency.
Non-sexual symptoms include low energy levels, decreased muscle mass, putting on weight and even depression in some men.
This is because the role of testosterone in a man's body is not just for sexual function.
TESTOSTERONE'S ROLE IN MEN'S HEALTH
In general, most people will associate testosterone with sexual function and sex drive. Testosterone is also responsible for cognition, muscle bulk, bone health, heart functions as well as kidney functions.
Studies have shown that men with testosterone deficiency who are not treated would have a lower life expectancy compared with those who are treated.
The risk of cardiovascular events such as heart attack and stroke are also higher in men with untreated low testosterone levels.
There is also a link between testosterone deficiency syndrome and metabolic syndrome.
When a person has metabolic syndrome, he has a combination of high blood pressure (hypertension), high cholesterol (hyperlipidaemia) and high blood sugars (diabetes mellitus).
Men with metabolic syndrome also tend to be overweight and the above-mentioned three conditions are also risk factors for heart attack and stroke.
Therefore, if a man has both metabolic syndrome and testosterone deficiency, he is a walking time bomb for heart attack and stroke.
SEXUAL DYSFUNCTION
In my practice, I see men of all ages who present with erectile dysfunction. More than a third of these men with this dysfunction also have diabetes mellitus.
The severity of erectile dysfunction is also greater in diabetic men and most of these men also have metabolic syndrome and some of them have testosterone deficiency.
Patient T is a 46-year-old diabetic man I saw as he was going through a rough patch with his spouse. For six months, he was not as enthusiastic as before in the bedroom.
The wife had suspected infidelity on his part and that caused a strain on their marriage.
He always felt tired and things got worse when he dozed off during teleconferences while working from home.
He even had problems helping out with his children's schoolwork because he was having problems concentrating.
I started him on medications (PDE5 inhibitor) to improve his erections and blood tests revealed he had low testosterone levels. 
As he had completed his family, he was ready to start on testosterone therapy. Exogeneous testosterone therapy will render a man sub-fertile as he would no longer produce sperm in his ejaculate.
Initially, Patient T wanted to give up the PDE5 inhibitor because the drug failed to meet his expectations in terms of the strength of erections.
I explained to him that with low testosterone levels, the PDE5 inhibitor might not reach its maximum efficacy.
On subsequent follow-ups, he reported increased energy levels and stronger erections. He took his wife along for the next consultation and we had a candid discussion with regards to how testosterone therapy has salvaged their marriage.
I always encourage couples to come for the consultation together when there are issues in the bedroom. An understanding and supportive partner will go a long way in the treatment of sexual dysfunction. Afterall, it takes two to tango.
The case did not just end there. During his regular follow-up sessions, to check his testosterone levels and to monitor his progress, Patient T also showed me results of his improved sugar control after starting on testosterone therapy.
He is one of the many examples that I have seen in my clinical practice.
Early detection of disease is what we, as healthcare professionals, want to achieve so that complications can be avoided.
Sexual dysfunction does not affect just the man, it affects the couple and the family as a unit.
Men in their 40s are often at the pinnacle of their career. It would be a shame if the other aspects of their lives are affected because of treatable conditions.
Treatment not only improve their health in general but also their quality of life.
To my fellow men in their 40s, if you are having some issues in the bedroom, it is time to check your T levels.
ABOUT THE AUTHOR:
Dr Ronny Tan is a consultant urologist and andrologist at Advanced Urology Associates (Parkway East Hospital and Mount Elizabeth Orchard Hospital).