SIA will phase out some A380s. How about converting one to a restaurant?
The Airbus A380 has been an exceptionally popular aircraft with passengers since it entered service with launch customer Singapore Airlines (SIA) in 2007.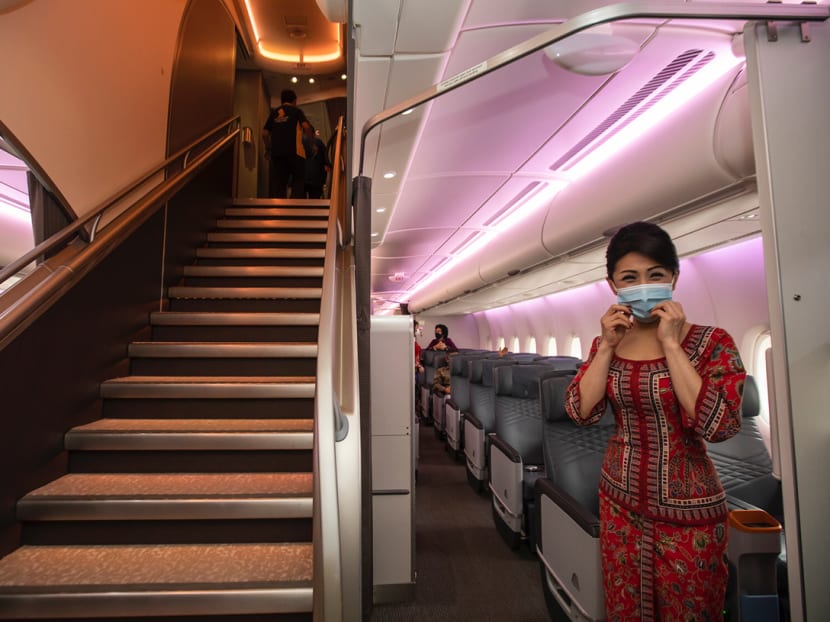 The Airbus A380 has been an exceptionally popular aircraft with passengers since it entered service with launch customer Singapore Airlines (SIA) in 2007.
The A380's popularity has been further proven with SIA's Restaurant A380@Changi, which used two recently retrofitted aircraft to host around 1,800 diners last weekend. Up to another 1,800 diners will be hosted this coming weekend.
However, the restaurant is not a significant revenue generator or profit contributor. It is about engaging the community and keeping SIA's brand top of mind after seven months of no flying for virtually all Singapore residents.
From this perspective, as is evident from the coverage in social media, the Restaurant A380@Changi has been successful despite several hiccups and initial issues with the booking system.
Travelling to Changi and clearing airport security to have lunch or dinner on a parked aircraft is not for everyone.
But the concept has been embraced by some of SIA's frequent fliers, aviation aficionados and those seeking alternative weekend activities or keen to support an iconic Singapore company that has been devastated by Covid-19.
The restaurant would have piqued interest if another type of aircraft was used such as the Airbus A350 or Boeing 777.
However, there is a special affinity for the A380 among all types of travellers — from frequent fliers to families that only fly occasionally.
There has always been something special about flying in the massive double deck aircraft, which has provided the space for airlines including SIA to innovate with seats and other interior products, resulting in an inflight experience that many passengers believe is not quite matched on smaller aircraft.
In the airline industry it is widely known that the A380 has enjoyed a halo effect — meaning passengers intentionally seek and book A380 flights when possible.
It is impossible to quantify how much the halo effect has generated in terms of additional revenues for SIA or other A380 operators.
However, even factoring this in it is safe to say the aircraft has been highly unprofitable overall for both airlines and the manufacturer, leading to Airbus' decision in early 2019 to end A380 production.
Covid-19 is now unfortunately driving an early retirement to a large portion of the over 230 A380s that were in service globally prior to the pandemic.
Most have been grounded since April and only around 10 per cent of the fleet is currently operating. Unlike other aircraft types a large portion of the A380 fleet will never be reactivated.
The four-engine A380 is simply too large and inefficient for the post-Covid world, making it even harder to turn a profit than prior to the pandemic — when A380 economics were already very challenging.
For SIA, the sad reality is that several of its A380s will never return to revenue service.
An SIA stewardess serving patrons of Restaurant A380@Changi on Oct 24, 2020.  Photo: Nuria Ling / TODAY
SIA would phase out the A380 entirely if it was able to but, like several other airlines operating A380s, the financial implications are too severe to contemplate a complete retirement.
For A380s that are only a few years old or have recently been retrofitted with new cabin products, an airline is better off operating the aircraft at a loss than trying to phase them out given the huge financial hit associated with the latter scenario.
Scrapping A380s that are several years old and have not been retrofitted also requires a huge impairment charge as the value of the aircraft has to be written down to reflect current market conditions, but this is manageable and a better option than trying to return the aircraft to service.
SIA has to keep a minimum of nine of its 19 A380s as the impairment charge for these nine would be way too excessive to consider a phaseout.
Five of these nine A380s were delivered to SIA in late 2017 and 2018, making them only two to three years old.
The other four in the minimum nine A380s have been retrofitted, including the two that have been used for Restaurant A380@Changi.
While the four retrofitted aircraft are around nine or 10 years old, they would be virtually impossible to phase out given the huge investment in the new cabin products.
SIA announced plans in November 2017 to retrofit 14 A380s by the end of 2020 with new seats and inflight entertainment systems.
SIA at the time disclosed a price tag of US$850 million (S$1.19 billion) for the new products, which were also installed on five new A380s that were used to replace SIA's first five A380s.
But the retrofit programme has been over budget and significantly delayed although the latter can now be seen as a blessing in disguise as it provides SIA flexibility to cancel several of the retrofits.
The first retrofitted A380 entered service in mid 2019 and the second aircraft at the beginning of 2020.
The third aircraft was completed in June and the fourth in recent weeks.
In addition to these four, one or two more aircraft will likely be retrofitted as it is too late to cancel the retrofit kits.
That would leave a future fleet of 10 or 11 A380s, which SIA will operate for several more years once reactivated, enabling SIA to gradually pay off the associated financing charges.
These aircraft will likely be reactivated in 2022 to 2024 as the market gradually recovers from Covid-19.
SIA may disclose plans for phasing out part of the A380 fleet on Nov 6, when it releases fiscal first half earnings.
A total fleet impairment charge that could exceed S$1 billion is expected. While the A380 will account for most of this charge, some will be associated with the early phaseout of other aircraft types.
The A380s to be phased out are nine to 13 years old.
A380 values, which have declined significantly both before and since Covid-19, have reached a point where aircraft of this vintage are not worth much more than their scrap value.
The scrap value of an A380 excluding engines is around US$20 million, according to Asia Aviation Valuation Advisors. The four engines of each A380 are worth up to another US$20 million depending on the condition.
Given there is virtually no demand for second-hand A380s — demand was very limited prior to Covid-19 and the pandemic will make finding new homes for A380s nearly impossible — SIA's excess aircraft will likely be scrapped although some engines could still be used.
Instead of selling them to aircraft teardown and parts specialists, at least one of the airframes could be used to become a permanent restaurant.
Aircraft as large as 747s have been turned into restaurants before, creating a unique dining experience. Prior to Covid-19, there were aircraft restaurants on six continents.  
Given the popularity of the A380 and its large size, it would not be surprising that several A380 restaurants pop up around the world in the coming years.
The investment is manageable. While US$20 million is the scrap value, some parts can still be sold as they are not needed for a restaurant.
A permanent A380 restaurant would be much different from the temporary restaurant at Changi.
For example, the seats would be different but more conducive to a restaurant environment.
The aircraft would also not be parked at the terminal, making it easier to access as diners would not have to go through the hassle of clearing security.
Possible locations in Singapore are Loyang and Seletar.
Other excess SIA A380s could even end up in other countries as restaurants.
If SIA does not want to invest in restaurants, it could consider selling an A380 by tender here to an entrepreneur to open Singapore's first aircraft restaurant.
The aircraft could double as a museum and provide a history lesson for many years to come, making the A380 a fixture in Singapore long after its retirement.
ABOUT THE AUTHOR:
Brendan Sobie is the founder of Singapore-based independent aviation consulting and analysis firm Sobie Aviation. He was previously chief analyst for Capa — Centre for Aviation.