Volunteers don't just give, they gain
Most Singaporeans know what volunteering is, but we may not agree on what volunteering means.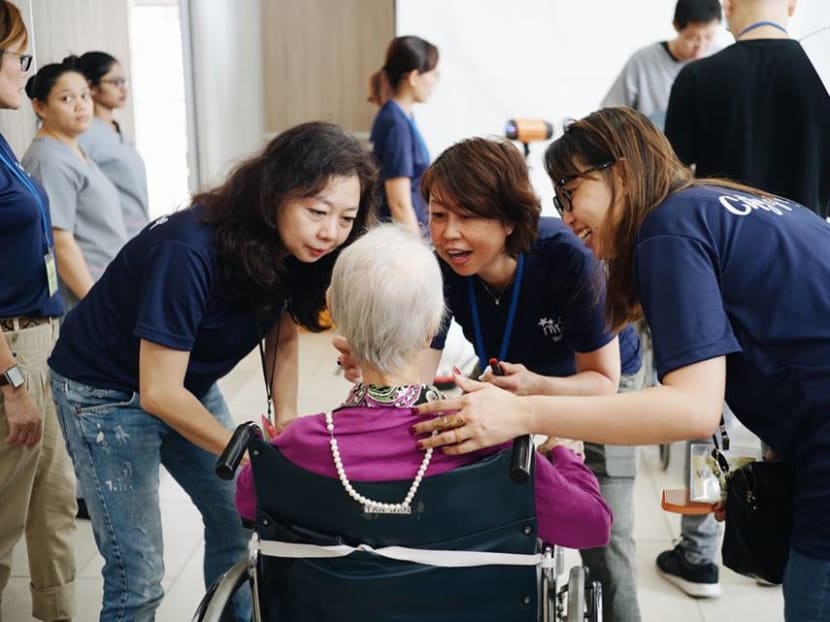 Most Singaporeans know what volunteering is, but we may not agree on what volunteering means.  
This is best illustrated by the results of the National Volunteer and Philanthropy Centre's (NVPC's) 2018 Individual Giving Study. It found that 70 per cent of Singaporeans are keen to volunteer, and over 60 per cent of them make donations in cash or in kind.
Yet Singapore's national volunteerism rate stood at just 29 per cent, and among those who volunteer, merely one-third do so regularly. Is it time to reexamine our assumptions on volunteering to promote a culture of sustained volunteerism? Why is there a gap between intentions and reality?
One reason may, ironically, lie in how Singaporeans perceive giving back to society in a pure, altruistic fashion. When NVPC studied people's sentiments toward giving, it found that most believe that giving should be selfless and sacrificial.
They are less likely to believe that giving should be "easy" or an opportunity to receive benefits.  
Such sentiments may also be reinforced by prominent national honours like the Singapore Youth Award or NVPC's own President's Volunteer and Philanthropy Awards which celebrate outstanding and highly committed acts of giving.  
Placing giving on a high pedestal is not a bad thing, but the flipside is that Singaporeans may also believe it to be difficult, requiring heroic self-sacrifice and effort.
Couple this with the fact that Singaporeans are largely pragmatic, and volunteering may take an even further backseat.
When the NVPC study asked about their life priorities, the top responses were family commitments, health, financial security and employability. In contrast, contributing to society ranked 14th.
The quarterly Good Pulse Survey by consumer insights company Toluna and NVPC in March confirms the primacy of practical, bread-and-butter issues. When asked to identify which current affairs issues concern them the most, "rising cost of living" and "lack of job security" came out tops.   
Taken together, the data shows Singaporeans would most likely take care of themselves and their families first, before looking out for the wider community.
The perception that giving carries a high opportunity cost may further discourage them from taking the first step.     
BRIDGING PASSION AND PURPOSE
To promote a culture of volunteerism, we need to rethink whether volunteering should always be positioned as a self-sacrificial act. Rather than having people think they must be prepared to "lose" time and energy through volunteering, can it be positioned as a way for them to "gain"?
This need not lower the impact of volunteering or make it self-centered. In fact, volunteering shouldn't be a one-way transaction with the giver seen as more superior than the recipient. Volunteering can be a value exchange where an individual gives resources, and in turn, receives a valuable experience.  
So, why not align volunteering opportunities in ways that appeal to the individual?  When NVPC studied what motivates people to volunteer, it found that 29 per cent of Singaporeans are interested in opportunities that align with their hobbies.
For some, volunteering becomes true joy when it's coupled with passion. For instance, Wany Mizban is a trainer at Singapore's largest independent fitness provider Ufit and a Nike Master Trainer. In her spare time, she volunteers to conduct fitness classes at Mountbatten Vocational School.
She said: "I do feel I make a difference through my passion especially because they miss me when I am not around. I even have a graduate with Down Syndrome who comes back weekly to join us."  
The NVPC study also found that 25 per cent of Singaporeans are interested to learn a new skill through volunteering. Could volunteering be positioned as a form of self-improvement?
For instance, Repair Kopitiam encourages people to volunteer their skills to coach others in fixing old items, be they mechanical, electrical appliances or fabrics. Participants gain value from these sessions by honing handy repair skills. At the same time, they contribute to Repair Kopitiam's broader mission of reducing a buy-and-throwaway culture.
INTEGRATING VOLUNTEERISM INTO OUR LIVES
Another mindset to change is the idea that volunteerism is separate from our daily lives. "I'll take care of family and work first, and only give back when I have spare time," seems to be a common refrain, going by Singaporeans' life priorities.
But to create a giving culture, it is key to integrate volunteering into how we live. This can entail embedding opportunities in the areas Singaporeans prioritise highly: Family and work.
Cheryl Ng, a Team Lead for DBS Communities, had been volunteering on her own before joining the bank. However, she found that employee volunteer programmes made it more convenient to integrate volunteering into her busy schedule as she didn't have to search for a volunteer organiser as an individual.
Work no longer hindered her from volunteering, but facilitated her volunteerism with a wider range of issues. Through the bank's volunteer programme for employees, she teaches the elderly how to use payment apps or cashless cards. She gets two volunteer leave days every year.
Khairol, a teacher, volunteers with his family of four during the school holidays. Through volunteering, he aims to create meaningful and memorable experiences for his 13-year-old daughter and seven-year-old son.
He shares: "Last December, we took the children to help out at soup kitchen, Willing Hearts Kitchen. Over four days, they helped with preparing, packing and delivering meals to the beneficiaries. I don't want my children to grow up ignorant of issues like poverty and hunger."
Khairol doesn't see having a family as a reason to stop volunteering. Instead, it only brings more meaning to volunteering and brings the family closer.
Whether it is employees like Cheryl or parents like Khairol, there are ways to integrate your life priorities and volunteering.
Volunteerism doesn't just need a rethink, but a redo. It's key to challenge our long-standing assumptions about volunteering and craft new narratives.
That is, volunteering can be enjoyable to both giver and recipient. It can be flexible and tailored to the individual, thereby taking into consideration their life priorities of work and family.
ABOUT THE AUTHOR:
Jeffrey Tan is Director of Knowledge, Marketing & Advocacy at the National Volunteer and Philanthropy Centre.