As voters in Johor's Tanjung Piai head to the polls, what's at stake for PH and BN?
Voters in the Johor constituency of Tanjung Piai will go to the polls on November 16 to elect a new Member of Parliament (MP) following the death of Mohd Farid Mohd Rafik in September. The by-election comes at a difficult time for the ruling Pakatan Harapan (PH) coalition.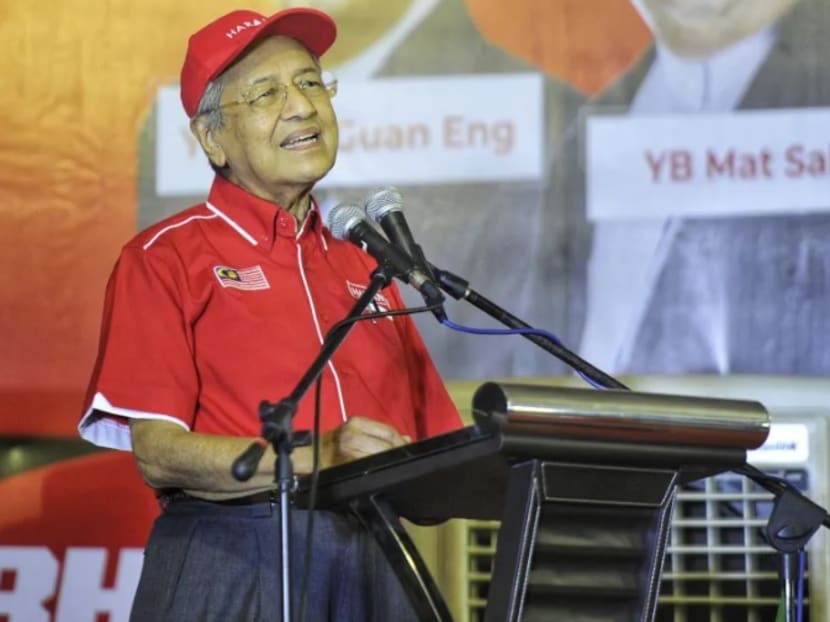 Voters in the Johor constituency of Tanjung Piai will go to the polls on Nov 16 to elect a new Member of Parliament (MP) following the death of Mohd Farid Mohd Rafik in September. 
Mohd Farid, of Parti Pribumi Bersatu Malaysia (PPBM) had won the seat in the 2018 General Election with a 524-vote majority, in a contest against Barisan Nasional (BN) and Parti Islam Ke-Malaysia (PAS).
The by-election comes at a difficult time for the ruling Pakatan Harapan (PH) coalition. After 18 months in power, the novelty factor has worn off and political anomie has set in, due, in part, to unachieved election pledges on issues such as eliminating highway tolls and restructuring student loans.
Conversely, following a torrid 2018, BN's chances have turned of late, with the ousted coalition racking up three by-elections wins in a row.
In September 2019, the United Malays National Organisation (Umno), the largest party in BN, signed a cooperation pact with PAS, which entails fielding commonly-agreed upon candidates in all electoral contests.
The Tanjung Piai by-election is the first following this agreement and, if BN and PAS supporters effectively vote the same way they did in 2018, PH will lose the seat.
Tanjung Piai is a relatively mixed constituency, with some 54,000 voters. About 57 per cent of these are Malay, 42 per cent Chinese, and 1 per cent Indian.
While it is classified as a rural constituency, and its main economic activities are fishing, fruit production and oil palm, it is also quite outward-oriented, with many of its residents commuting to Singapore to work and others depending on tourism from the city-state.
At first blush, Tanjung Piai looks like the typical west coast constituency in peninsular Malaysia that PH toppled in 2018. These constituencies are larger, more urbanised and multi-ethnic than those on the Peninsula's east coast, which are less populated, more rural, and more Malay-majority.
Johor exemplifies this division — all of its PH seats are in the urban south and along the western aspect of the state, and BN strongholds are in the state's centre and east.
Yet Mohd Farid's narrow win in 2018 is in contrast to PH's performance elsewhere in Johor.
In part, this could be because Tanjung Piai has had a long association with BN component party, the Malaysian Chinese Association (MCA).
However, it is also important to note that PAS ran as a third force in 2018 and managed to garner almost 3,000 votes.
These two facts, then, lend weight to Umno's strategy of fielding an MCA candidate, yet also reaching out to PAS' vote base. Assuming that voters in Tanjung Piai vote the same way they did 18 months ago, a BN-PAS front would secure a majority in 2019.
Mohd Farid was from a well-known local Tanjung Piai family. PPBM has sought to maintain this local connection in its choice of Karmaine Sardini, an architect and imam.
Mr Karmaine contested in the Pontian parliamentary seat in 2018 — narrowly losing to Umno's Ahmad Mazlan by some 800 votes. However, before that, he was the Umno Treasurer for Tanjung Piai, and also played a founding role in establishing PPBM in the constituency.
For its part, BN opted to field Wee Jeck Seng, who was MP for Tanjung Piai from 2008 to 2018.
Reflecting the importance of the election, both coalitions have invested considerable political capital in the constituency, with visits from heavyweights such as Prime Minister Mahathir Mohamad, Home Affairs Minister Muhyiddin Yassin, Finance Minister Lim Guan Eng and Agriculture and Agro-Industry Minister Salahuddin Ayub from PH, and former prime minister Najib Razik, as well as Zahid Hamidi, Mohamad Hasan and Wee Ka Siong from BN.
Yet, in a further unexpected turn, the seat is being contested by four other candidates. While extremely unlikely to win, these challengers could draw support away from the main candidates in unexpected measure — thus adding further uncertainty. 
Gerakan has nominated its Deputy Secretary General, Wendy Subramaniam, to run. Founded in 1968, Gerakan joined BN in the early 1970s but left the coalition following the 2018 loss.
Despite its founding as a multi-racial party, Gerakan has come to be seen as similar to MCA in outlook and membership. The party is seeking to position itself in Tanjung Piai and nationally as a 'third option', capturing support from those unhappy with PH, but unwilling to vote for BN.
A fourth candidate, Badrulhisham Abdul Aziz, is the President of the Islamist party Barisan Jemaah Islamiah Se-Malaysia (Berjasa). Despite splitting from PAS in 1977, Berjasa joined PAS as a member of the Gagasan Sejahtera coalition that ran against PH and BN in 2018.
Mr Badrulhisham has stated that his party is contesting in Tanjung Piai to protest Umno and PAS fielding a non-Malay to run in the constituency.
Two independents, Faridah Aryani Abdul Ghaffar, a social auditor, and Ng Chuan Lock, the owner of a chain of tuition centres, are also contesting, but they are unlikely to have much impact.
WHAT ARE THE ISSUES ON VOTERS' MINDS?
Opinion surveys carried out prior to the 2018 election indicated that economic issues topped voter concerns, and this has not changed in the months since then. This feeling was frequently voiced by interviewees in Tanjung Piai, which, given its agricultural focus, has a substantial number of residents in the bottom 40 per cent in terms of income.
Consequently, while national-level issues such as Dr Mahathir's attendance at last month's Malay Dignity Congress and the introduction of Khat calligraphy in primary schools are not inconsequential, local issues are pivotal.
While the generalised feeling is that the PH administration has been unable to substantially tackle cost of living issues, by-elections often play into the hands of the government of the day.
Thus, the federal government has been able to roll out a considerable array of targeted measures for the constituency. These include infrastructural projects such as upgrading of fishing jetties and construction of a bridge and new sporting facilities to cash handouts in the form of "compassionate payments".
Nonetheless, PH may be outflanked on the campaign trail. In the early period of campaigning, the ruling coalition was much less present on the ground than BN, which had copious billboards and banners in strategic locations in the seat. In contrast, the campaign machinery for PH was relatively low-key and muted.
This could be reflective of PH's smaller and less battle-hardened machinery, and it could also be due to internal PPBM issues. There are rumours that Mr Karmaine is a member of Mr Muhyiddin's faction within the party, which could have reduced motivation from other groups to campaign wholeheartedly.
Conversely, while PAS supporters may be displeased that the Tanjung Piai candidate is not a Muslim, Umno members are supportive.
In contrast to 2018, when party members were unhappy that Umno did not contest in the seat, this time they are conscious of the strategic importance of the by-election.
During the nomination process, the delegation accompanying Mr Wee, the candidate, was quite large and featured a substantial number of MCA and Umno members. Conversely, there were relatively few PAS members.
The Nov 16 contest will in all likelihood be between the candidates from the two national coalitions, PH and BN.
However, every vote counts and the other four candidates will refract votes in unexpected ways.
It is very likely that the Berjasa vote will resonate with voters seeking a Muslim candidate for the constituency and, thus, siphon some votes away from BN.
The same may be said for the Gerakan candidate, who may appeal to former MCA supporters.
Conversely, PH's vote count is more likely to be affected by apathy and, consequently, a lower voter turnout.
Looking forward, a win by PH will provide the ruling coalition with a much-needed boost, although it is unclear whether this can be successfully capitalised on.
The prevailing opinion is that the no-longer-so-new administration needs to articulate a narrative to unite the country.
At the same time, it is unclear what lessons Umno would draw from a loss. In the wake of their 2018 defeat, the party did not undergo a process of internal reflection or reform to determine the causes of its loss.
There is little reason to think that it would do so now.
Conversely, if BN wins this election, it could embolden Umno to continue with its conflicting and simultaneous alliance with remnants of BN on one side and PAS on the other. Appeals to race and religion will continue and be particularly pronounced for Malay-majority constituencies.
ABOUT THE AUTHORS:
Francis E Hutchinson is Senior Fellow and Coordinator of the Malaysia Studies Programme at the Iseas–Yusof Ishak Institute, and Kevin Zhang is a Research Associate with the Malaysia Studies Programme. This is adapted from a longer piece which first appeared in Iseas Perspective.