Police warning but not prosecuting offenders: What does it mean and can it be improved?
The recent high-profile case where a peeping tom filmed National University of Singapore (NUS) undergraduate Monica Baey showering has put the spotlight on the practice of offenders being given warnings by the police in lieu of prosecution. Just what are stern warnings and what does it mean if a person is given one?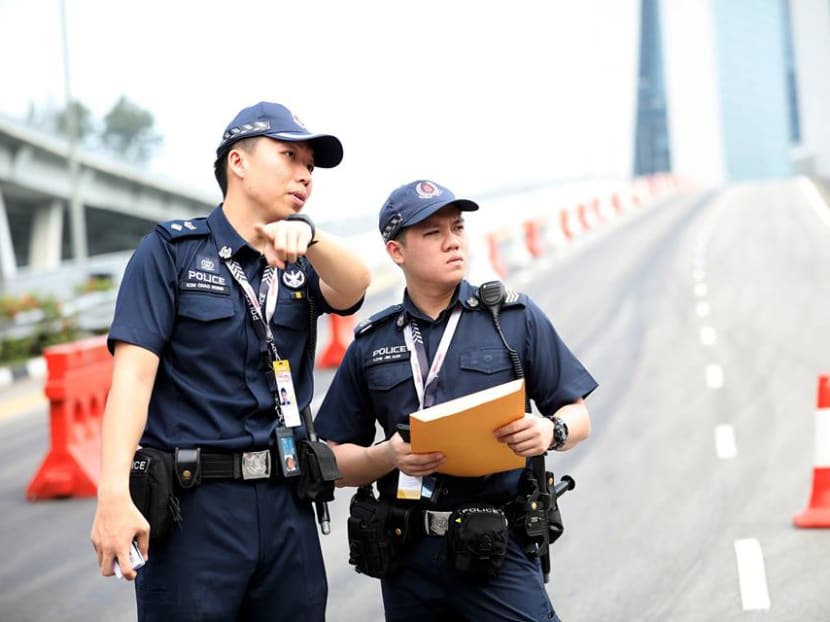 The recent high-profile case where a peeping tom filmed National University of Singapore (NUS) undergraduate Monica Baey showering has put the spotlight on the practice of offenders being given warnings by the police in lieu of prosecution.
Just what are stern warnings, what guides their use and what does it mean if a person is given one? More importantly, are there gaps in the administering of such warnings that should be addressed?
Stern warnings are ungoverned by legislation and amount to no more than an expression of the opinion of the prosecuting authority that a person had committed a crime.
In rare cases of public interest, such as the recent NUS case, the authorities may briefly cite reasons why they have deemed it fit to issue warnings rather than prosecute and these may help to amplify the factors that are considered by the authorities.
Two types of stern warnings are issued in Singapore. The first original type of warning is unconditional and the second more recent form is conditional.
Conditional warnings typically contain the condition that the suspect must remain crime free for a period ranging from one to three years after its issuance. The authorities reserve the right to prosecute the suspect for the original crime for which he was warned, as well as any fresh offences.
It has been observed in recent practice that other types of conditions have been imposed as part of the conditional warning, such as requiring the suspect to undergo a treatment plan.
This appears to take heed from the practice in England and Wales whereby other conditions can be imposed such as providing an apology or compensation to victims, providing reparative unpaid work to the community and so on.
This is a positive development in Singapore as a wider range of conditions may be more appropriate to serve justice for each case.
The current practice is that warnings are now mostly, if not always, issued in written forms. The immediate effect of a warning is that no prosecution will be taken by the authorities against the suspect.
While it is possible for the authorities to revoke a stern warning and reignite criminal proceedings, such cases are extremely rare.   
There appears to be no limit as to the number of times that a suspect can be issued with a stern warning or the number of offences that can be covered by a single stern warning.
However, it is not unreasonable to surmise that a suspect is generally less likely to receive a second stern warning for a similar offence that he subsequently commits.
HOW CAN SYSTEM BE IMPROVED?
One issue with the current practice of issuing warnings is that there is no consistent requirement for the suspect to accept the warning by way of a written acknowledgement.
In some cases, if the suspect does not accept a warning, he will face prosecution and the warning will not be issued. But there have also been cases where, even if the suspect does not accept a warning or oppose its issuance, the authorities still proceed in issuing the warning.
This ambiguity is unsatisfactory as one cannot tell unclear if the warned suspect accepts that he has committed a crime. In contrast, in England and Wales, a stern warning cannot be given unless there is an admission of the offence.
I would argue that a stern warning should not be issued if the suspect denies the commission of the offence or refuses to accept the stern warning.
It is also presently unclear if the views of the crime's victim are taken into account by the authorities before a decision on warning is made.
Taking the views of victims into account could add a victim-centric dimension in the consideration and improve the legitimacy of the warning, as shown by the recent NUS peeping tom case.
Furthermore, when an offence is compounded in lieu of prosecution — settlement of a charge between an alleged victim and an accused, typically involving monetary compensation and an apology — the views of the victims are taken into account. For consistency, the same principle should apply to warnings.
In a landmark 2016 decision, the High Court decided that a court is not entitled to treat a stern warning as a past criminal activity or as an aggravating factor. This is because a warning has no legal effect and is not binding on the recipient.
In the same case, the Attorney-General also emphasised that the prosecution would not in future mention a prior warning to a court for the purpose of seeking an enhanced sentence.
In a more recent decision this year, the High Court ruled that the principles apply to all types of warnings, conditional or otherwise. All warnings do not bind the recipient in any way and have no legal effect in sentencing.
While stern warnings do not amount to criminal convictions and are not criminal records, records of warnings are maintained by the police. While some criminal records may expire after five years, it is unknown if a record of a warning can similarly expire over time.
It is also unknown how records of warnings are shared by the authorities with others to the detriment of the suspect. Consider their unclear effect in the following scenarios:
If a warned individual applies for employment with the public service, would a stern warning record for a minor offence be considered and held against him?
If the police issued a warning for an allegation of maid abuse, would such information be shared with the Ministry of Manpower and used by the ministry to prohibit future hiring of a maid?
If a Singapore Armed Forces regular receive a warning from the police, should SAF discipline him based on it?
Given the High Court decisions and the Attorney-General's stance that a stern warning does not affect any of the suspect's legal rights, interests or liabilities, it should be legally erroneous for such warnings to be considered in the above scenarios.
Any court or administrative decision which is made based on a consideration of a warning being issued is likely to be susceptible to a successful judicial review.
While more light has been shed on the practice of issuing stern warnings following the High Court decisions, a better development is to crystallise the system of warnings through clear guidelines or statutory rules. Given that warnings serve as important alternatives to prosecution, there should be no ambiguity about them.
ABOUT THE AUTHOR:
Tan Hee Joek is Partner at law firm Tan See Swan and Company. He has been practising law for more than 20 years, including a stint in the public service as a deputy public prosecutor.