How to combat stigma against Singapore healthcare workers amid Covid-19
Amid the current pandemic, there have been numerous reports of healthcare workers in Singapore facing discrimination by members of the public, in a repeat of what happened in 2003 when the Severe Acute Respiratory Syndrome struck.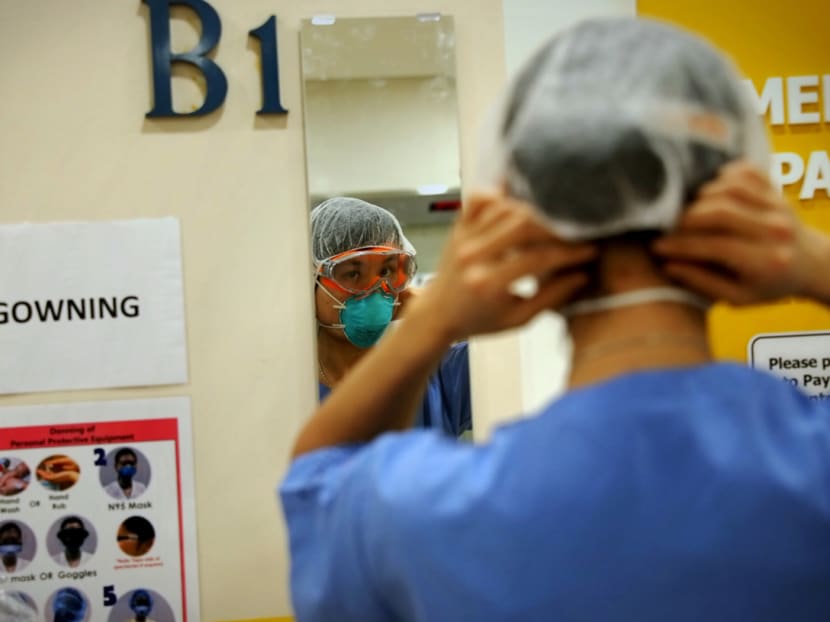 Amid the current pandemic, there have been numerous reports of healthcare workers in Singapore facing discrimination by members of the public, in a repeat of what happened in 2003 when the Severe Acute Respiratory Syndrome struck.
In recent weeks, Tan Tock Seng Hospital (TTSH) employees have reportedly been shunned in public or asked to move out of their homes after a Covid-19 cluster was detected at TTSH. A Sengkang General Hospital nurse was also allegedly harassed by his neighbours because of his profession.
Referring to the discrimination faced by TTSH staff, Prime Minister Lee Hsien Loong said: "People are understandably fearful, but it is no less distressing to see."
He called on Singaporeans to send words of encouragement to TTSH to urge them on.
This phenomena of discrimination against healthcare workers in the Covid-19 crisis is not unique to Singapore. 
A global study published in the British Medical Journal Open last year found that healthcare workers around the world have faced avoidance, denial of services, verbal abuse, gossip and social devaluation, and even assault or eviction from their homes in extreme cases. 
In Egypt, 31.2 per cent of physicians have reported severe levels of Covid-19-related stigma, according to a study in another scientific journal PLOS One. Yet only 14.7 per cent of physicians in the study received psychological support or counselling to cope. 
Acts of stigma can easily elevate stress levels of healthcare workers. Coupled with the highly demanding job of fighting a pandemic for over a year, this may take a physical and mental toll on the workers and put them at risk of burnout.
Given that the battle against Covid-19 is a long-drawn one and that it will not be the last pandemic Singapore faces, how can we reduce stigma against healthcare workers here? 
We have three suggestions to make.
First, establish open discussions among the public and healthcare workers on Covid-19 related stigma.
Instead of holding on to personal beliefs and assumptions on Covid-19, open discussions on Covid-19 related stigma can help to clarify and rectify any preconceived notions and concerns from members of the public regarding healthcare workers.
This may be done through forums or meetings, where participating members of the public may discuss with a panel of healthcare workers and relevant stakeholders the reasons such stigmatising attitudes and behavior exist, while members of the panel can help to address the queries and concerns of the participants.
There have been various forums to combat other forms of stigma.
Examples include the World Economic Forum which sought to end stigma over mental health, and efforts by the Joint United Nations Programme on HIV/AIDS (UNAIDS) to address human immunodeficiency virus (HIV)-related stigma and conduct public education.
These forums have highlighted the causes of stigma among the public and sought to reduce levels of it.
However, to our best knowledge, thus far there have only been discussions on measure to curb Covid-19 spread and dispelling myths surrounding the management of Covid-19.
For Covid-19 related stigma, no formal or established forum has been held to date in Singapore or the region.
Frank and sometimes difficult conversations about sensitive topics which are not commonly spoken about and analysed in a day-to-day living have often been discussed at forums.
It allows for clarifications and elaborations to be made following the sharing of varied perspectives and concerns.  
Due to restrictions on movement and gathering, such forums may be conducted virtually through online platforms, to allow more members of the public to join while safeguarding the health and safety of participants.  
Second, engage social influencers to amplify the message to reduce Covid-19 related stigma against healthcare workers.
It is well-established that influencers and celebrities may help to generate interest in important causes, such as actress Emma Watson's speech to promote gender equality in the HeForShe campaign, and singer Annie Lennox's efforts to reduce discrimination against persons with HIV.
Prince Harry has also joined a San Francisco-based mental health startup to provide development coaching and mental health teaching, and co-created a documentary series with renowned talk show host Oprah Winfrey named "The me you can't see" that discusses mental health and emotional well-being.
Indeed, the World Health Organization (WHO) suggested that influencers, such as community leaders and respected celebrities, may be appointed to help share the message of support for healthcare workers and to reduce stigma towards them.
These persons of influence can spread goodwill towards the workers and reduce Covid-19 related stigma that they face.
This can be done by sharing narratives that humanise the experiences and struggles of healthcare workers whose lives have been greatly affected by such stigma and highlighting the need to accept rather than ostracise these workers in the community.
These endeavours, perhaps in the form of a campaign, can see the influencer connecting to people of different ages and from various walks of life to deliver the message in a convincing and engaging manner that encourages reflection and action from the public.
Third, encourage sharing of facts and avoiding stigmatising descriptions on healthcare workers.
According to WHO, ethical sharing of accurate information and word choice can help reduce Covid-19 related stereotypes and social stigma. For instance, words such as "infecting others" and "spreading the virus" should not be used.
Unfortunately, we have still seen instances where such terms are used to point fingers at healthcare workers.
In Singapore, the term "Covid spreader" was used by neighbours of the Sengkang hospital nurse, which implies intentional transmission and assigns blame to healthcare workers.
Similarly in India, a local resident accosted two women doctors in Delhi who were buying fruits at a local fruit stall, accusing them of "spreading Covid 19", and claiming that "doctors were bringing the infection from the hospital".
These harsh descriptors create the impression that healthcare workers have done something wrong by being in contact with Covid-19 when fighting it at the frontlines, fuelling stigma and undermining compassion and respect for their work.
Accusatory language used on healthcare workers would feed stigma against them, whether said or written in person or virtually such as on social media.
Correcting such sentiments and using neutral and civil language would help reduce Covid-19 related stigma.
To be sure, overcoming stigma takes time and requires a whole-of-society effort.
For a start, interested voluntary welfare organisations can jointly work with relevant governmental agencies and hospitals to look into the above suggestions.
It is also heartening that while healthcare workers have faced discrimination, there have been many acts of support expressed by members of the public.
These include people hanging up banners outside hospitals to show support for healthcare workers and food and beverage outlets offering special discounts to these workers.
Several social media users were also swift in denouncing the actions of those stigmatising healthcare workers, including the action taken against the SKGH nurse by his neighbour.
As healthcare workers ourselves, we are deeply moved and encouraged by these acts of kindness. We have confidence that in the face of challenges, Singaporeans would unite to overcome this rather than drift apart due to fear.
Future research can help to delineate levels of Covid-19-related stigma against healthcare workers in Singapore, and whether such acts of support mitigate its effect.
In our nation's fight against Covid-19, we hope that healthcare workers, who form the backbone of our healthcare system, would be able to work and live in an environment that is free of judgment to support their physical and psychological health.
ABOUT THE AUTHORS: 
Associate Professor Lee Cheng is a senior consultant and programme director of the National Addictions Management Service at the Institute of Mental Health. Dr Alvona Loh Zi Hui is a medical officer at the institute.