What it takes to boost household recycling rates in Singapore
Only 13 per cent of household waste was recycled in Singapore in 2021, a rate that remained unchanged from 2020, which was a 10-year low. While the absolute amount of waste recycled increased in 2021, the absolute amount of waste generated also increased, resulting in a stagnation of the household recycling rate.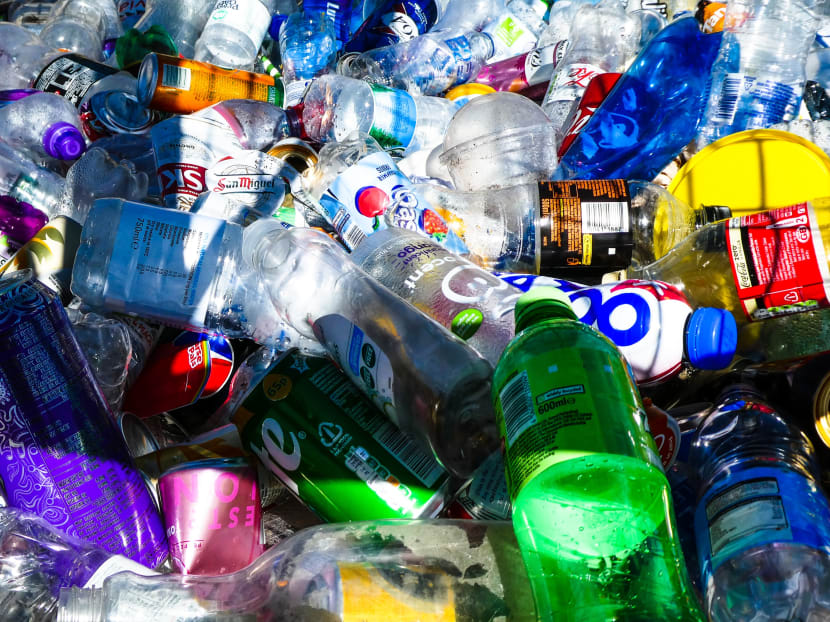 Only 13 per cent of household waste was recycled in Singapore in 2021, a rate that remained unchanged from 2020, which was a 10-year low. While the absolute amount of waste recycled increased in 2021, the absolute amount of waste generated also increased, resulting in a stagnation of the household recycling rate.
2020 was seen as an anomaly as the pandemic caused a pause in the collection of household recyclables that resumed only in the later part of the year. In 2019, before the pandemic, the recycling rate of household waste was 17 per cent.
2021 was expected to result in a higher household recycling rate. But that has not been the case. So what has kept Singapore's household recycling rates so low?
The primary reason is contamination at source.
While the ubiquitous blue recycling bins in public housing estates have "Recycle Right" livery to indicate what can be recycled, consumed food packages and soiled sheets still end up in the bins.
Even though some residents drop off their recyclables correctly in the bins, they fail to take the additional step of washing and decontaminating them. This contaminates the other clean recyclables in the bins, making the entire batch non-recyclable.
Moreover, the recyclables are mixed together and not separated further into glass, aluminium, paper and plastic.
SembWaste, one of three public waste collectors in Singapore, estimates that 60 per cent of material coming from recycling bins into its sorting facility cannot be recycled because of contamination and the inclusion of non-recyclables.
It would be crucial for the authorities and the stakeholders involved to have a better understanding of the proportion of non-recyclables and the amount of recyclables that are contaminated.
The key to increasing household recycling rates is to prevent contamination and enhance separation at source.
Household waste separation and disposal patterns have to be better analysed to tackle how contamination at source can be prevented.
The analysis will provide insights as to whether recyclables should be placed in non-comingled bins or more efforts are required towards education on decontamination and source separation.
Collectors of  recyclables require economies of scale to be met to ensure it makes financial sense for them to be recycled, especially for material such as plastic bottles that need to be exported to other markets for recycling.
A key feature in Singapore's household waste management system is the decentralised refuse bins.
Housing and Development Board (HDB) households have the convenience of disposing of their waste within or just outside their households.
Landed households have bins outside their homes but their numbers pale in comparison to HDB dwellers.
In other territories such as Taiwan and South Korea, households have to take their waste and recyclables out of their homes to central communal bins.
These bins are segregated for different types of recyclables and non-recyclables. These systems have proved successful and have resulted in high household recycling rates of above 50 per cent in these countries.
While this is an approach that can be considered here to boost household recycling rates, it would require an upheaval of the current household waste management infrastructure which will be a costly proposition and requires a major cultural reset.
Segregated bins for plastic, glass, metal and general waste would cost more and take up more space especially given the scarcity of land and density of households. 
To improve recycling rates, the National Environment Agency has said that it will partner public waste collectors to distribute recycling bins to each household to increase the convenience of recycling.
Whether these efforts will bear fruit remains to be seen.
These bins should help households to recycle in the convenience of their homes and this should ensure more recyclables diverted from refuse chutes. If households diligently place recyclables in these bins, then we should see an uptick in household recycling rates.
Public waste collectors such as SembWaste have adopted technology in their efforts to enhance household recycling. Its ezi mobile application allows for doorstep collection of recyclables but these efforts require wider adoption to create change at scale.
More advocacy and awareness should be raised on this novel initiative to scale its adoption among households.
HOW ABOUT REGULATORY CHANGES?
Regulatory policy seems to be an avenue that would drive improvement in household recycling rates in Singapore.
It is expected that by 2025, Singapore will have extended producer responsibility (EPR) laws in place not only for electronic waste but also packaging waste.
This makes corporations responsible for the collection, disposal and treatment of their products once they have been used.
This will reduce the amount of waste destined for incineration and subsequently for landfilling. This will also have a profound effect on household recycling rates as businesses will have to put in place measures such as product take backs and incentivisation to ensure post-consumer waste is collected back for recycling.
EPR legislation has proved successful in boosting recycling rates in many countries.
Programmes to support EPR legislation in France, Germany and Italy have increased recycling rates.
In France, EPR legislation was passed in 1975 and applied to households in 1992. Since then, recycling rates for household packaging waste increased from a low of 18 per cent in 1992 to 70 per cent in 2020.
We could expect household recycling rates in Singapore to witness a similar growth trend once EPR legislation comes into play by 2025.
While waste management is a crucial aspect in enhancing recycling rates, the design of products plays an even bigger role. Products that are designed for recycling stand a better chance to be recyclers by consumers.
With that in mind, eco-modulation will have to come into play. Eco-modulation refers to the concept of penalising the use of materials that are less environmentally friendly and rewarding the use of materials which are better for the environment.
These can be done by charging a higher tax rate for products that are harder to recycle and reduced fee rates for materials which are easier to recycle.
Eco-modulation fees are already in place in several countries in Europe.
For instance, in Portugal, eco-modulation fees were introduced in 2019. Packaging material that makes the process of recycling harder, such as PET bottles with PVC labels, were penalised with additional fees.
As a rule of thumb, the more complex the type of packaging is for recycling, the higher the fees to be paid.
This will be especially crucial given the boom of e-commerce. Globally, it is estimated that e-commerce plastic packaging use will amount to 2.25 million tonnes by 2025.
E-commerce generates tremendous volumes of material that is hard to recycle. This includes shrink wrap, bubble wrap, shipping pillows and polystyrene foam.
The introduction of eco-modulation fees can drive the reduction of hard- to-recycle plastic and increase recycling rates.
If Singapore were to achieve its goal of attaining its 30 per cent household recycling rate by 2030, a wide variety of solutions has to be explored. Existing measures are yet to prove themselves capable of meeting the target.
With a little over eight years left, the current household recycling rate would have to more than double.
Existing measures should work hand in hand and complement new measures that are to be instituted with policy being an overarching lever to support our recycling ambitions.
ABOUT THE AUTHOR:
Kavickumar Muruganathan is a sustainability professional and part-time lecturer at National University of Singapore on environmental economics and sustainable development.