Why dissolution of Dr M's party could hurt the opposition
On April 5, Malaysia's Registrar of Societies (RoS) issued a provisional dissolution of opposition party Parti Pribumi Bersatu Malaysia (Bersatu) for failing to submit documents related to its meetings and financial statements.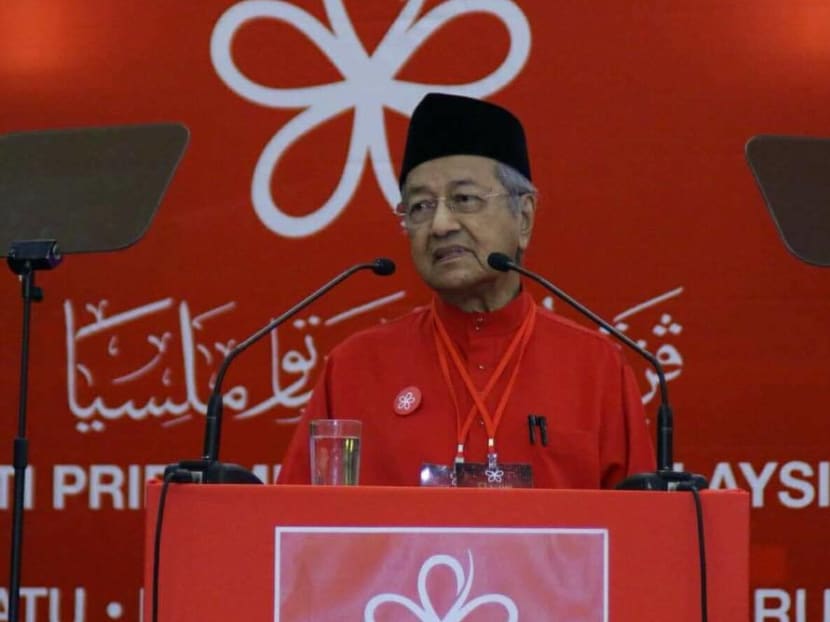 On April 5, Malaysia's Registrar of Societies (RoS) issued a provisional dissolution of opposition party Parti Pribumi Bersatu Malaysia (Bersatu) for failing to submit documents related to its meetings and financial statements.
This decision has significant implications for the Paktan Harapan (PH) opposition coalition's chances in the upcoming General Election (GE14) in Malaysia.
It presents the ruling Barisan Nasional (BN) with a useful, and perhaps necessary, tactical advantage against Bersatu – which has, since 2016, been considered a wild card for GE14.
Bersatu's fundamental selling point is the fact that it is a Malay-nationalist party a la the dominant United Malays National Organisation (Umno).
What is more, Bersatu has made a concerted effort to frame itself as an older, better version of Umno untainted by various allegations of corruption that have occurred under Prime Minister Najib Razak's watch.
Thus, under the leadership of former Prime Minister Dr Mahathir Mohamad, Bersatu's primary political message has been a nostalgic promise to return Malaysia to the period in which it registered consistently high economic growth and experienced relatively decent governance.
While Dr Mahathir's Malaysia was hardly a political utopia, Bersatu is regarded as a necessary ingredient in PH's electoral strategy.
Significantly, Dr Ooi Kee Beng of the Penang Institute has referred to Bersatu as a potential game changer because, for the first time, it would allow PH to compete on the same ideological turf as Umno.
With Bersatu, PH would have a component party that could credibly contest on the platform of Bumiputera and Malay rights.
Additionally, the fact that it is not Islamist has the potential to broaden its appeal even if it struggles to compete for the narrower support base of Parti Se-Islam Malaysia (PAS).
These are among the key reasons states like Kedah and Johor, where Bersatu is said to have a strong presence, have been viewed as significant battlegrounds.
The unpredictability of the contests in Kedah and Johor renders those states particularly crucial to the outcome of GE14.
Bersatu can throw a monkey wrench into Umno's electoral calculations.
Mr Najib and his team are no doubt well aware of this. It is thus logical that Mr Najib – technically the RoS, though it is perceived to act with the government's interests in mind – would seek to dismantle Bersatu's formal election campaign before it can even begin.
On the surface, deregistering Bersatu appears no more than a symbolic gesture.
In theory, party members could just as much join any of the other PH component parties, or run as independents.
Yet, the effect of its dissolution is far more detrimental to its chances for GE14. For one, Bersatu loses the right to campaign with its logo, a symbol it has meticulously branded as being the signature of the Malay and Bumiputera alternative to Umno.
More significantly, Bersatu has also become synonymous with Dr Mahathir. While a few Bersatu members are no doubt popular figures, many candidates are not intuitively recognisable.
The loss of the logo, as well as the party branding, is problematic for Bersatu because people tend to vote along party lines.
Without the backing of a distinctly branded party that identifies them as, not just Bersatu's, but Dr Mahathir's candidates, lesser known candidates run the risk of becoming unrecognisable.
This is of course unlikely to have a significant effect on politically informed (mostly) urban voters.
One would expect them to keep track of the shifting dynamics and remain above water even in the face of such strategies of political obfuscation.
However, it is crucial to recall that Bersatu has poised itself as the Umno alternative. Therefore, it is seeking to win over the very same rural voter base that Umno has, since independence, relied on to help BN return to parliament with a majority.
In other words, Bersatu is primarily competing for a rural Malay voter base who may not pay attention to such political machinations, do not understand or care for the political intent behind such moves.
These voters tend to follow political news sporadically or exclusively rely on state-owned media, or may be bound by patronage networks to vote for Umno.
Additionally, they may predominantly perceive Bersatu's logo as Dr Mahathir's logo, and Bersatu as Dr Mahathir's party.
Without the means to brand themselves distinctly during the election campaign, Bersatu runs the risk of becoming politically obscure to the very voters it is trying to win over.
Since Bersatu's dissolution, PH has decided to adopt Parti Keadilan Rakyat's (PKR) logo for the election.
Campaigning under the umbrella of one logo projects a message of inter-party unity, which PH has often lacked over the last few months.
While it is symbolically useful for PH to have agreed upon using PKR logo, this too is not ideal for Bersatu.
PKR has tended to perform poorly in rural Malay seats. Compared to PAS and Umno, PKR's appeal to rural Malay voters is low.
This implies that Bersatu's campaigning would have to double down on de-emphasising it's symbolic link with the PKR flag in order to do well in those constituencies – a nagging problematic indeed, given that PKR and Bersatu are ultimately partners.
It appears that BN has potentially managed to strike a significant blow to Bersatu's chances in GE14.
If it is restrained from projecting a distinct political brand to rural Malay voters, it could struggle to oust Umno in those seats. In the 40 or so seats where three-cornered contests will take place between Bersatu candidates, Umno and PAS, it could become even more challenging for Bersatu to come out on top.
This is an ominous start for the opposition.
ABOUT THE AUTHOR:
Prashant Waikar is a research analyst at the Malaysia Programme in the S Rajaratnam School of International Studies (RSIS). This is part of a series of commentaries by RSIS on the 14th Malaysian General Election.