Why do some Singaporeans treat security officers and maids badly?
Last Thursday (March 25), a report on the job sentiment of private security employees in Singapore found that two in five security officers (42.3 per cent) reported getting abused at the workplace.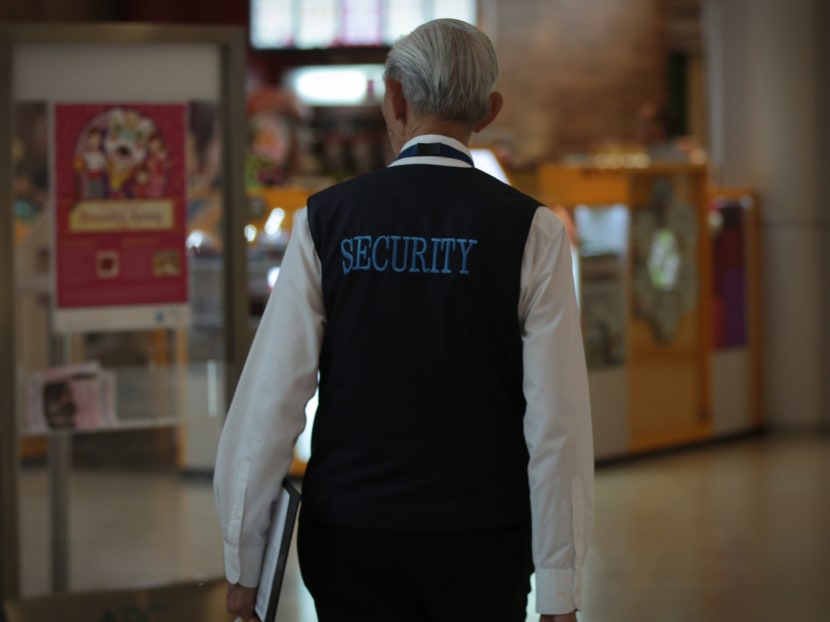 A year ago, the phrase "circuit breaker" was introduced to the Singaporean lexicon as a means to contain the Covid-19 pandemic.  
The outbreak and the accompanying suite of disease prevention measures have brought about much misery, pain and anxiety to everyone. 
Our daily routines have all but permanently changed, if not been inconvenienced.
Since then, many businesses have folded up, community mental health has deteriorated, and a new ritual has evolved in how we engage one another — safe distancing, safe entry and virtual meetings, to name a few. 
Social angst and tensions in Singapore, like the rest of the world, have risen stratospherically. 
Last Thursday (March 25), a report on the job sentiment of private security employees in Singapore found that two in five security officers (42.3 per cent) reported getting abused at the workplace.  
The data, collected between September and November last year, represents a 10 percentage point increase from a similar survey done in January and February last year.   
The latest study also found that one in every 20 officers was physically assaulted, up from one in every 30 before the circuit breaker or partial lockdown last April and May.   
More remarkably, the older a security officer is, the greater the likelihood the person will be abused.
The culprits perpetrating this abuse?   
The plurality of them, or four in 10, involve the public, followed by visitors (22.7 per cent), and residents in the apartments where the officers work (15.7 per cent).   
Much of this violence is attributed to the frustrations and movement restrictions of the circuit breaker.  
While it is easy to spot the link between conflict and the disruptions from circuit breaker, another hard truth has been conveniently overlooked. 
STATUS, HIERARCHY AND DOMINANCE
Let's face it. We are a class-conscious and hegemonic society.
The abuse cases in the security sector are just the tip of the iceberg.  
Other low-wage workers in transport, cleaning, retail, and food-and-beverages have all reported similar transgressions.  
Last September, an SBS Transit bus driver was berated and beaten by a passenger who refused to wear a mask on board the bus. 
The transport firm said then that close to 40 of their staff members were assaulted for the whole of last year, up from 33 cases in 2019.  
In the last two years, at least six employers of foreign domestic workers have been charged with abusing these workers.
This includes the horrific case of Piang Ngaih Don from Myanmar, who died of brain injury inflicted by her employer.
She was starved, abused, and weighed just 24kg at the time of her death.  
At the broader level, many employers are still reluctant to grant domestic workers a day off a week for fear that they will misbehave.
Two months ago, the National Environment Agency (NEA) launched the Clean Table Campaign to encourage patrons at public eating places to return their own trays and crockery after consumption.   
This civic norm will help promote public hygiene at a time of a global pandemic, and further ease the manpower crunch for cleaning services at food-and-beverage outlets.  
Currently, fewer than one in three diners adopts this habit.
Instead of rallying in support of a more gracious society, 47 per cent of Singaporeans interviewed by NEA think that clearing their own trays will deprive cleaners of a job.
For some, this is not just about employment. They consider this as the primary, if not the sole, responsibility of the cleaners, not the consumers.
While wages among vulnerable sectors have increased overall — thanks to the Progressive Wage Model and the effort of the labour movement — we have not given such workers the respect and recognition that they deserve.   
Singaporeans take it out on security officers, maids and cleaners because these jobs are ranked low in the work ecosystem.  
WHAT IS WRONG WITH US?
In the words of the late American professor Harry Triandis, who is regarded as the pioneer of cross-cultural psychology, the Singapore culture embodies a system of vertical collectivism.
It is characterised by a preference for hierarchical, allocentric (group) norms, a high level of competition and, importantly, a tacit if not reluctant acceptance of social stratification and inequality.  
This value system is distinct from the horizontal collectivist cultures such as Japan, as the symbiotic ties between different levels of a hierarchy is manifestly stronger among the latter. 
Superiors in horizontal societies, for instance, will make up and apologise for shortcomings of the rank-and-file employees. 
In vertical societies, the class demarcation is where the bucket ends. To each his own, so long as they keep to the same kind.
I would argue that we inherited this disposition from the colonial government, where stratification and contempt shown to people of a lower professional standing is considered a norm. 
For the first 50 years after independence, we did not think much about it because the economic dividends have uplifted many in spite of its inherent deficits. 
But as our economy matures and aspirations evolve, if we do not jettison this hegemonic legacy, there will be little empathy as one nation, let alone the social capital we need to compete in a complex, highly interwoven global economy where every nut and bolt matters. 
To be fair, the epidemiological rampage has also uncovered a humane side of the Singaporean social fabric that we never knew existed. 
There are reports of community self-help initiatives and social enterprises set up in the past 12 months to offer financial sustenance, educational resources and emotional support to those in need.
This is particularly heartening as many of these Good Samaritans are younger and better-educated.   
Singapore's vertical collective society, though imperfect, is not entirely brittle.
A year ago, we imposed a circuit breaker to stop the chain of Covid-19 transmission. 
It is time we impose another circuit breaker to sever our obsession with class-based economic predominance.
ABOUT THE AUTHOR:
Leong Chan-Hoong is an associate professor at the Centre for Applied Research, Singapore University of Social Sciences (SUSS). He is the Singapore National Representative for the World Association for Public Opinion Research. The study on the job sentiment of private security officers is a collaboration between the Union of Security Employees and SUSS, with Assoc Prof Leong as the lead researcher.