Why it is unlikely that Sabah will swing to the opposition
Sabah has historically been an electoral "fixed deposit" for the Barisan Nasional (BN) coalition. Is it still the case this time round in the face of a stronger opposition?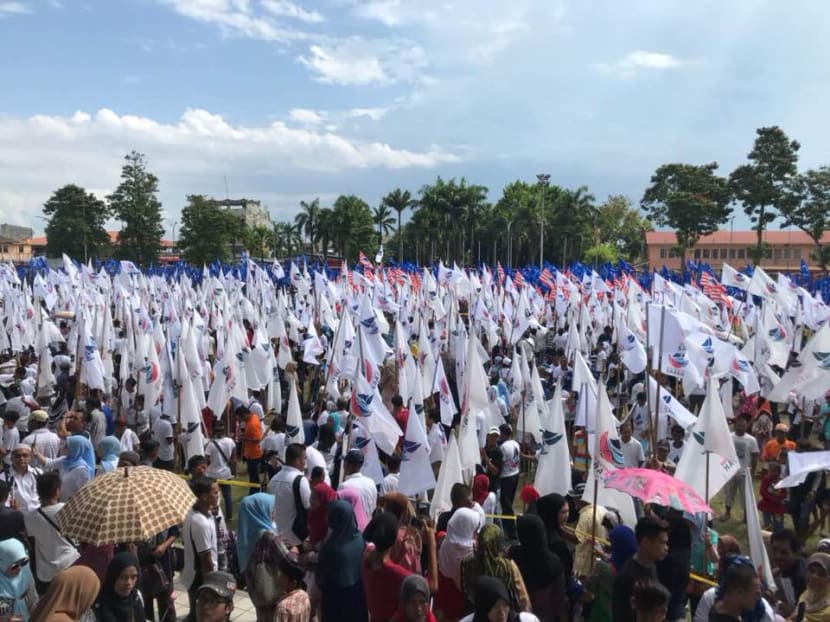 Sabah has historically been an electoral "fixed deposit" for the Barisan Nasional (BN) coalition.
In 2013, BN won 80 per cent of the assembly seats and 88 per cent of parliamentary seats. This helped to ensure it retained control of Malaysia in spite of losses across the Peninsular.
For Wednesday's election, however, there is scepticism not just over whether BN can retain its super-majority in Sabah, but even whether it can actually win the state.
One key reason for this surprising turn of events is opposition coalition Pakatan Harapan's (PH) cooperation with the Sabah Heritage Party (Warisan).
This involves an agreement to negotiate seats between Warisan and PH component parties Parti Keadilan Rakyat (PKR) and the Democratic Action Party (DAP).
Significantly, Warisan is led by Shafie Apdal, a former BN minister and a vice-president of the United Malays National Organisation (Umno).
His decision to quit BN after being axed from Cabinet, form Warisan, and enter into an electoral pact with PH has been regarded as a coup for the opposition.
The Warisan-Pakatan pact has sought to broaden PH's appeal to attract more non-Chinese voters.
For Warisan, its decision to enter into a relationship with PH is also strategic, since PKR and DAP were the best performing opposition parties in the previous election.
Datuk Seri Shafie is also said to have a knack for forming personal relationships with his constituents – a factor that cannot be understated.
This has arguably allowed him to remain the Member of Parliament (MP) for Semporna since 1995, in spite of the relative absence of mega infrastructural developments.
In Semporna, he is known for helping people clear their debts, paying electricity bills and even buying school uniforms for children.
The objective of the Warisan-Pakatan pact is quite clear: To leverage on Mr Shafie's popularity and project the coalition as the answer to the everyday problems Sabahans face.
There appears to be a notable shift in voter sentiment towards the Warisan-Pakatan pact.
Those who are frustrated by endemic economic underdevelopment and the limited availability of jobs connect this to the perception that there is an unfavourable relationship between Sabah and the federal BN government.
One Sabahan academic noted that the anti-BN drive is far more sizeable than in previous elections.
He believes this will provide the Warisan-Pakatan pact with sufficient momentum to overcome BN's well-oiled campaign machinery and the opposition pact's relative lack of an election strategy.
However, there are several factors that make the prospect of a Warisan-Pakatan victory unlikely.
SIGNS OF CHANGE OR MISPLACED ENTHUSIASM?
In both 2008 and 2013, many Sabahans were similarly angry at BN.
When the Sabah division of the State Reform Party (Star) was established, there was euphoria amongst opposition supporters, who told anyone who cared to listen that they were on the cusp of finally ending BN's rule in Sabah.
Yet, in 2013, Star only won a solitary state seat through its president, Jeffrey Kitingan.
While opposition supporters are a vocal lot, the power of the silent majority should thus not be underestimated.
These individuals tend not to attend large ceramahs (rallies). They are not vocal on social media, since they do not treat Facebook or Twitter as "tell all" platforms.
Their silence may have led the opposition to set great store by the positive reactions it has garnered on social media, leading to over-confidence within the Warisan-PH grouping.
Another factor is the fact that multi-cornered contests will be taking place in almost every state and federal seat.
Members of the Warisan-Pakatan pact are less worried about multi-cornered contests because they do not believe parties outside the PH and BN umbrellas have much credibility with rural voters.
None of the Gabungan Sabah component parties control any seats at either the state or federal level, while only a few of the candidates who ran for it in 2013 received more than 10 per cent of the vote.
That said, it is crucial to note that smaller parties have spoilt the vote for the opposition in past elections.
In 2013, BN retained the federal seat of Kota Marudu in a four-cornered contest with 45.9 per cent of the vote, while the PKR candidate received 43.3 per cent of the vote, with two other candidates splitting the remaining between them.
This was a pattern that repeated itself across numerous seats at both the state and federal levels.
For this reason, it would be naïve to underestimate the impact smaller parties could have on diminishing Warisan-Pakatan's electoral chances.
Insofar as the opposition pact has been able to attract sizeable crowds at its ceramahs (rallies), numbering near to 5,000, BN too has been successful in ensuring its major rallies are well attended.
Indeed, BN is disposed with the resources necessary to configure its rallies into emotive spectacles for voters, just as it did at the Kadazandusun Cultural Association (KDCA) hall on May 6.
Both coalitions are also equally active in organising small scale gatherings to engage deeper discussions a range of issues – from 1 Malaysia Development Berhad (1MDB), to the GST issue, as well as the Malaysia Agreement of 1963 (MA63).
These indicate that BN's campaign machinery is entrenched enough to ensure that its political messaging reaches a broad base of people.
Finally, there is a tendency to mistakenly assume that young Sabahans will cast their vote in favour of the Warisan-Pakatan pact.
Many opposition supporters and leaders hope that younger voters will effectively ensure the end of BN's dominance.
Insofar as younger voters comprise roughly 40 per cent of the over one million who are registered voters in Sabah, it must be emphasised that political jadedness and apathy are sentiments that are common to this demographic.
What is more, while social media is filled with younger "keyboard warriors" who criticise BN, it should be noted that the proportion of registered younger voters in Sabah remains far lower than in Peninsular Malaysia.                 
The opposition may well be gaining traction in Sabah, but these patterns indicate that it is unlikely Sabah will swing towards the Warisan-Pakatan pact.
Indeed, it also remains to be seen whether the opposition pact can limit BN's dominance and prevent it from winning yet another super majority in the state assembly.

ABOUT THE AUTHORS:
Dr Arnold Puyok is the Deputy Dean (Postgraduate and Research) at the Universiti Malaysia Sarawak. Prashant Waikar is a research analyst with the Malaysia Program at the S. Rajaratnam School of International Studies (RSIS). This article is part of a series of commentaries by RSIS on the 14th Malaysian General Election.