Why Singaporeans need to understand war rhetoric
Russia's invasion of Ukraine is a sobering reminder to Singaporeans about the harsh reality of international politics. As a small nation, we can never take our territorial integrity and sovereignty for granted. We must always be prepared to defend ourselves, without relying on the help of others.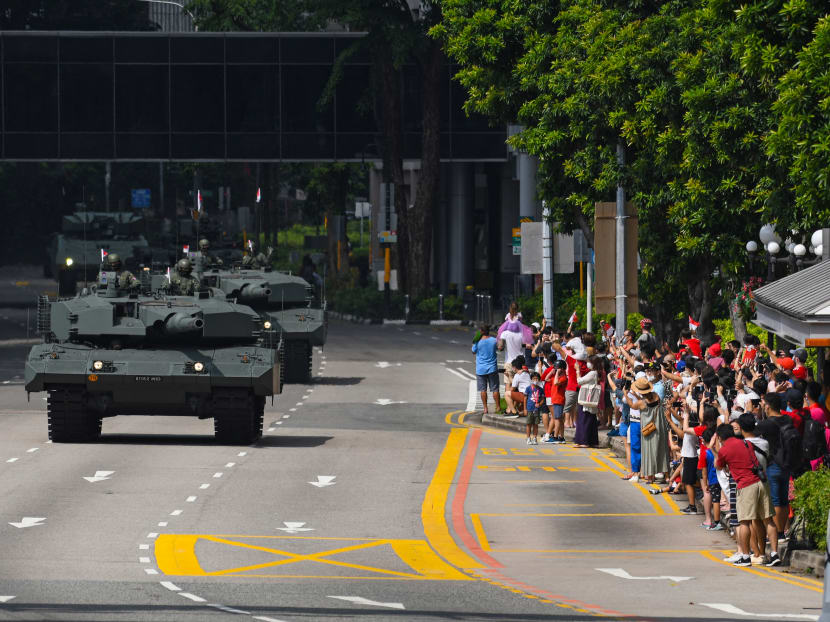 Russia's invasion of Ukraine is a sobering reminder to Singaporeans about the harsh reality of international politics.
As a small nation, we can never take our territorial integrity and sovereignty for granted. We must always be prepared to defend ourselves, without relying on the help of others.
Beyond this, there are also lessons about the rhetoric of war that foreign adversaries may use which Singaporeans need to be aware of.
Such rhetoric and propaganda seek not only to bolster the morale and domestic support of aggressor governments, but also to weaken the morale and divide the population of their target countries.
If a target country's population and army do not recognise and are not inoculated against such rhetoric and propaganda, then they will fall easily into the trap laid by the aggressor government.
Indeed, Singapore just celebrated Total Defence Day on Feb 15. Psychological defence is a key pillar of Total Defence.
A foundational part of psychological defence is the collective identity and resolve among Singaporeans to defend our shared way of life.
We should add upon the strong foundation a crucial ingredient — our citizens' ability to anticipate, clarify, and parse our enemy's rhetoric and propaganda, so that we may never fall into their trap of weakening our morale and dividing our population.
LEARNING FROM RUSSIA'S RHETORIC JUSTIFYING WAR ON UKRAINE
Russia's rhetoric justifying war on Ukraine has multiple layers and dimensions. While it is empirically difficult and almost impossible to verify the veracity of Russia's claims, Singaporeans should learn to identify the key principles and logic underlying those claims, so that they may never be applied to Singapore.    
First, Russia claims to justify war on Ukraine because Ukraine was historically part of Russia.
Since Ukrainians and Russians are essentially "one people", therefore, the claim suggests, Russia is justified in invading Ukraine to unite the two territories.
But why should the historical roots of peoples be justification for contemporary war?
It is simply absurd to suggest that just because countries share some unique historical cultural identity therefore armies can roll over borders and launch missiles.
If we apply the underlying principle to Singapore, then it would be tantamount to Britain justifying war against Singapore just because Singapore was a former colony, or China justifying war against Singapore just because the majority of Singaporeans are ethnically Chinese.
Singaporeans should never accept such warped historical reasoning.
Even though we are a nation of migrants with Malays as the indigenous people of Singapore, our combined loyalty is to Singapore first. Segregating ourselves due to some claims of perceived historical roots is dangerous.
Secondly, Russia claims to justify war on Ukraine because Russian peoples in Eastern Ukraine were marginalised and suppressed.
They had declared independence from Ukraine and had asked Russia for help.
Yet, domestic unrest among a population is ever present within nation-states today. Countries can be open to legitimate criticism by external parties about the unrest, but waging war against them is simply preposterous.
Singapore too is not perfect. Yes, there are instances of inequality, injustice, and unfairness in Singapore.
But those issues are up to the population and the democratically-elected government of the day to resolve, and can hardly be any reasonable pretext for invasion.
Would Singaporeans accept it if the residents of Pulau Ubin and Sentosa become unhappy, declare independence from Singapore, and then ask for help from neighbouring countries?
I would think not. Such justifications of war based on claims of domestic unrest should be categorically rejected.
In any case, we should be wary of countries trying to appeal to one group of Singaporeans against another. A divided nation is more easily ripe for the picking.
Thirdly, Russia claims to justify war on Ukraine because Ukraine's bid to join the North Atlantic Treaty Organization (Nato) threatened Russia's security.
Hence, Russia was justified in invading Ukraine because it was protecting itself. To be sure, the security of nation-states today is inter-linked.
Yet, it is not justifiable to wage war just because one country disagrees with another country's foreign policy.
A cornerstone of today's international order is that countries should always have the autonomy to choose their own foreign policy.
So long as a country's leaders are democratically elected and accountable to one's population, a country's foreign policy should not be subject to the dictates of larger powers.
Similarly, Singaporeans should firmly reject any suppositions that our foreign policy is threatening to other countries and therefore any aggression against us is justified, or that we must back down.
Singapore must always conduct its foreign policy based on its calculation of its own domestic interests, free from the lurking shadows of others.
Lastly, Russia blames Western powers for provoking Ukraine to take sides and go against Russia. Hence, Russia was simply attacking Ukraine to regain influence in Eastern Europe, and to teach Ukraine a lesson.
Yet, war is completely unnecessary to exert international influence.
Countries can gain as many friends and influence by being stellar exemplars of progressive modernity, moral conduct, and shared prosperity, rather than through coercion and intimidation.
If some countries apply Russia's logic to Singapore, then those countries would suggest that aggression against Singapore is justified simply because Singapore has chosen a certain set of allies.
Again, Singaporeans should summarily rebuff such twisted logic. Rather than blame Singapore's choices, those countries should reflect on themselves and ask why they have not been chosen as allies.
STRENGTHENING CRITICAL READING AND THINKING
Moving forward, how should Singapore strengthen its psychological defences against aggressive rhetoric and propaganda by foreign adversaries?
Much would depend on deepening the critical reading and thinking skills and abilities of our citizenry.
At the minimum, this would require cultivating a healthy level of moderate scepticism to discern the rhetorical claims of foreign political elites and foreign media.
A multi- and inter-disciplinary social science education is useful in cultivating critical reading and thinking skills across all segments of the population.
At its core, social science is about proposing theories and hypotheses about why humans exhibit varying behaviours, and how one can use proper research designs to test the veracity of such theories and hypotheses.
In undertaking empirical tests of theories and hypotheses, social science also requires investigators to be self-reflective, to be aware of the biases of all information sources, and to be hard-nosed about their methodological credibility.
As much as we can break the rhetorical arguments of our adversaries, we can also be critical about our own positionality at the same time.
Singapore should always remain open to new ideas, different perspectives, and legitimate criticism.
But a gullible citizenry highly exposed to the rhetoric and propaganda of foreign political elites and foreign media is a liability to Singapore's psychological defence.
We should never allow ourselves to be intellectually trapped and captured by our foreign adversaries. Instead, we should take bold steps to sharpen our citizens' own intellectual capabilities to determine our own future.
ABOUT THE AUTHOR:
Dr Elvin Ong is an Assistant Professor in the Department of Political Science at the National University of Singapore.