Why is Singapore's adult vaccination rate so low?
The concept of adult vaccination — other than for travel overseas — is relatively new in Singapore. The rationale, however, is similar to that of childhood vaccination.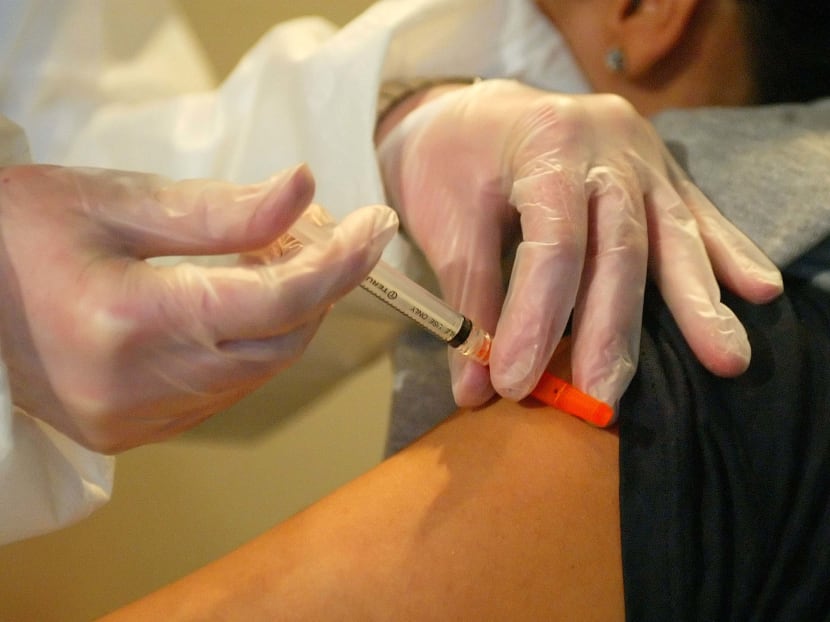 The concept of adult vaccination —  other than for travel overseas —  is relatively new in Singapore. The rationale, however, is similar to that of childhood vaccination.
Vaccine-preventable diseases such as influenza, pneumococcal disease and even measles continue to infect significant numbers of adults each year.
The human papillomavirus and Hepatitis B virus can be transmitted between unvaccinated adults and are the most common causes of cervical and liver cancer worldwide.
The Ministry of Health (MOH) launched the National Adult Immunisation Schedule in 2017 to facilitate the take-up of important vaccinations among adults. Now, Singaporeans can use up to S$500 of their Medisave monies for listed vaccines.
Whether this has significantly boosted adult vaccination rates is currently unknown, but based on the National Population Survey of 2016/2017, MOH reported that only 12 per cent and 14 per cent of people aged 65 to 74 had been vaccinated against pneumococcal disease and influenza, respectively.
To increase vaccine coverage, the multi-agency HealthySG Taskforce recommended on July 29 that subsidies should be provided for vaccines listed on the National Adult Immunisation Schedule, which MOH has promised to roll out before the end of 2020.
How does Singapore compare to other countries?
The median influenza vaccination coverage in 2016/2017 for those aged above 65 years in OECD countries was 49 per cent. Singapore would have ranked 7th bottom in the list of 29 countries, sandwiched between Lithuania and the Czech Republic.
Of note, Japan and South Korea reported vaccination coverage rates of 50 per cent and 83 per cent respectively, while the United States and the United Kingdom reported coverage rates of 68 per cent and 73 per cent.
Adult pneumococcal vaccination is not an OECD indicator, and publicly available data are scarce from many countries.
The UK and US do publish pneumococcal vaccination coverage rates regularly, however, and reported similar rates of 70 per cent and 69 per cent respectively in those aged 65 years and above in 2016/2017.
Although the methods for estimation differ, it is clear that Singapore can and should improve considerably its adult vaccination coverage.
Vaccines generally provide both individual and group benefits at very small risks of adverse effects.
When a substantial proportion of a group — be it family, community, or country — are vaccinated against a certain disease, other susceptible members of that group who are not vaccinated will be indirectly protected because the vaccinated members will reduce the spread of that disease.
This is known as herd immunity, and the proportion who need to be vaccinated (or infected) to prevent the spread of disease varies according to how infectious that disease is.
Although infectious diseases spread at different rates depending on the nature of the pathogen as well as varying environmental, biological and social circumstances, it is nonetheless useful for planning and policy purposes to conceptualise their infectiousness as a general range of numbers.
This estimate is known as the reproductive number, which is the average number of people who will be infected by each person with that disease.
For example, measles is one of the most contagious diseases that infect humans, with an estimated reproductive number of 12–18 people (i.e. one person with measles will spread the disease to 12–18 susceptible people).
The World Health Organisation (WHO) has estimated that vaccination coverage of 95 per cent is required for herd immunity to measles and elimination of that disease, which is why when measles vaccination coverage fell in countries like the Philippines and US, large outbreaks occurred.
The reproductive number of influenza has been variously estimated to be between one and three persons, and the corresponding vaccination coverage required to provide herd immunity is at least 80 per cent.
There are no countries in the world where at least 80 per cent of the population have been vaccinated against influenza, hence seasonal influenza infect huge numbers of people in every country each year.
What can be done to increase vaccination coverage among adults in Singapore?
Having a National Adult Immunisation Schedule and reducing the costs of the vaccines through subsidies are necessary steps that can nonetheless benefit from the inclusion of other measures.
It is useful to first identify the factors that contribute to the low vaccination rates, and these appear to be similar across most of the high-income countries when investigated in the context of influenza vaccines.
The most common reasons cited include lack of recommendation by healthcare providers, lack of knowledge (including misconceptions) about influenza and influenza vaccines, concerns about vaccine efficacy and side effects, and lack of opportunities for vaccination.
The cost of the vaccine has not been a major barrier to influenza vaccination in various local studies, although this may be a key issue with regards to other, more expensive vaccines such as the pneumococcal and human papillomavirus vaccines.
A multipronged approach would therefore be ideal in any attempt to significantly improve adult vaccination coverage in Singapore. Some possibilities include:
Recurrent and consistent education campaigns directed at different segments of the local population, in particular addressing the major misconceptions, should be conducted by the Health Promotion Board (HPB) and other vaccine advocacy groups. Several studies have shown that prosocial communication of the concept of herd immunity can increase willingness rather than reluctance (in the hope of obtaining the indirect protection of vaccines for free) to vaccinate, and should be attempted here.
Developing or extending current mobile health apps such as HPB's Healthy 365 app for personalised vaccination reminders and information.
Taking concrete steps to encourage primary care physicians to recommend vaccinations for their patients will be critical, given that the public continues to have a high trust in healthcare professionals in Singapore.  
Incorporate vaccinations – particularly influenza vaccinations – into workplace health initiatives to increase the ease for adults to be vaccinated. This has worked very well in healthcare institutions locally with regards to staff vaccination, and should be extended more widely to other non-healthcare workplaces.
Perhaps controversially, extending the collaborative prescribing programme (which permits trained public sector nurses and pharmacists to legally prescribe medications without a doctor's counter-signature) to include vaccines – especially those on the national immunisation schedules. In this regard, this permission can be also be extended to include experienced pharmacists and nurses in the private sector.
Finally, a conceptual framework promoted by the WHO is that of a life-course approach to vaccination.
This aims for the consideration of the benefits of vaccinations and maximising their uptake for all age and risk groups, rather than splitting into childhood and adult vaccinations as is currently the case.
This has already been adopted by several European countries including UK and Italy, and should be a consideration for Singapore as well, as our population ages.
ABOUT THE AUTHORS:
Associate Professor Hsu Li Yang is head and co-director respectively of the infectious diseases and global health programmes at the Saw Swee Hock School of Public Health, National University of Singapore. Assoc Prof Alex Richard Cook is the Vice Dean of Research at the same school.