Is chiropractic care all it is cracked up to be?
SINGAPORE — Local blogger Wendy Cheng, 31, who goes by the online name Xiaxue, went to a chiropractor to relieve achy knots and pains during her pregnancy in 2012. So did local actress Carole Lin, 42, when she was expecting her first child last year.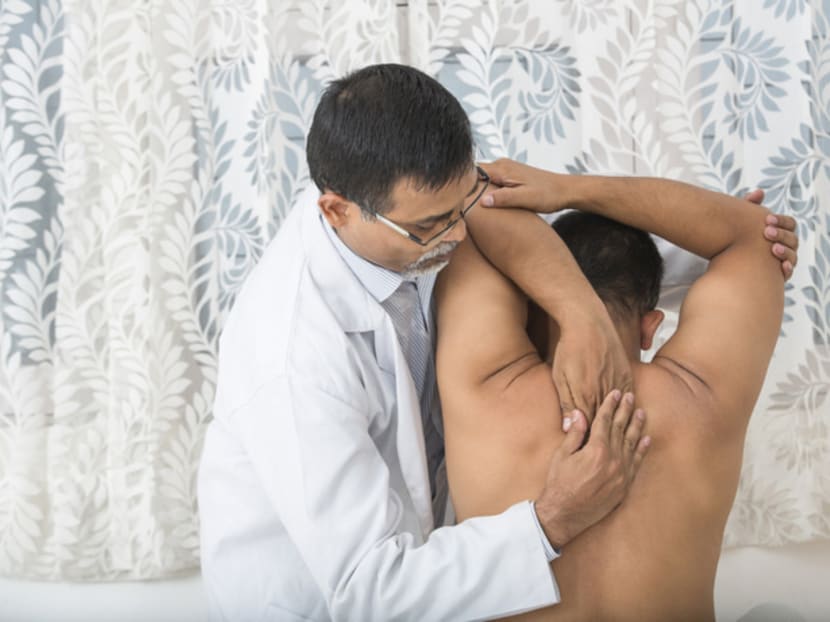 SINGAPORE — Local blogger Wendy Cheng, 31, who goes by the online name Xiaxue, went to a chiropractor to relieve achy knots and pains during her pregnancy in 2012. So did local actress Carole Lin, 42, when she was expecting her first child last year.
Singapore men's national water polo team captain Eugene Teo, 29, is a recent convert after his aunt introduced him to the world of chiropractic care, where spinal manipulations are a typical part of a treatment.
Aches and pain from musculoskeletal disorders are not an uncommon health complaint here. In a study by Singapore General Hospital, 73 per cent of office workers surveyed experience pain in at least one of the following parts of the body — the neck, shoulder and lower back.
Chiropractic care has gained traction in recent years among locals seeking alternative therapy for pain relief. A search online revealed at least 53 chiropractic clinics operating in Singapore, and there are about 100 chiropractors in Singapore, of which 22 are registered members of The Chiropractic Association Singapore.
"In the last 10 years that I've been practising in Singapore, the biggest change I've seen is the increased awareness about the benefits of chiropractic care with regards to posture and spinal health," said Mr David Lim, director of Wellness for Life Chiropractic.
"In particular, I am seeing more primary school students and teenagers — about a 25 per cent increase in the past five years — coinciding with the recent explosion of tech gadgets, which are often used for long periods of time and in poor posture."
Chiropractor Tae Kim at Natural Healings estimated that the number of people seeking chiropractic care at its clinics has increased 15 per cent each year in the past three to five years, with teenagers and the elderly forming the largest group of people seeking help for chronic pain.
According to Mr Lim, trained chiropractors make specific adjustments to keep the spine "properly aligned", based on the theory that the nervous system is the master system of the body, controlling every function.
He explained: "Stress, such as poor posture, can lead to misalignments in the spine and, in turn, pressure (blockage) on the nerves. Depending on which nerves are blocked, it can result in health problems such as neck and (lower) back pain."
Mr Teo's first consultation with a chiropractor involved a posture check, followed by an X-ray of the spine before he had his spine manually adjusted.
According to his chiropractor, Mr Tae, full spinal X-rays may be recommended to determine underlying problems and to ensure safety while under chiropractic care.
The weekly sessions, said Mr Teo, seem to have eased the back and hip pain from sports-related injuries. "I have also noticed better overall performance while doing sports now," he said.
IS IT SAFE?
While some people swear by their chiropractic fix, others ask if there is scientific evidence to back up the supposed benefits and safety of manual spinal manipulation.
In Singapore, it is considered a form of complementary and alternative treatment and is currently not statutorily regulated, according to the Ministry of Health (MOH).
A 2010 study published in International Journal of Clinical Practice of deaths after spinal manipulation found 26 published cases, and possibly many more unpublished ones, allegedly due to a tear or "dissection of a vertebral artery".
Orthopaedic spine surgeon Hee Hwan Tak, medical director and senior consultant at Pinnacle Spine and Scoliosis Centre, sees one or two patients every year who develop spinal fractures after undergoing manual manipulation of the back, although not all are due to chiropractic treatments. He has also come across cases where the pain in the arms and legs gets worse after neck manipulation.
People with underlying medical conditions face a higher risk of adverse effects from spinal manipulation, such as fractures in osteoporotic patients or strokes in cases of significant carotid artery stenosis (blood clots in the main vessels of the neck), warned Dr Hee. In general, manipulating the neck tends to pose more health risks than the lower back, he added.
"Often, the medical condition is not fully known to either the patient or chiropractor, or both," he said.
Practitioners maintain that chiropractic treatments are low-risk and have a well-established safety record.
Mr Tae cited a study published in Spine in 2007, which reviewed treatments of more than 19,000 patients and found that risks of serious adverse events were low.
"All forms of treatment, be it medicine, traditional Chinese medicine or chiropractic, have their risks. But chiropractic has been shown to be one of the safest treatments available with minimal risks of side effects as we do not prescribe medications or perform surgery," he said.
Previous studies estimate that the risk of stroke following neck adjustment is one in four million, said Mr Lim of Wellness for Life Chiropractic.
To be safe, Dr Hee advised the public to seek professional medical advice before undergoing any alternative treatment.
He said: "For instance, in scoliosis, patients should have a detailed assessment by an orthopaedic spine or scoliosis specialist to understand the degree and underlying cause of the scoliosis. Back manipulation or adjustment does not stop the progression of the condition, especially in severe or atypical cases, and may in fact delay the correct treatment."
The MOH advised patients and caregivers to "exercise due diligence and consult appropriate healthcare practitioners for their medical problems". When in doubt, consult a doctor.