Time for Singapore universities to admit more international students
Last year, the Ministry of Education announced that it would pair and merge 14 primary schools, six secondary schools, and eight junior colleges. The reason? Declining birth rates leading to reduced enrolment.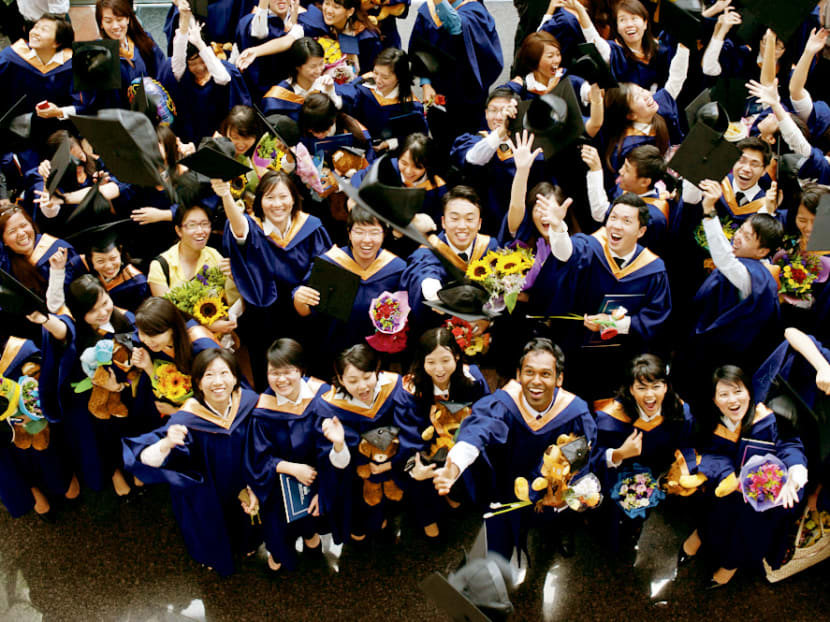 Last year, the Ministry of Education announced that it would pair and merge 14 primary schools, six secondary schools, and eight junior colleges. The reason? Declining birth rates leading to reduced enrolment.
Before long, the ebbing cohorts will hit our universities.
In the short run, the operational costs of universities are fixed. Probably the largest cost is the salaries and wages of academic and professional staff, most of whom have contracts, and many of whom have security of tenure. So, our universities will have to grapple with fewer students with little room to reduce costs.
What to do? Merge our universities?
A much more attractive solution is to allow the universities to admit more full-fee paying international students.
The government has capped the number of international students in our universities since Prime Minister Lee Hsien Loong announced the move in his National Day Rally speech in 2011.
Mr Lee had noted that some Singaporeans might not have been happy that foreign students could have taken the place of locals in the universities here, but added that in reality, the enrolment of foreign students was not at the expense of Singaporeans as the government had steadily increased the number of places for Singaporeans in our universities.
"By 2015 our universities will take in 14,000 Singapore students, more than ever before. But while we do this, we will cap the foreign enrolment at the present levels and therefore gradually the mix will shift and the proportion of foreign students will come down," Mr Lee said.
As a result of the government's policy, the proportion of foreign students in the National University of Singapore (NUS) has fallen from 23.3 per cent in 2013 to 17.3 per cent in 2017. (See table below)

Moreover, relatively few international students at Singapore universities pay full tuition fees. The majority receive tuition grants, paid for by the Singapore government.In fact, in 2017, the share of foreign students in three universities - NUS, Nanyang Technological University, and Singapore Management University – collectively was just 17 per cent, which is at the low end compared with 13 to 47 per cent at the top 10 worldwide universities (as ranked by QS World University Rankings).
Raising the limits on international students in our universities, particularly those paying full tuition fees, would not only help to support university budgets but would also benefit local students and Singapore, a point PM Lee himself had made in 2011.
Perhaps the biggest advantage from having more international students is the diversity in perspectives which they bring to class discussions. By sharing viewpoints and experiences from their home countries, international students open local students to new insights and enrich their understanding of the world.
This makes the learning environment more vibrant and better prepares local students for the global labour market. Indeed, research by Luo Jiali and David Jamieson-Drake of Duke University shows that interactions with international students help domestic students.
As well, the friendships and networks with international students can benefit Singapore students after their graduation. For instance, Singapore students might be able to learn about job opportunities, working cultures, and living conditions in other countries, should they wish to venture abroad for employment.
Likewise, those who become entrepreneurs or managers might be able to capitalise on strategic information about market opportunities from their international friends and therefore grow their businesses more effectively. Without these global connections, such "inside" information about employment and business opportunities would be harder to come by.
An increase in the presence of international students also improves the international standing of our universities. Our universities would be seen as being open to cultural diversity and welcoming of international talents.
It also increases Singapore's reputation since international students potentially act as ambassadors of the Singapore brand when they return to their home countries. Having experienced life in Singapore, international students who subsequently take on key positions back home, might be more inclined to set up their businesses and invest here.
Let us cite just two examples.
In 2007, Jeffrey Tiong, a student from Sabah who studied bio-engineering at NUS, founded Patsnap to provide business intelligence from patents. The company has grown, with 300 employees spread across offices in London, Singapore and China.
During Startup Weekend Singapore 2012, NUS students, Quek Siu Rui, Marcus Tan, and Lucas Ngoo built a mobile consumer-to-consumer marketplace. Their app became Carousell, which now has 140 employees, a listing of 57 million products, and operations in seven countries.
Lucas Ngoo was born in Malaysia.
So international students do offer advantages to their Singaporean schoolmates. Some might worry that admitting more international students would mean fewer places for Singaporeans. However, admissions are not a zero-sum game.
On the contrary, growth in both segments can be complementary. The income from full fee-paying international students can help to fund lecturers, classrooms and learning facilities. This obviously helps to support the education of Singapore students. Best of all, this funding model is self-sustainable because it does not rely on government funding.
In recent years, countries such as the United States and the United Kingdom, which have traditionally been destinations of choice for international students, have begun turning inward. Increased concerns over national security and efforts to placate voter concerns over the perceived competition introduced by immigrants have led to tightening of student visas. There is now a sense among prospective international students that these countries have become less welcoming.
These developments actually mean that Singapore is in an excellent position to present its universities as viable alternatives for the brightest international students looking to acquire tertiary education.
It would be a shame if we let this opportunity slip.
ABOUT THE AUTHORS:
Kelvin Seah is a Lecturer in National University of Singapore's Department of Economics who researches the economics of education. Ivan Png, a Distinguished Professor in NUS Business School and the Department of Economics, was a former Nominated Member of Parliament.