Could umbilical cord blood provide hope for children with autism?
SINGAPORE — A new treatment using cord blood stem cells to treat autism could offer hope to families of children living with the neuro-developmental disorder, which currently has no known cure.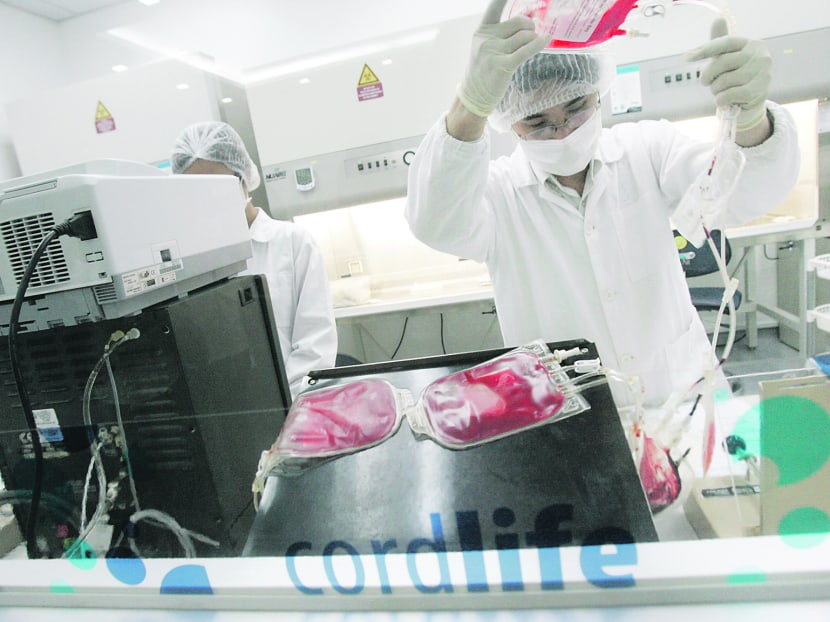 SINGAPORE — A new treatment using cord blood stem cells to treat autism could offer hope to families of children living with the neuro-developmental disorder, which currently has no known cure.
Run by the Sutter Institute of Medical Research in the United States, the US Food and Drug Administration-approved clinical trial explored the use of stem cells from umbilical cord blood to improve language and behaviour in children with autism.
Affecting an estimated 1 per cent of the population in Singapore, autism is characterised by difficulties in communicating, using language effectively and forming relationships with other people.
The first-of-its-kind, placebo-controlled study included 30 children with autism, ranging in age from two to seven, who received an infusion of their cord blood stored at birth. ­Afterwards, the participants were regularly tested for a year using a ­variety of psychological and cognitive assessment tools.
In town last month for the International Society for Cellular Therapy 2016 annual meeting, the trial's principal investigator, Dr Michael Chez, told TODAY that 60 per cent of parents of children who participated in the study said they saw moderate to significant improvements, especially in language and social skills.
Previous studies suggest that some children with autism have dysfunctional immune systems that may be damaging or delaying the development of the nervous system, according to Dr Chez, director of Paediatric Neurology at the Sutter Institute.
"The results of this study indicate that cord blood stem cells may offer ways to modulate or repair the ­immune systems of these patients with autism, and in doing so, improve language and some behaviour in some children. More work is needed to prove this but for a small placebo-controlled pilot study, this is a very good outcome," he said.
The researchers are looking to ­define groups of children who ­responded better to the procedure. Dr Chez also believes that any positive effects seen after the treatment would probably not wear off over time.
"When children with autism gain a new skill, it's like making a new connection (in the brain). The brain shouldn't deteriorate unless it is a ­degenerative disease," he said.
Dr Cherie Daly, medical affairs consultant for Cordlife, one of the three private cord blood banks in Singa­pore, said there are plans to bring the autism-stem cell clinical trial to Singapore. Dr Chez said the parties are "still in the process of getting the necessary approvals from (the Health Sciences Authority) to start the trial in Singapore".
Dr Li Ming Ming, laboratory director of Cordlife, added: "If we are able to bring this therapy into Singapore, it will definitely be beneficial for patients and their families."
But other experts said there is still insufficient evidence to support autism-stem cell therapy.
Autism is a complex neurological disorder whose exact cause is currently not known, said Dr Serena Tung, consultant at National University Hospital's Child Development Unit. Research shows it has a genetic basis, and is also associated with some medical conditions such as Fragile X syndrome, an inherited condition that causes a range of developmental problems.
"At present, the main form of evidence-based intervention for autism spectrum disorder is early interventional therapy. To date, there is insufficient clinical evidence to support the use of stem cell therapy in this group of individuals," said Dr Tung.
Dr William Hwang, medical director of the public Singapore Cord Blood Bank (SCBB), added that it is too early to comment on whether the use of patients' own cord blood can successfully treat autism as the ­trials are still ongoing. "Further trials are also needed to see if bone marrow and other cell sources, as well as unrelated donor cord blood, could be just as useful in treating autism," he said.
CORD BLOOD'S POTENTIAL
Autism is not the first neurological condition that scientists have ­attempted to treat using stem cells from umbilical cord blood, which have the potential to replicate other blood cells including platelets, red and white blood cells. In Singapore, 10 children with cerebral palsy have been treated with ­infusions using their own cord blood, according to consultant neurosurgeon Keith Goh of International Neuro ­Associates.
Ongoing clinical trials overseas for other neurological disorders include Alzheimer's disease, Huntington's disease, amyotrophic lateral sclerosis and Parkinson's disease, according to Dr Li of Cordlife.
Stem cells from cord blood have been used to treat other diseases, including certain cancers, blood diseases and metabolic disorders. Studies have shown stem cell therapy holds great promise of making the untreatable diseases treatable, said Dr Li.
Umbilical cord blood is routinely discarded as part of medical waste. But in the past five years, about 20 per cent of parents in Singapore have banked their newborns' cord blood for private use, according to Dr Daly. The proportion is among the highest worldwide.
In general, private banks here charge more than about S$200 a year to store the cord blood for about 21 years, excluding an enrolment fee. For some parents, the cost is a small price to pay as privately-banked cord blood can be tapped for individual or family use in the future.
Having access to it may provide a child or his/her family an additional treatment option when needed, said Dr Teo Cheng Peng from Parkway Cancer Centre at Gleneagles Hospital and medical director for StemCord, a private cord blood bank.
But SCBB's Dr Hwang said ­research has shown that the chance of a donor — without known medical conditions — ever benefiting from his or her own cord blood is "an ­extremely low probability". "It is estimated that the chance of such use is somewhere ­between one in 2,000 and one in 200,000. In most instances, ­using ­a patient's own blood stem cells for treatment may not be the best choice."
In line with recommendations from major international medical societies including the American Medical Association, American Academy of Pediatrics and World Marrow Donor Association, the SCBB encourages mothers to donate their cord blood to public banks as it increases the chances of finding a suitable match for patients who are in need of life-saving transplants.
As of May 31, the SCBB has facilitated 191 cord-blood transplants in Singapore and around the world.