When two or more cancers strike
SINGAPORE — Unlike most people in the face of a cancer diagnosis, 53-year-old Raymond Howe was unusually calm when told he had thyroid cancer early this year.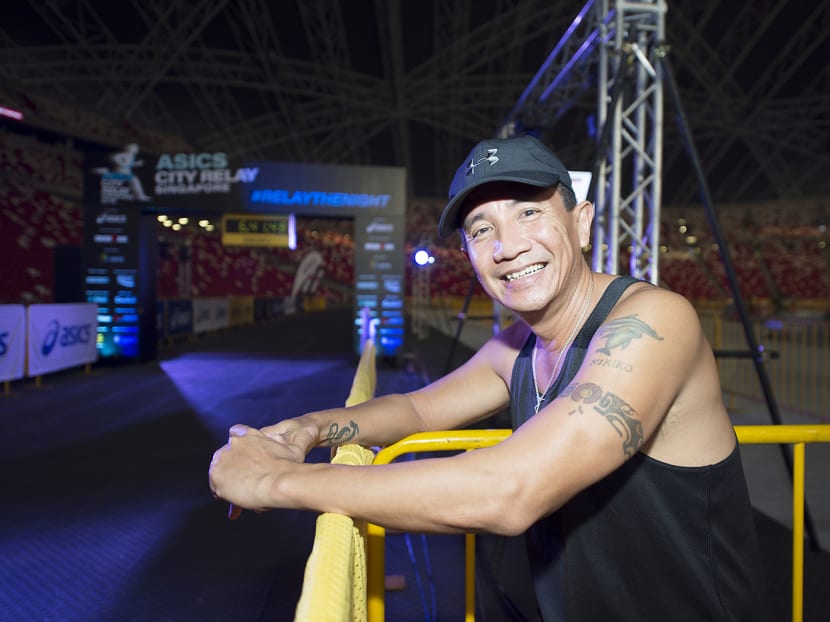 SINGAPORE — Unlike most people in the face of a cancer diagnosis, 53-year-old Raymond Howe was unusually calm when told he had thyroid cancer early this year.
Instead of spiralling into despair, the avid triathlete went ahead with an overseas marathon on the Great Wall of China 12 days before his scheduled surgery to remove his thyroid, which later revealed that the cancer had spread to the neck.
He continued to compete in other races shortly after undergoing surgery and treatment of radioactive iodine, which was used to kill any remaining thyroid cancer cells.
Worrying about the cancer diagnosis would mean allowing the disease to take control of his life for the second time, said Mr Howe, the chief operating officer of a real estate and hospitality development company.
A second-time cancer patient, Mr Howe had battled advanced-stage cancer 16 years ago. Besides a malignant growth on his face, cancerous cells were also found in his brain and lungs. The subsequent three years were a dark period for him as he struggled to cope with intensive chemotherapy while battling suicidal thoughts to end his own life.
"The shock I felt upon receiving news of another cancer diagnosis lasted just a few seconds. I've been mentally prepared since 16 years ago. Back then, I was told that I had a high chance of getting cancer again," said Mr Howe, whose younger brother succumbed to brain cancer at age 20.
Inspired by American cancer survivor and athlete Lance Armstrong, he completed his first triathlon at the age of 42 after surviving his first cancer, and recently took part in the ASICS City Relay 2016, his 21st race for the year. "Whenever I think about getting cancer again, I would train even harder to try to beat the odds," he said.
MULTIPLE CANCERS MAY RISE WITH BETTER HEALTHCARE
For people who have battled and survived cancer, a new cancer diagnosis seems like a cruel twist of fate. But multiple cancers are not an entirely uncommon phenomenon.
Cancer experts say about one in 10 people will get separate cancers in their lifetime. For those previously diagnosed with cancer, the risk is 20 to 30 per cent, according to Dr Wong Seng Weng, medical director and consultant medical oncologist at The Cancer Centre.
With advances in healthcare, the incidence of developing multiple cancers is likely to increase over time, said Dr Yeo Wee Lee, a consultant at Tan Tock Seng Hospital's department of medical oncology.
"People are living longer and hence more likely to develop cancers, while treatment of initial cancers has improved, resulting in more survivors developing another cancer. Cancer screening also results in the diagnosis of more cancers," said Dr Yeo.
Unlike a recurrence or tumour spread, multiple cancers are defined as a new cancer of a different cell type or origin, or a separate tumour based on location and other features.
They may be diagnosed at the same time (synchronous cancers) or a few years after the previous one (metachronous cancer), said Dr Huang Xinyong, consultant at Changi General Hospital's Department of Otorhinolaryngology-Head & Neck Surgery (ENT), and director of the department's Head and Neck Service, who operated on Mr Howe.
GENES, LIFESTYLE INCREASE MULTIPLE CANCERS RISK
Several factors can raise the odds of having multiple cancers. A hereditary cancer syndrome is one of them — for example, the BRCA gene that Hollywood actress Angelina Jolie inherited from her mother.
Ms Jolie had her breasts and ovaries removed as a preventive measure against the two cancers. Siblings and offspring of people found to have a BRCA gene have a 50 per cent chance of having the same gene mutation, said Dr Yeo.
On average, a woman who has suffered breast cancer has a less than 10 per cent risk of getting a second independent breast cancer. But this risk is six times in those with the BRCA gene, said Dr Wong of The Cancer Centre. This group of women also faces a 40 to 60 per cent chance of developing cancer of the ovaries or fallopian tubes.
"Preventive measures such as prophylactic surgery to remove one's breasts and ovaries before they develop cancers have been shown to significantly lower cancer risk," said Dr Yeo. "But such decisions are major undertakings not to be taken lightly. Doctors often meet with patients considering such measures over a few visits, counselling them on risks before embarking on the surgeries," he added.
Lifestyle plays a role too. A 2009 study in the Journal of Clinical Oncology found that obese breast cancer survivors had up to 50 per cent increased risk of a new cancer in the second breast compared with survivors of healthy weight.
Multiple cancers may also occur when a large area of the body is exposed to a carcinogen or cancer-causing substance, a phenomenon described as field cancerisation. Once a cancer develops within a particular area of the body, the entire "field" is considered unstable and additional cancers can occur, said Dr Wong.
For instance, a smoker exposes the mucuous membrane of his nose, mouth, throat and lungs to carcinogens in the cigarette smoke when he exhales and inhales, said CGH's Dr Huang. After years of exposure to the same toxic chemical, these areas become at risk of malignant changes and he may develop cancer of the larynx (voice box) and lungs — at the same time, or one after another.
CANCERS CAUSED by
PAST CANCER TREATMENT
Ironically, treatments previously used to treat the patient's cancer may increase the risk of another cancer later in life. It is estimated that this risk increases with time after the treatment is completed; it may be as high as 15 per cent between 15 and 20 years; 20 per cent between 20 and 30 years and 30 per cent beyond 30 years, said Dr Wong.
Treatments like radiotherapy and chemotherapy work by causing DNA damage to cancer cells, and may also affect normal cells in the body.
According to Dr Yeo, the younger the cancer survivor, the higher his lifetime risk of developing such cancers, which tend to be more aggressive and have poorer outcomes possibly due to accumulated DNA damage over the years. But Dr Huang stressed that not all patients will develop a new cancer due to a previous cancer treatment.
When battling a new cancer, an updated medical record, which includes any previous treatment history, is important so that doctors can recommend the most appropriate treatment, said Dr Yeo.
Dr Huang added: "In some cases, the previous treatment may affect treatment options for the new cancer. For example, if the patient was previously treated with high-dose radiation for nose cancer, leaving him with multiple complications, he is unlikely to be suitable for another course of radiotherapy for a new tongue cancer."
Ultimately, Dr Wong said both patients and their doctors must do their part to prevent second cancers. For patients, particularly those who have certain habits like smoking which may trigger cancer, lifestyle changes are essential while oncologists must take secondary cancers into consideration when planning treatment to minimise risks.
Having faced cancer twice, Mr Howe now navigates the recovery journey like how he would his endurance races: Not letting fear and anxiety cloud his mind.
Currently on lifelong thyroid medication and follow-ups with his doctor, he urges people battling cancer not to give up, and to live life to the fullest in spite of their illness.
"The truth is, I'm at peace with whatever comes my way now. Since my first cancer diagnosis, I've ticked off my bucket list by jumping off a plane to skydive, swam with sharks and completed several Ironman races, among other things. The last thing I want is to regret not living my life to the fullest on my deathbed," he said.