At the heart of creating value is a 'maker mindset'
Two SUTD students behind a bicycle-hoverboard fusion, called the Freedom Electric Vehicle, tell us how a "making" culture is growing.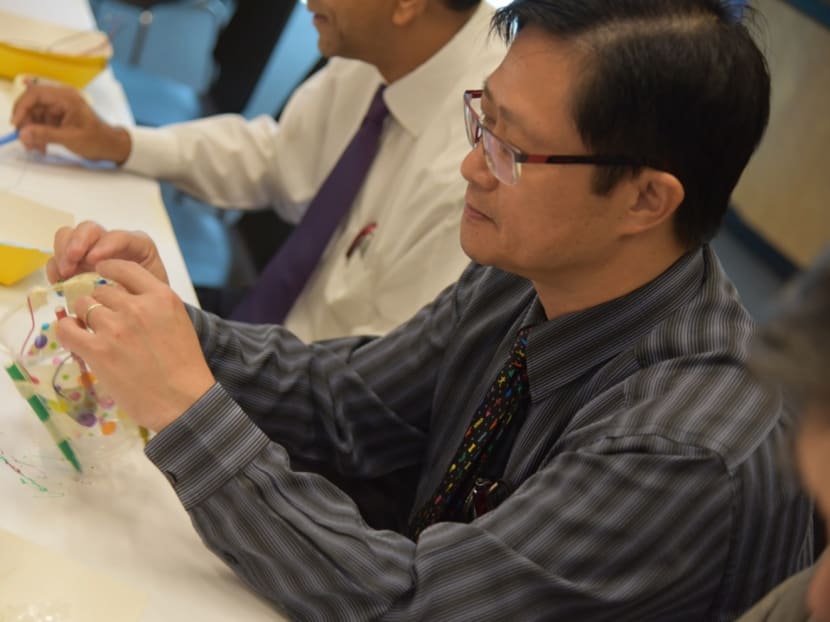 The annual Singapore Science Festival returns next month to showcase innovations in science and technology, from the latest in "maker" culture, to research by local scientists, to a lecture by Dr Kevin Fong, one of the United Kingdom's leading experts on space medicine. Over the next three weeks, we report on the highlights this year, beginning with Maker Faire, a lead-up event to the festival drawing its biggest number of budding inventors yet.
SINGAPORE — They wanted a convenient and cool mobility device such as the hoverboard to ride the last lap home instead of taking public transport, but found that it was a steep learning curve.
A week and multiple falls later, Mr Jaron Lee, 26, and Mr Brandon Chen, 28, came up with the idea of a bicycle-hoverboard fusion, called the Freedom Electric Vehicle.
With a seat and three wheels, it has the stability and comfort of a bicycle, and the portability of a hoverboard, they said.
So while most graduating students are applying for jobs, the pair of final-year students at the Singapore University of Technology and Design (SUTD) will be working on their project under the start-up they founded, FOM Innovations.
They are part of a growing movement of self-made product makers in Singapore who create things using science and technology. And while many "makerspaces" and maker programmes begin in schools, some are taking it beyond the classroom and creating products that they hope to commercialise.
This weekend, Mr Lee and Mr Chen will be displaying their prototype at the Maker Faire and seek feedback from a wide range of potential users young and old.
From a humble start with 20 maker booths and 1,000 attendees in 2012, the fair has grown quickly — 330 booths and 600 makers are expected in its fifth edition this year at SUTD.
At the fair last year, there were useful products displayed, such as a security kit to prevent thefts of motorcycles and mobile action games designed for physical rehabilitation.
Associate Professor Lim Tit Meng, CEO of the Science Centre Singapore and co-chairman of the Singapore Science Festival 2016, which organises Maker Faire, said: "We want people to be not just a consumer, but a creator of products using science and technology."
The Infocomm Development Authority (IDA) said that developing a "maker mindset" by promoting innovation, embracing technology and encouraging experimentation is critical to Singapore's Smart Nation vision. "As our economy matures and amidst more intense global competition, we must go beyond adding value, to creating value," said an IDA spokesperson.
For Mr Lee and Mr Chen, being able to build something and make it work is very satisfying. "I want to build things that make life better, and there is a need to improve transportation," said Mr Chen.
Mr Lee said the process of making products allows him to learn more new things, such as human body mechanics, which he studied when designing their Freedom Electric Vehicle. While bicycles and hoverboards require lower-body strength, the seated vehicle they have designed requires just upper-body strength to steer, he said.
Students in this field are excited to delve deeper into fields such as coding, engineering design and the technology that allows things to work, said Assoc Prof Lim. "It becomes very applied and something tangible ... students find it good to relate (their learning) to real-world scenarios," he said.
The "making" culture in Singapore is also very open to sharing resources, feedback and knowledge, the duo said. They have displayed their work at Maker Faire before and at Tech Saturday, a tech experiential carnival organised by the IDA. From the feedback they received, they plan to make the second prototype more comfortable and safer, with a lowered seat, raised handlebars and a lighter frame. They also got tips on where to source for metal parts in Singapore, because they are costly to buy in small quantities.
By the end of the year, the pair hope to join an accelerator programme for hardware startups and manufacture five to 10 products for a pilot test.
Another young maker who hopes to commercialise his engineering products in a hardware startup is Sudharshan Sudhar, a student at the NUS High School of Math and Science. He is part of a group of five 16-year-old innovators who tinker with projects and take part in hackathons.
His long-term vision? He wants to see robots more actively used in real-life situations, such as bots to sweep pavements and drive cars.
Assoc Prof Lim said that the maker movement would lead on to a spirit of innovation and produce future Bill Gateses, Olivia Lums and Sim Wong Woos. "Once you understand 'Stem' (science, technology, engineering and mathematics), you acquire the power to create. A young kid may create a robotic arm, but when they grow up, they may create big solutions for climate change, energy shortage, liveable cities ... If they're young and they realise these kinds of things are possible, they dare to move forward towards bigger dreams."