Trying to have a baby? Go back to basics
SINGAPORE — When fertility-boosting methods like acupuncture and ovulation-enhancing pills did not help Ms Amelia Yap conceive despite her trying for two years, the 35-year-old researcher went back to basics by charting her menstrual cycles.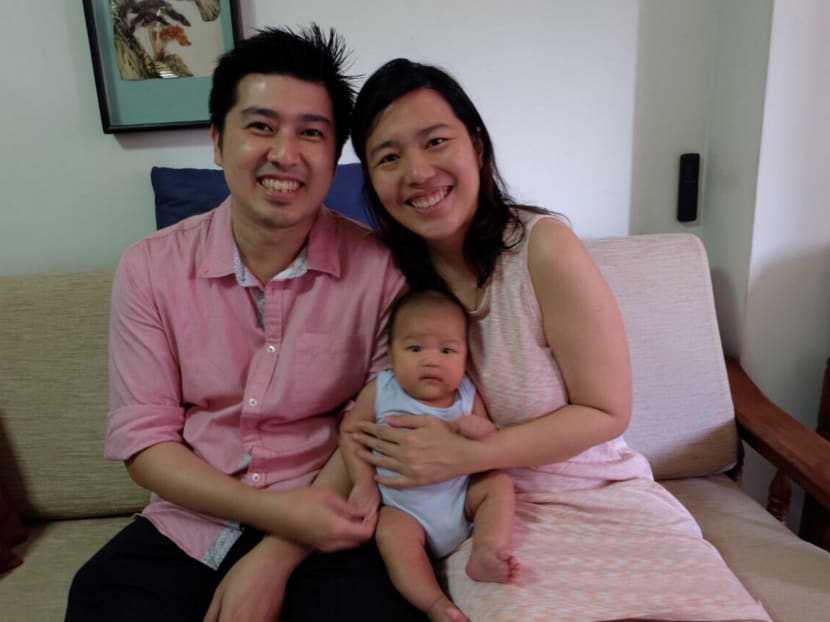 SINGAPORE — When fertility-boosting methods like acupuncture and ovulation-enhancing pills did not help Ms Amelia Yap conceive despite her trying for two years, the 35-year-old researcher went back to basics by charting her menstrual cycles.
Ms Yap, who has irregular menstrual cycles and infrequent ovulation due to a hormonal disorder known as polycystic ovary syndrome, chose not to undergo Assisted Reproduction Technology (ART) treatment as it is against her religious beliefs.
In 2014, Ms Yap and her husband Sam Wong, 35, underwent a natural fertility programme by FertilityCare Singapore, which uses principles from Natural Procreative Technology (NaProTechnology), a scientific approach to managing women's reproductive health pioneered by a United States-based obstetrician and gynaecologist.
The method uses the Creighton Model FertilityCare System that tracks a woman's reproductive health by observing and analysing her cervical mucus discharge and bleeding patterns.
According to Dr John Hui and Mr Andy Wee, the Singapore team running the FertilityCare programme here since 2007, these biological signs give a clearer picture of the woman's cycle and indicate when she is naturally fertile or infertile.
CONCEIVING NATURALLY
Instead of turning to more invasive ART procedures, such as in-vitro fertilisation, some couples struggling with infertility are relying on old-school natural methods to boost their odds of conception.
In general, natural fertility systems work by observing fluctuations in a woman's menstrual cycle, such as body temperature or cervical mucus, to track fertility and time sexual intercourse accordingly. They are particularly useful for couples who may not be having sex frequently, and may therefore miss the period of ovulation, said gynaecologist Julinda Lee.
FertilityCare Singapore saw about 30 patients in the last two years, the majority of whom are in their mid- to late 30s and have failed to conceive despite trying for two to four years, said Dr Hui. A few are in their early 40s.
"Most of the couples come to us because they prefer to use a natural fertility method to overcome their subfertility. (However), a few of them see us after having failed ART procedures," said Dr Hui, presently the only doctor in Singapore trained to use the Creighton Model FertilityCare System.
Dr Lisa Chin, an obstetrician and gynaecologist at Gleneagles Hospital, sees about 15 to 20 couples each month seeking pre-pregnancy consultation, during which they are given advice on how to chart ovulation and use ovulation kits.
She said fertility-tracking smartphone apps have also made it easier for tech-savvy couples to chart fertility, but added that they are not always reliable as most apps assume the woman has regular 28 to 32-day cycles.
Gynaecologists said they generally recommend couples try these natural methods before resorting to ART. This is because most people are biologically equipped for reproduction.
Statistically, three-quarters of couples aged 35 and under will conceive in the first year of trying and 90 per cent of them within two years, said Dr Douglas Ong, an obstetrician and gynaecologist at Mount Elizabeth Medical Centre. Most of the patients he sees do not like or want to undergo invasive or artificial procedures to conceive.
"Most of them are generally healthy and just need a basic understanding of their personal cycles. Fertility charting lets a couple understand and be in tune with the woman's physiology and natural cycles, and also enables her to detect gynaecological diseases early," said Dr Ong.
He added that charting can also be used as a natural family planning method, when couples want to space pregnancies apart. But there are limitations. For instance, in cases of blocked fallopian tubes or severe semen abnormalities, couples are usually advised to consider ART.
Couples using natural fertility methods must be patient. For instance, those undergoing the FertilityCare programme are advised to give themselves "a reasonable opportunity for success" over at least 12 to 18 months, said Dr Hui. Depending on their charting, they may also be referred for further medical investigations.
According to Dr Hui, studies in the US and Ireland have shown a 50 to 65 per cent pregnancy rate in couples who used the system for up to 30 months.
FERTILITY CHARTING 'UNNECESSARY' IN HEALTHY COUPLES?
However, there are doctors who do not favour fertility charting. Dr Roland Chieng, medical director of Virtus Fertility Centre, said such methods are usually "unnecessary" for healthy couples and may even be counter-productive. The main issue with Singapore couples trying to conceive is insufficient sex, he said.
"In addition to the stress of trying to conceive, there is the added pressure of performing at a certain time. Not surprisingly, studies have shown a high incidence of erectile dysfunction in couples trying to conceive. Couples hoping to start a family should just have unprotected sex regularly, at least two to three times a week," said Dr Chieng.
He advised couples under the age of 35 who have been trying to conceive for 12 months to see a fertility specialist. Those over 35 should consider seeing a doctor after trying unsuccessfully for six months, and those with issues that may affect conception, such as irregular periods or other known reproductive health conditions, should seek help early.
In both sexes, fertility and the success rate of ART decline with age, although the effects are less drastic in men. Given the trend of delayed marriages and childbearing, Dr Chieng said couples with underlying fertility issues who wait too long to seek help compromise their chances of achieving pregnancy.
About half of the infertility cases he sees are due to male fertility issues such as low sperm count and high levels of sperm DNA damage, he estimated.
"In cases where infertility is due to high levels of DNA damage, the couple would need IVF. There is currently no established method to reverse high levels of sperm DNA damage, and evidence has shown that even intrauterine inseminations (IUI) don't work well in these cases," he said. IUI is an ART treatment that involves placing sperm inside a woman's uterus to facilitate fertilisation.
ART and natural fertility methods are ultimately different, said Dr Hui. No fertility method is 100 per cent effective, he added.
After charting her menstrual cycle every day and undergoing regular follow-ups and ultrasound scans for 20 months, Ms Yap successfully conceived. Now mother to a three-month-old baby, she estimated spending about S$10,000 on medical investigations, check-ups and medications.
"The method wasn't easy to follow and it is definitely not for the faint-hearted, but we continued with the treatment as we hoped to have at least one child. When I found out I was pregnant, I was in disbelief and overjoyed," she said.
Although women can track menstrual cycles themselves, natural fertility methods work best when husbands pitch in, she said.
"Emotionally, my husband was always there for me. He would also help me fill in my charts. Infertility is an isolating experience and you can't do it alone. It is important for the husband to give his 100 per cent support," said Ms Yap.
NATURAL FERTILITY METHODS
FERTILITYCARE
Using the Creighton Model FertilityCare System, the couple learns to monitor and track signs like cervical mucus and bleeding patterns that indicate fertile and non-fertile days.
Be prepared to be on it for at least 12 to 18 months. Referrals to a gynaecologist and additional tests and treatments may be required.
Treatment may cost "a few hundred to several thousand dollars", depending on the extent and length of the investigations and treatment required by each couple, said Dr John Hui, the only doctor in Singapore trained to use the system.
The cost may be higher if a referral to a gynaecologist is required — for example, if the patient is suspected to have endometriosis or fibroids. For more information, visit fertilitycare.com.sg.
BILLINGS OVULATION METHOD
According to obstetrician and gynaecologist Douglas Ong, this scientifically proven method looks at the woman's cervical and vaginal mucus. Based on her own daily observations, she will know when she has low, high or peak fertile mucus.
It is free of charge but requires coaching by a certified trainer. To learn more about the method, visit www.woomb.org or the Natural Family Planning Service Singapore at naturalfamilyplanning.sg/site/.
TEMPERATURE CHARTING
Fertility cycle is tracked by charting the woman's basal temperature. During ovulation, body temperature usually increases by 0.1 to 0.2°C.
A drawback is the "lack of predictive action", said Dr Ong.
By the time the couple realises that ovulation has occurred, it may be too late for them to time intercourse, as a woman's most fertile window are the days leading up to ovulation.