Absence of smaller art fairs in Singapore Art Week booklet questioned
SINGAPORE — Ahead of the Singapore Art Week's opening tomorrow, questions have been raised over the event programme booklet not listing two of the three art fairs taking place.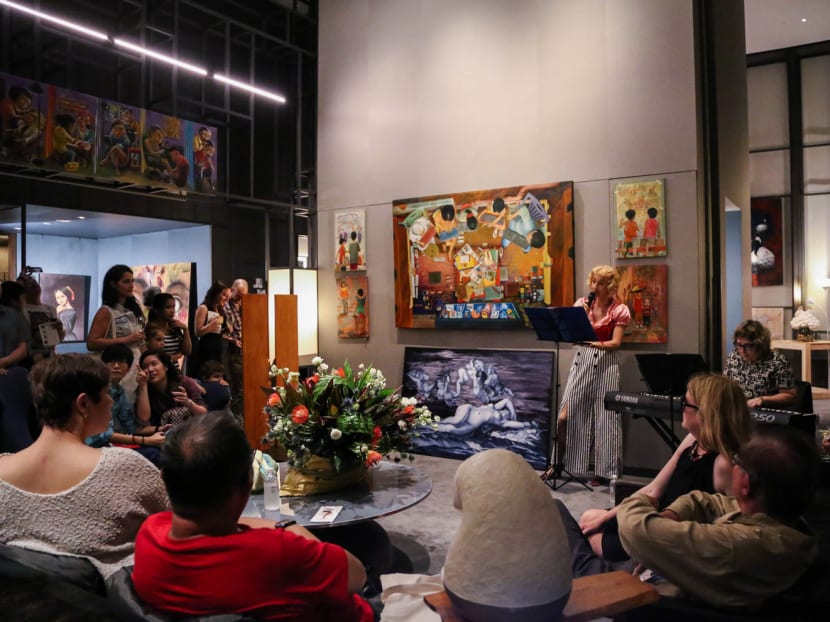 SINGAPORE — Ahead of the Singapore Art Week's opening tomorrow, questions have been raised over the event programme booklet not listing two of the three art fairs taking place.
Art Stage Singapore, arguably the anchor event, is listed in the booklet. But details on the two smaller auxiliary fairs, Art Apart Fair and Singapore Contemporary, were relegated to the Art Week event website.
The annual Singapore Art Week is the biggest visual art event in the calendar, with more than 100 activities over a nine-day period.
Art Stage Singapore and Singapore Contemporary — a new fair — will run from Jan 21 to 24 at Marina Bay Sands Expo and Convention Centre and Suntec Singapore Convention and Exhibition Centre, respectively. Art Apart Fair, which will be held at PARKROYAL on Pickering, opens a day later.
Noting that these are the only three art fairs taking place, Art Apart Fair director Rosalind Lim expressed her disappointment at being overlooked.
She pointed out that in similar visual arts events overseas, such as in Hong Kong, Miami and Basel, there would be even more fairs taking place, with the smaller auxiliary ones surrounding the bigger flagship fair.
Collectively, she pointed out, the art fairs are the primary draws to such events.
While the fair is included in the Art Week website, she said the publicity provided by the printed booklet — given out to local and foreign visitors, including international gallerists, collectors and artists who fly into town specifically for the art events — is ultimately more valuable to them.
"As a small fair, we don't have bandwidth and marketing dollars to spend for publicity," she said.
In response to queries, a joint statement by the three agencies in charge of Art Week — National Arts Council (NAC), Singapore Tourism Board (STB) and Economic Development Board — said the exclusions were due to the limited number of pages.
"We strive in every edition to highlight as many events as we can to give audiences a good sense of the diverse offerings under Art Week. But as the programme booklet has a limited number of pages, we have to prioritise every year as it is not possible to highlight everything in the printed guide," said the three agencies.
The statement added that both fairs can be found under a search for "art fair" on its website and the events tab on the homepage banner. It also said organisers will be reviewing Art Week programmes and exploring how it can support commercial players in future editions.
Ms Lim said Art Apart Fair was included in the booklets for Singapore Art Week's 2013 and 2014 editions upon the invitation of STB, which was then in charge of publication. The fair was not included in last year's booklet, which Ms Lim chalked down to oversight as the publication of the booklet was shifted to NAC.
But after submitting fair details in time for this year's round, she was surprised to be omitted yet again. An email query to NAC went unanswered, she said.
According to Ms Lim, Art Apart Fair, which is on its seventh edition, draws an average of 3,000 to 3,500 people each time. This year, 15 international galleries are participating in her fair and of the 90 artists featured, around 40 are Singapore artists, including students from Nanyang Academy of Fine Arts.
Art dealer Pwee Keng Hock, who co-owns Utterly Art, which has previously participated in Art Apart Fair and will be participating in Singapore Contemporary this time, pointed out that the two fairs could arguably draw more crowds than many of the events listed in the booklet.
"These will arguably be the second- and third-most heavily attended event the whole week," he said.
"(But the booklet) lists the smallest events, some of which are not even art-related or draw smaller crowds, like an art walk that will attract 10 to 15 people each time or a one-day calligraphy forum."
He added: "It seems strange that so many minor events are included, but (not these two). It's a very obvious omission. Besides attending Art Stage, famous collectors and curators flying in may want to look at what other events are on and they will completely miss out on the two art fairs."
Last year's Art Stage drew 51,000 visitors, while the rest of the 100 events in the Art Week lineup drew around 75,000. Mayo Martin