Books do speak to children's imagination, says author Julia Donaldson
It is no exaggeration to say Julia Donaldson is one of the world's most loved authors.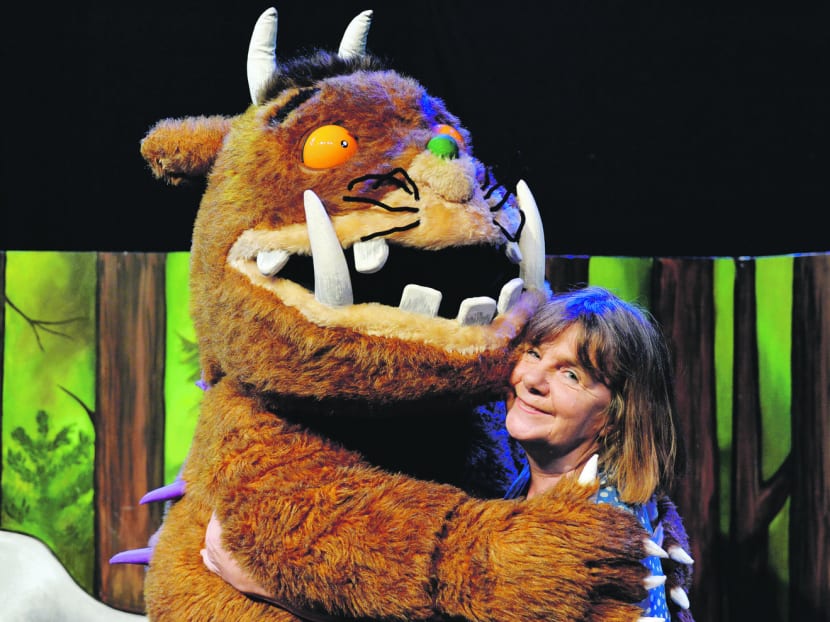 It is no exaggeration to say Julia Donaldson is one of the world's most loved authors.
After all, kids love her rhymes; parents love her wit; and the 68-year-old author outsells Dan Brown and JK Rowling, thanks to best-selling titles such as the classic Gruffalo, which sold 13 million copies worldwide, What The Ladybird Heard and Room On The Broom, among others.
Curiously, Donaldson didn't begin her career wanting to be an author — she only published her first book, A Squash And A Squeeze, when she was 45. Before that, she had been working as a songwriter on a children's programme.
"I wasn't thinking about working on something else," Donaldson told TODAY. "My ambition then was to be the greatest-ever children's songwriter. I didn't suddenly decide to write a book, the book-writing just came by chance when my publishers asked if they could turn one of my songs into a book."
From her tomes came delightful TV shows and theatre productions, including the brand-new production, Gruffalos, Ladybirds And Other Beasts, which is part of KidsFest 2017.
For this coming edition, Donaldson will appear in a segment alongside the iconic characters from five of her most popular books (including The Gruffalo, of course; and Zog and Jack from Jack And The Flumflum Tree).
The festival will also feature the performance of three Donaldson productions — The Gruffalo, The Snail And The Whale and Stick Man.
However, Donaldson said translating the essence of her books to stage productions can be challenging.
"(For) some of the books, you can't do it. Some of the challenges might be the number of characters in the book; sometimes, the books just have too much magic in them," she explained. "There's one story in Superworm, where a whole lot of insects carry a lizard up into the sky and the spiders let them in and stomp them down in a rubbish dump. I can't really think how I would dramatise that one!"
Donaldson tells us more about her creative process.
Q: What other challenges do you face when adapting your books to the stage?
A: The length of the story — I have written books for older children as well, The Giant And The Joneses, which is about children getting captured by giants. That would just be too long for me to present on the stage. So I really have to choose some of the shorter books. That would be another challenge. The thing is I'm lucky, because I have written so many stories.
Q: Your books have become essentials for children learning to read all over the world. What do you think makes them so beloved by both parents and kids?
A: Often, when I'm signing children's books, parents say to me that their child knows my book by heart. I think that perhaps a lot of my stories rhyme, they are memorable and children learn them by heart. I think parents enjoy putting on the voices of the different characters because I have quite a lot of speech. I'm also very lucky to have some brilliant illustrators as well. While the parents might enjoy the language in the book, the pictures really capture the children's attention.
Q: How do you think parents can keep their children interested in books as they get older?
A: I think that sometimes parents stop reading to a child too soon. I think even when children can read themselves, it's lovely having a parent read aloud or even taking turns to share a family story. I think you can be a little bit cunning and do a bit of research — I'm sure you've got some good libraries and bookshops in Singapore — and find what's out there and sort of and take a leap into doing it. Having said all that, I wouldn't worry if my teenage child stopped reading for a couple of years. I don't think you should kind of push them to read. If it is something pleasurable — and I believe it is — it's something that should come back, if it's a habit that's been nurtured in those early years.
Q: In this age of apps, do you think that children can still be enraptured by books??
A: It is a worry, I suppose, that there are so many distractions, for children. But not so long ago when the Harry Potter books came out and there were computer games, children were still gripped by the books even then. I think it is because books speak more to their imagination. There is nothing more enjoyable for a child than having their parents' attention, sitting on their knees at bedtime, cuddling up in bed with a book, or hearing their parents put on the characters' voices. You can't get that from an app or computer game.
Q: What are the children's books you read to your grandchildren?
A: Some of the ones I used to read to my children are The Frog And Toad stories by Arnold Lobel. I love reading those to my grandchildren, too. But one of the newer ones that I discovered is a very funny book called Oi Frog. It's a book about who sits on what, it's very, very funny. There's a book called Biscuit Bear which has really beautiful illustrations. But unfortunately, one of my grandchildren, when I try to read to him, he just wants me to read him the Star Wars catalogue.
Gruffalos, Ladybirds and Other Beasts with Julia Donaldson runs from Jan 19 to 22 at Victoria Theatre. For more info about KidsFest 2017, visit www.kidsfest.com.sg. Tickets are available at Sistic.