S'pore artist Danny Raven Tan showcases his works in flat
SINGAPORE — The doors opened and there's classical music playing faintly in the background. What greets you next is a cacophony of bright colours, leafy plants, eclectic decor and, of course, lots and lots of art pieces.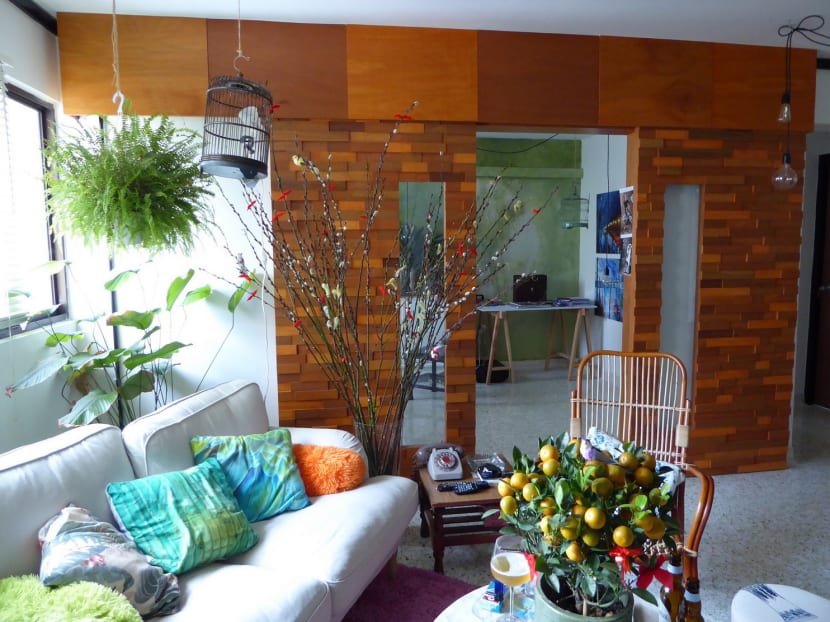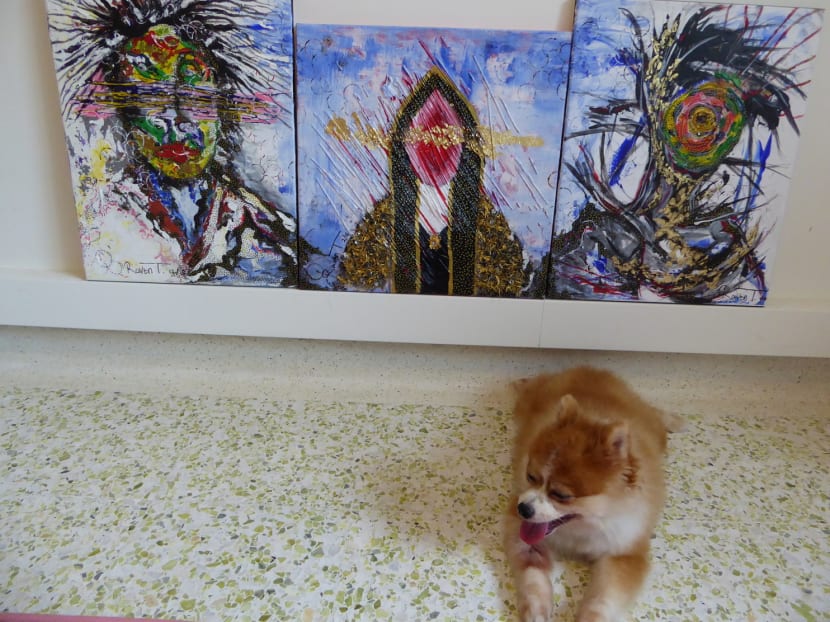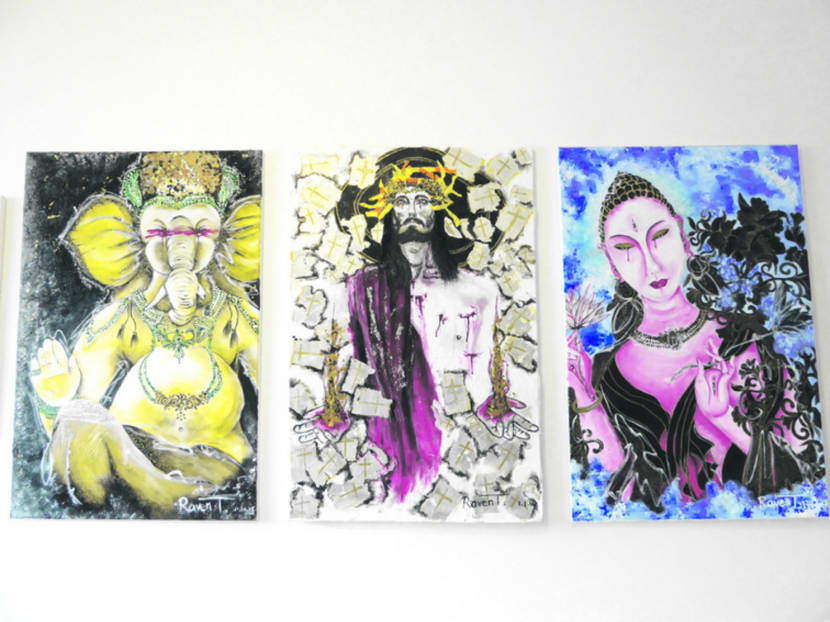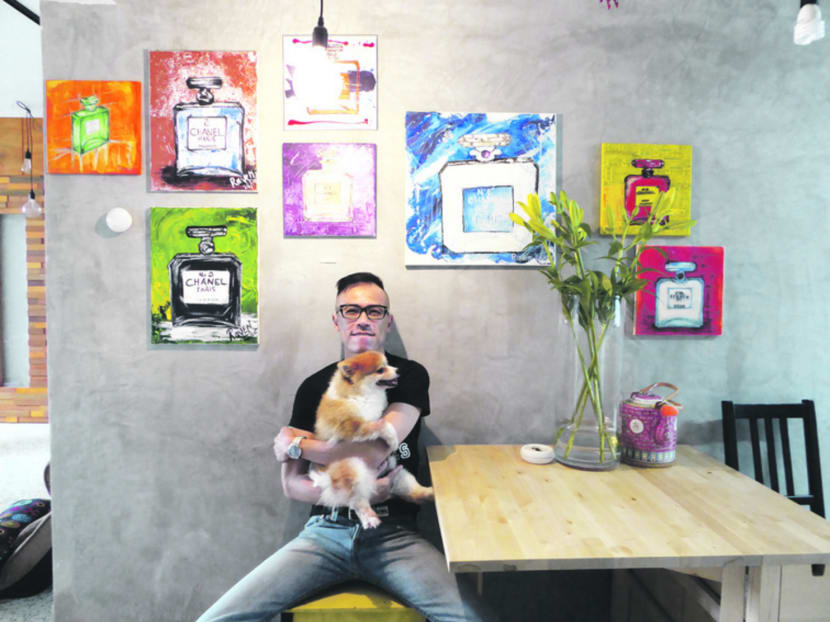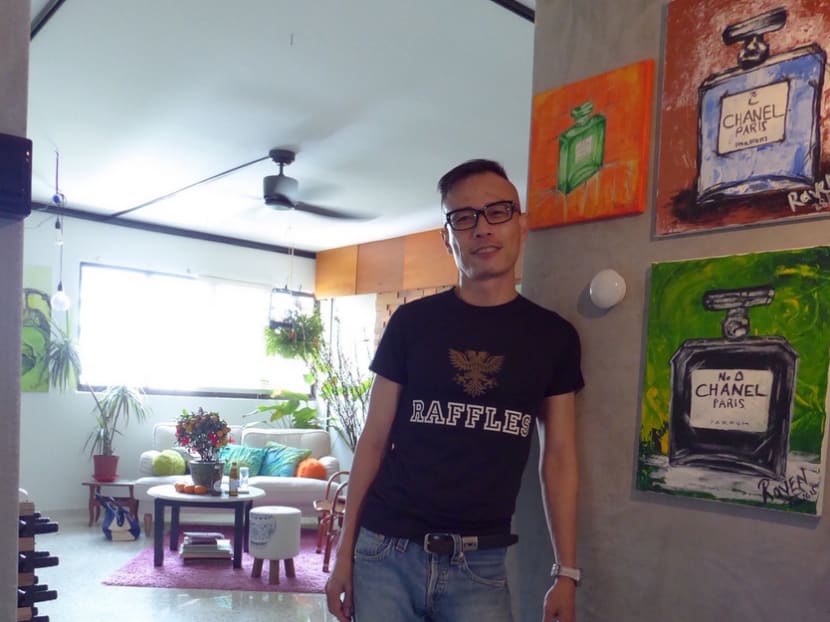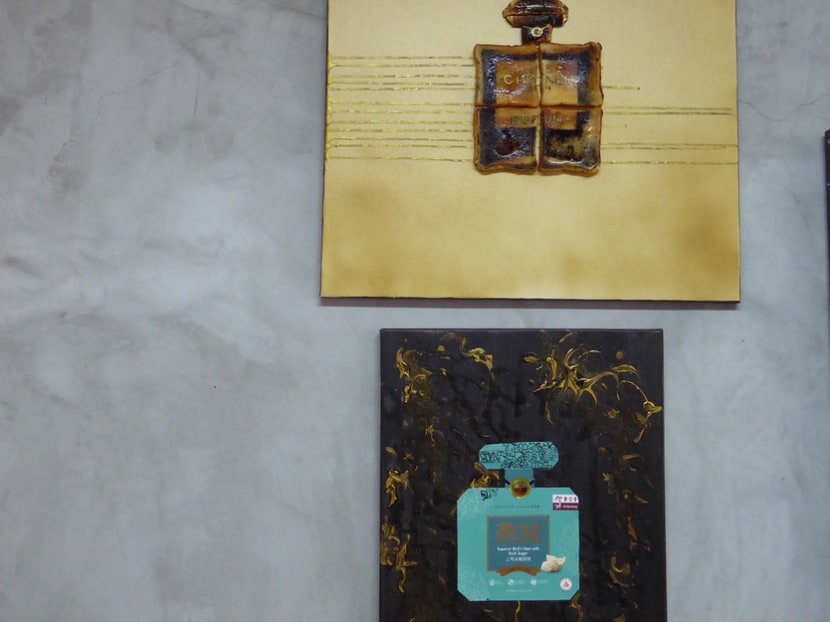 SINGAPORE — The doors opened and there's classical music playing faintly in the background. What greets you next is a cacophony of bright colours, leafy plants, eclectic decor and, of course, lots and lots of art pieces.
We were at The Tiffin Gallery, an art gallery opened by Singaporean painter Danny Raven Tan. The twist? It isn't located in town. It isn't even in a commercial building. The gallery is in Tan's four-room HDB flat, where he lives, works and exhibits his pieces.
Nestled on the ninth floor of a block on Ang Mo Kio Avenue 3, the gallery is as inconspicuous as it can get, except for a tiny handmade sign pasted on the door. Tan's works can be found everywhere around the house, even in the toilet and master bedroom. One of his rooms serves as a dedicated art space, with a comfy bench for leisurely viewing.
Cash does not change hands here, however. After a viewing (which has to be arranged by appointment), interested buyers would have to go to http://www.artfinder.com and http://www.saatchiart.com to purchase the piece they want.
Tan says the main reason he chose his year-old flat to display his works was cost. Budding artists such as himself cannot afford to show at large galleries, so he resorts to putting pieces on art websites and marketing himself online. As for his gallery, it was an opportunity for people to come into contact with both the artist and the works. "It's interesting to hear what people have to say, the way they see the painting can be so different."
Viewing sessions are as casual and informal as the affable artist himself. Visitors get a personal tour from Tan (who may occasionally offer glasses of beer or wine to sweeten the experience). His plan is to offer a personal touch, bringing them around the heartlands of Ang Mo Kio, introducing them to food at the market, before proceeding to his gallery to "chill, look at art and sketch".
Tan's works, usually acrylic paint and pastel crayon pieces, are inspired by his travels, his family and his thoughts, and are not constrained by specific themes. "I just paint whatever comes into my head," he said.
For example, the Hungry For Luxury series was inspired after he realised that the price of a bottle of Chanel perfume was several times more than basic necessities such as bread or rice. He painted over rice grains, corn husks or bread pieces to create an image of the said perfume bottle. Another series, Wanderlust, comprises three paintings — Delirium, Despair and Delight — that depict his perception of his mother, after she was diagnosed with dementia.
His latest work is a tad controversial. Called The Gods Are Crying, he paints different religions' "gods" in tears. "Why are the gods crying? Because humans are no longer crying anymore, they have no remorse," he told TODAY. To add depth, the piece on Jesus contains real hair — his mother's.
PAINTING FULL-TIME
Tan has managed to sell about 15 pieces so far (the prices range from S$350 to around S$2,600), which isn't too bad considering it took a while for him to get here.
While he had always dreamt about being an artist since he was a child, he had had to put his ambitions on the backburner and yield to his parents' wishes. He studied Building Estate Management at the National University of Singapore, and stayed in the property industry for some 15 years.
At some point, he decided "enough was enough" and went into several marketing positions before happily ending up as a marketing manager at LASALLE College of the Arts.
But a series of events eventually made him question what he was doing: He was diagnosed with stage 2 pancreatic cancer six years ago, and his father had died from respiratory failure due to pulmonary fibrosis (scarring of the lungs) two years ago. His mother also began deteriorating from dementia shortly after. All of these led him to think it was high time to follow his dreams and spend time with his loved ones.
A year ago, he found the flat, quit his job and went into painting full-time, despite not having any experience.
And he's fully aware of his limitations right now, admitting that his work is still raw. "I know I can't compete when it comes to technicality or skill, because I don't have the years of training," he said, adding that there's the added challenge of trying to earn a living from being a full-time artist. In fact, he says he's eating into his savings right now and is giving himself another year to see if this would take off.
Still, Tan remains optimistic, what with the changes in Singapore's art scene. There's a growing awareness of local artists and many are keen on not only learning how to paint but on buying local art, too, he said.
"Art is for the soul. It can change people, and set people thinking. That's what I want to do."