Gordon Ramsay praises S'pore's exciting food scene
SINGAPORE — Celebrity chef Gordon Ramsay says he is keen to "find the next Gordon Ramsay" in Singapore.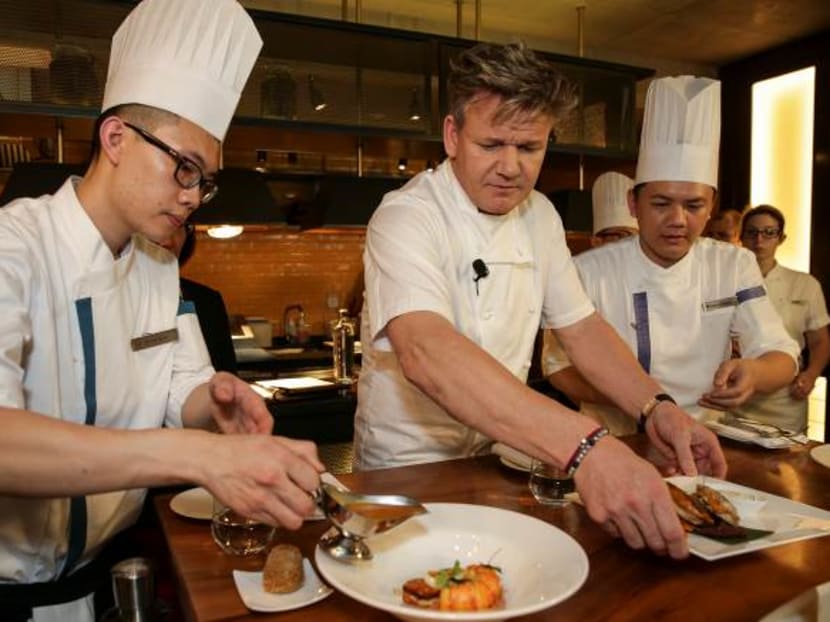 SINGAPORE — Celebrity chef Gordon Ramsay says he is keen to "find the next Gordon Ramsay" in Singapore.
"I've got lot of ideas but I'm not telling you — other chefs will steal it," he told TODAY in an interview.
The 50-year-old was in town yesterday for the inaugural Marina Bay Sands (MBS) Culinary Olympics, held at Ramsay's Bread Street Kitchen at MBS, which opened in 2015.
Ramsay was part of the judging panel at the closed-door culinary competition, which saw food and beverage teams from MBS showcasing their skills and creativity.
Ramsay — famous for his trademark quick-fire staccato on television shows such as Kitchen Nightmares, Hell's Kitchen and MasterChef US — previously visited Singapore in 2015 and 2013, when he lost to local hawkers after an intense night spent cooking dishes like chicken rice and laksa.
TODAY sat down with him to ask about Singapore food culture, and where he thinks local chefs are headed.
Q: What is your opinion on Singapore's culinary talent and the local culinary scene?
A: I fell in love with Singapore in the 1990s when I used to come to cook-offs at Raffles (Hotel) because then, it was an amazing place to be. After cooking at the grill there, I used to go to the hawker markets at 1am or 2am ... All of a sudden, the fresh produce, the live shrimp and the frogs, customers pinpointing what they wanted live — I would stay there until 4am or 5am, just chilling and eating until the sun came up. I think there are very few foodie cities anywhere in the world that are as exciting as it is here.
I did the challenge four years ago with the local hawkers, I got my a** kicked good. But it would have been wrong for me to have won — it would have been insulting (to local chefs). I had a week's training (on the dishes prior to the event) but these people had experience through generations.
Q: What is your advice to Singaporean chefs? How do you think we can elevate food here?
A: It's only a matter of three, four years before we see local chefs rise up. And once they do, they will have to do what we did — go away and see something new. Go to Kyoto for six months, go to Barcelona and see what it's like inside an amazing tapas bar and use that — that level of knowledge. (They need to) understand a different culture and come back.
There is, without a doubt, room for this new wave in Singapore. It's only a matter of time. Also, the local businesses would be stupid not to get behind that and promote that.
Q: Chefs who open here sometimes have a hard time working with local ingredients. How has Bread Street Kitchen managed?
A: Flying in produce from London and ignoring what is happening locally would be stupid ... We work with artisan purveyors and one thing we (do is) offer a level of consistency with local purveyors ... It's up to the integrity of the chef to utilise what is happening locally.
We have a research and development team that are on the ground six to nine months prior to the opening, and we do that with every restaurant.
Q: Regarding the recent comments on Twitter you have made about people's dishes, you have said that it's easy for you tell just by looking at the dish whether it's good or not — can you talk about how you are able to do so?
A: I have been naughty. I think I have a great eye for an attention to detail, I don't like bullsh** ... If I see something that looks like a pile of sh** and they tell me it's caramelised, you know I'm going to flip my lid.
With me, you're going to get the truth. Don't flood my social media with that crap ... I do give out compliments. I have fun with it. I'm like a sniffer dog — you know, those dogs at the airport that come around sniffing your bags. That's me on social media ... I'm going to tell (it to) you straight.