Star Wars toys aren't just for boys anymore as Rey takes over
LOS ANGELES — Walt Disney has what could be its most formidable heroine ever in Rey, a main character in Star Wars: The Force Awakens. She could be a merchandising juggernaut too.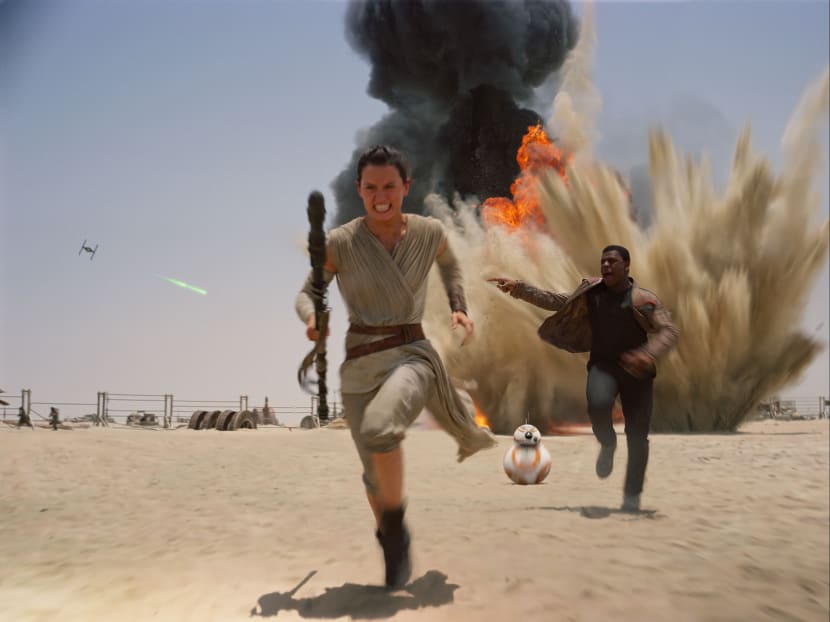 LOS ANGELES — Walt Disney has what could be its most formidable heroine ever in Rey, a main character in Star Wars: The Force Awakens. She could be a merchandising juggernaut too.
In trailers, the protagonist played by English actor Daisy Ridley races a land-speeder, wields a staff-like weapon and helps pick an exhausted male ally up off the ground. Not much is known about her, because Disney's keeping a lid on details before the movie's Dec 18 opening. One sure thing is that Rey is part of a push by the world's largest entertainment company to attract more girls and women to the Star Wars franchise, and extract more money from them.
It's a smart move, said Bank of America Merrill Lynch analyst Jessica Reif Cohen. "This is going to be massively financially successful. Literally everyone I know wants to see this movie, male or female."
Disney has expanded Star Wars merchandise to include cosmetics, jewellery and purses, quite a change for a line historically dominated by light sabers and spaceships. There's demand: Social-media firestorms erupted when Internet critics decided Under Armour and Target hadn't produced enough female-oriented items tied to the film.
There have been other bumps. Licensees including Hasbro and Lego have churned out Rey goods in large numbers, but while Rey figurines are on prominent display in Disney stores they can be harder to locate in places like Target or Toys "R" US. And retailers have reported Rey products are selling out fast, disappointing parents.
'CONCERTED EFFORT'
It all underscores the challenges Disney faces. Most Star Wars products before the company bought creator Lucasfilm in 2012 were toys aimed at boys, said Paul Southern, who runs Disney's Star Wars licensing business.
"Star Wars," he said, "became known as the biggest boys' brand in history".
As Disney strives to change that with what Southern called "a really concerted effort", retailers are being tested, as they figure out how to arrange displays and which fans to target. One issue is that some toy sections are segregated by gender, said Ken Nisch, chairman of JGA, a retail design consultancy.
"If you have a property like Star Wars that in theory is trying to be less gender specific," he said, "you have a challenge."
'ANTIQUATED ROLES'
Meanwhile, Disney and Force Awakens director JJ Abrams have been holding off on sending some items to stores, including those tied to another female character, Maz Kanata, played by Lupita Nyong'o. Abrams doesn't want to give away too much of the plot, Southern said. And he said Disney isn't pressing certain manufacturers, such as Jakks Pacific, to put out Rey merchandise because it wants some new products on shelves after the film's release.
Southern said retailers are embracing the new push, citing a Wal-Mart Stores Force Awakens ad with a mother asking her daughter why a princess doesn't let boys rescue her. "Because she's a modern, empowered woman, unfettered by the antiquated gender roles of a bygone era," the girl responds. It's been viewed almost 21 million times on YouTube.
Twitter posters lit into athletic apparel maker Under Armour when it released a line of male-only Force Awakens wear in its Imperial Collection late last month — and soon versions for women and girls popped up on Under Armor's website, with shipping starting Jan 1.
WHERE'S REY?
"As part of our Star Wars collection, we will continue to introduce new styles," said company spokeswoman Diane Pelkey.
Reaction was also swift when Target began selling its all-male Force Awakens action-figure six-pack, with a wheresrey hashtag trending on Twitter. Target spokesman Lee Henderson noted that stores stock several Rey items and said, "Fans will be seeing even more of her after the film opens."
John Frascotti, president of the Hasbro Brands unit that made the six-pack, said the social-media focus was misdirected, because Rey is "very well represented" in other Hasbro lines. "The franchise is every day becoming more inclusive of both genders. It's really picking a needle in a haystack."
'BOYS' AISLE'
Among Disney-licensed products already out or expected soon are US$169 (S$238.81) Stormtrooper necklaces at Kay Jewelers; The Dark Side mascara for US$7 by Covergirl; and "Rey's Survival Guide," for US$10 from Simon & Schuster.
Patrons of BoxLunch in the Glendale Galleria outside Los Angeles are showing interest in US$37 bracelets inscribed with "I love you/I know," the Princess Leia and Han Solo interchange from Star Wars: The Empire Strikes Back in 1980, said employee Natalie Norton. "I bought two pillowcases that say that for me and my boyfriend."
Still, some shoppers complain that merchandise for girls isn't widely available. Los Angeles resident Emily Corbett said that when she inquired recently at a Toy "R" Us, a clerk directed her and her 6-year-old daughter Tegan to "the boys aisle", where she found nothing associated with Rey. "I'd be nice to have something for girls," Corbett said, as Tegan played mischievously with a light saber.
Jessica Offerjost, a spokeswoman for Toy "R" Us, said the company doesn't have gender-dedicated sections and that slim Rey pickings are due to popularity. "We are replenishing weekly but the toys keep flying." Among rows of boxes of Star Wars action figures, masks and backpacks in the company's Times Square store, there were only a few signs of Rey, including a costume and a bobble-head doll, and pegs designated for her action figure were empty.
"We're working really hard to get into a healthy stock position," Disney's Southern said. "All of a sudden a very broad group of consumers began to buy product a lot quicker than we expected." BLOOMBERG